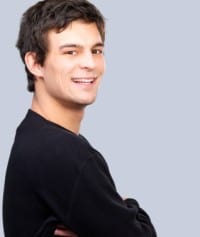 Hey there, my name is Chris Calo and I operating this website, Way Too Social, since 2007. I try to leave every reader with a bit more knowledge about the social world in which we interact in.
A little about me
My background is, unsurprisingly, in psychology and communication. I have always been fascinated by the little nuances that impact the overall message that one communicates during male and female interactions. As such, I tend to explore the small details that make social interactions so diverse, enjoyable and … sometimes eery.
Once I manage to pin-point such a detail, I have a passion for studying it and sharing it with others so that, they too, can be aware of the tiny details that make us who we are. If you're weird like me, or enjoy reading about social interactions on a deep level, then you're at the right place.
What's in it for you
As you may have noticed, this is my blog and I also run http://www.howtoseduction.com as a side project. I have been busy putting together the culmination of all my dating advice, all neatly packaged in one place for you to easily access.
Writing
Although this website has grown over the years, I still writing frequently and as you'll see, most posts at Way Too Social are written by Chris Calo.