Eharmony has become the one of the world's most renowned dating website and for good reason. They have a large community that is sophisticated, wealthy and serious about genuinely connecting with other people. In our review, we'll look at the matchmaking process, rate the experience that you're likely to encounter on the site and whether this service gets my recommendation.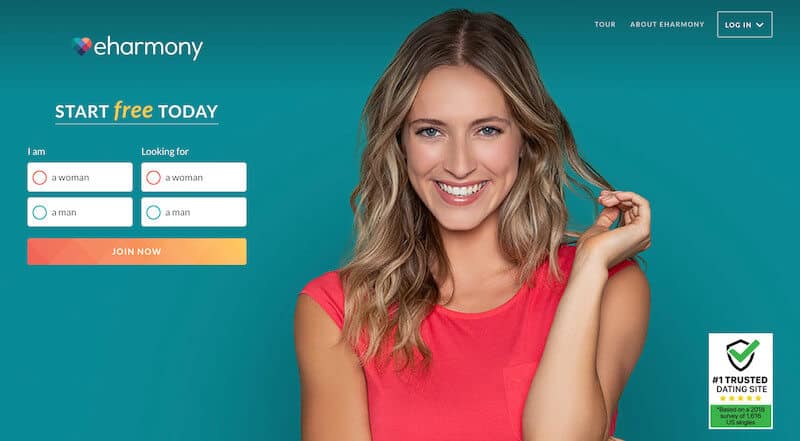 From personal experience, when you complete the forms on EHarmony, they'll use the information to locate the best matches for you. Right off the bat you get the sense that this product is taking a true relationship-oriented approach to online dating to help those find meaning in their relationships. 
It's almost as if you can skip all the useless questions you would normally ask at the start… and jump right to the good part of the interaction with the person you've matched with.
Here's how I rate Eharmony and what I've learned about this popular online dating site while looking for love.
Rating Eharmony
Let's look at why Eharmony might be the best area for you if seeking a relationship that has substance and potential to lead to something serious… and why it stands out from other competitors such as Tinder, Zoosk, Okcupid and the like.
| | |
| --- | --- |
| | |
| Relationship | Largely designed for individuals looking for serious relationships |
| Algorithm | Modeled after search criteria filled out by members |
| Platform | Website & App |
| Messages Sent | 2.3 million weekly |
| Gender Ratio | 51% male / 49% women |
| Active Members | 15.5 million |
How Much Does A Relationships On EHarmony Cost
Eharmony was founded by Dr. Neil Clark Warren, a well respected clinical psychologist whose primary goal was to couple people serious about having meaningful relationships through science, rather than leaving everything to fate. By honing his psychological experience and years of research and then taking the time to translate that into a match making system, the chances of finding a match vastly improved over other dating apps and services.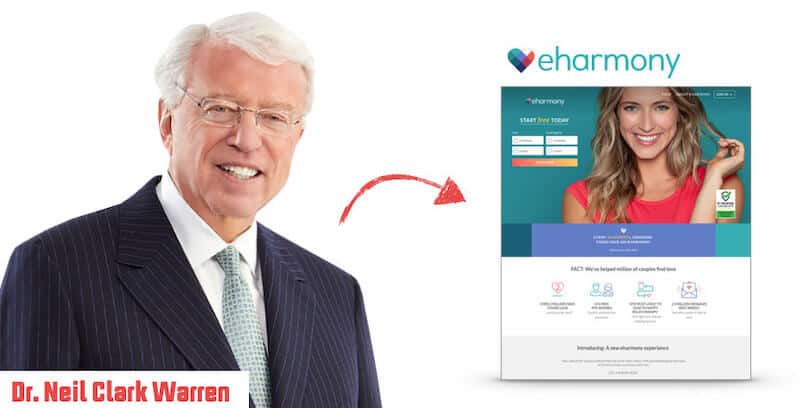 In the last 20 years, the Eharmony team has managed to marry over 600,000 partners with a further 2 million finding love. So it's not hard to see why it's considered one of the best online dating sites on the planet today!
Dates That Lead To Marriage
Not all matches have to be successful relationships (at least not what I experienced after signing up), it's up to everyone to play their part and find the right one for their unique circumstances and life story.
This explains the vast customization ability of their website.
Different options are present for your relationship status, age, political affiliation, and socio-economic background. It's possible to request people based on common values, interests, religion, beliefs, their age, education, location and even lifestyle hobbies. All of these different data points are displayed to indicate a number of different options. By choosing plenty of options, the compatibility matching system is able to supply a variety of choices for a person. This leaves them free to explore all the options and choose the one for their needs.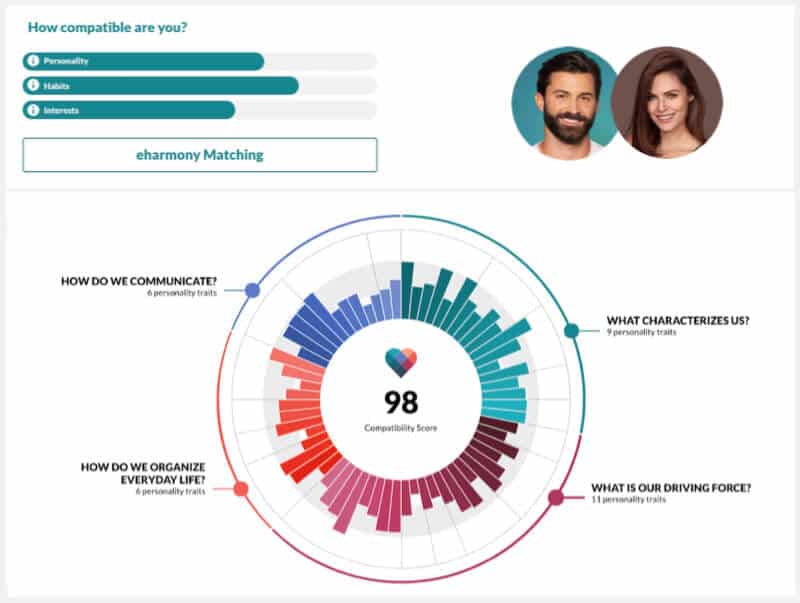 And I think it shows. Not all dates are created equal. While conducting my review, I remember thinking the simplicity of their website is really terrific. All a person has to do is enter their information and then the service automatically presents its most popular options. 
Should You Pay For General Dating Membership Sites
Those looking for quick hook ups will be disappointed to find not being able to get immediate access to your account after sign up. The dating site asks you to first gather up and relevant data you provide before verifying it allowing you full access to your account settings… and trust me when I say this, it does take time!
The more time taken filling in the survey, the more chance the matching system has in finding partners compatible with each other and share the same interest.
There are approximately 50 steps to follow during the sign up process (done either through email or connecting to your Facebook). This precisely why Eharmony gets a good reputation for acquiring members who are genuinely seeking serious relationships.
Signing Up Process: A Step-By-Step Guide
Step 1: Sign up to Eharmony
Step 2: Fill out the Compatibility Quiz (25 mins. to fill)
Step 3: Complete your profile (adding profile photos & active areas in your life) 
Step 4: Choose your subscription plan
Step 5: Check out the results of the Compatibility Quiz
Step 6: See your matches all at once
Step 7: Communicate with your matches
Step 8: Find love
Loving The Match Ratio: A Balanced Male To Female Users
The other thing that caught my attention is the astonishingly great ratio between male to female (51%:49%).

At first it seemed too much of coincidence that this balanced out almost perfectly… what are the chances of a near 50-50 ratio between men and women?.
However, it became clearer, in order to have an active profile, members are required to answer specific questions, build up their profiles with care and verify facts… something only those who genuinely seek meaningful connections or relationships would take that bit of time to do.
This feature alone is responsible for over 500 couples getting married daily which has helped a lot in making eharmony the go to place for singles looking to tie the knot.
Anyone looking for a hook up wouldn't make the effort to build up their profile quality, as they are not looking for a quality partner. As a result, we end up with a dating platform that's nicely balanced with people looking for love or at the very least a meaningful relationship.
Can You Email Or See Website Photos For Free?
Upon signing up and setting up my profile and photo, I found that although there is a free version, it's very limited. The available plans that are on offer aren't exactly cheap, but no more expensive than other dating platforms which in my mind I initially rated as average. However, when considering the intricate range of compatibility testing involved, it really makes it value for money. Besides, if you're serious about finding love, then these prices are well worth the investment.
Eharmony's Premium Subscription Costs
| | | |
| --- | --- | --- |
| | Plan | Price |
| Premium Light | 6 month | $34.95/m |
| Premium Plus | 12 month | $22.95/m |
| Premium Extra | 24 month | $17.95/m |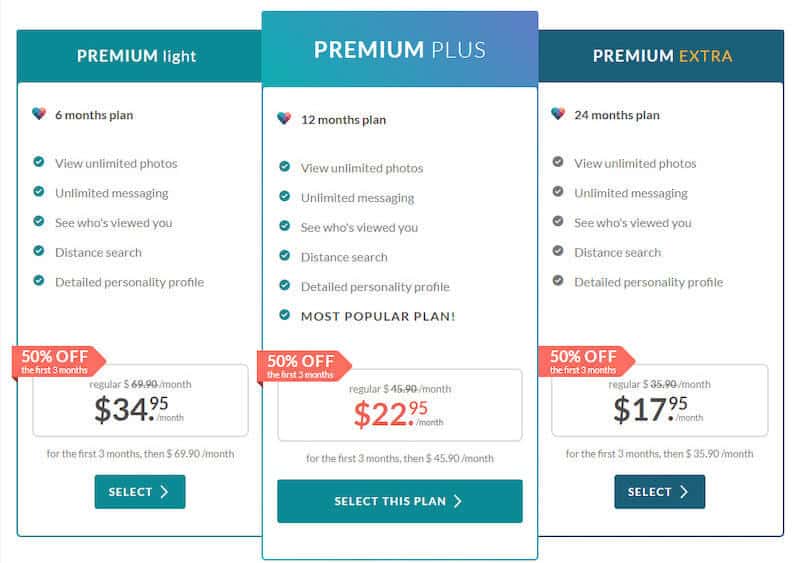 * Eharmony accepts payment via PayPal and Credit Cards only. Plans payable in one go or installments. 
Strict Refund Policies 
Eharmony's cancellation & refund policy is layout out under many sections on their ToC page. According to this information, getting a refund is challenging and unlikely. Any prematurely canceled subscriptions will not be refunded and remain valid until they expire.
As for subscriptions with installments, charges will continue until all payments have been covered over the installment period.
There are some conditions depending on which State you live in the US. So if you live in any of the following, there are certain exceptions which apply to you, which you may want to read up on.
Arizona
California
Connecticut
Illinois
Iowa
Minnesota
New York
North Carolina
Ohio
Rhode Island
Wisconsin.
These terms & conditions may also differ in countries out side the US, so be sure to read up on cancellations and refunds for your country.
Special Features To Enhance Communication Process
Conversation is key to any successful relationship, but that can be a challenge if you haven't yet had time to meet up yet. 
As a result, Eharmony has implemented all the basics for features, but yet designed to enhance communication between potential matches. And although other competitors have similar features, the quality of Eharmony matches make these features even more sought after and effective at taking relationships to the next stage. 
Let's take a deeper look at these special features:
Send A Question To Get Started
Sending questions is free for everyone and you can answer as many of them as you want. I feel this feature is limited to only starting conversations and no more… a nice touch with limitations, but nothing more.
Touch A Heart With A Smile
When going through your matches section / list, a small smiley emoji is located under every profile photo on the page. Click on this and sent that smile directly to your match. This is the equivalent of catching someone staring at you and winking at them. This method of communication is really simple and effective at initiating contact. 
Meet Users Via Video Date
With video dating you can finally chat to users and start getting to know them in real-time. With the current pandemic, this is the perfect opportunity to find out more about them in the comfort and safety of your own home, before things open up and you can safely meet.
Eharmony Inc Information
What studies have been done to help the matching process at Eharmony? A recent study specifically investigated whether or not the Eharmony product has an effect on the amount of positive marriages and matrimonial deaths. To this end, the site looked at over a million data points for the relationship between matches that fell in the "love" demographic, married, and died in the past five years.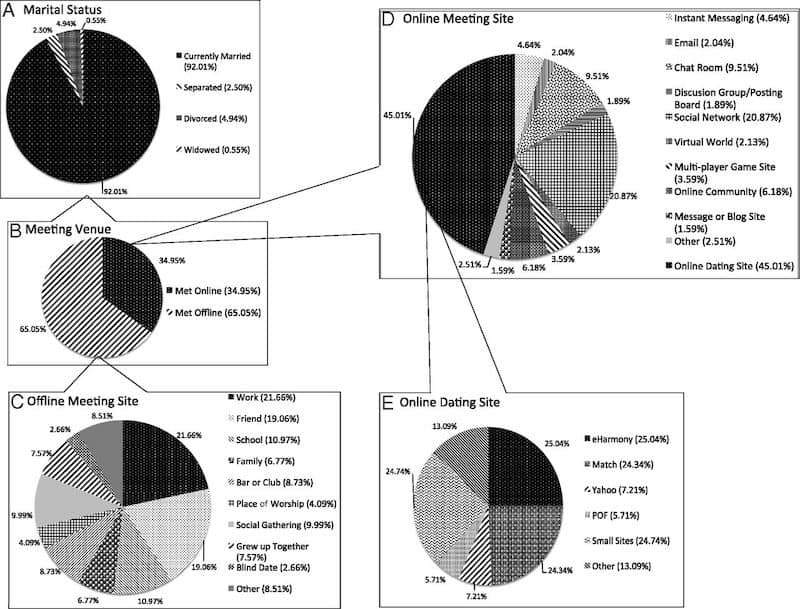 The study found that more married people experienced positive family breakdown than un-married people. If these positive marriages were likely to lead to positive family breakdown, this means that the users who utilize Eharmony's platform had a higher level of positive social integration within the society. Additionally, data showed a slightly higher likelihood of marital dissolution in the overall population, as a result of a continued strong inter-family support.
Tips & Tricks For Eharmony Success
Eharmony isn't the cheapest option on the market, however, you often get what you pay for. So the best advice I can give is to make sure you are all in before pulling out your credit card and spending that money.
It's only worth it if it works, and to get those responses you truly need to invest time to getting the answers you are looking for. So here are a few of the many things you can try for helping your success rate.
Challenge Your Comfort Zone By Being Honest
Honesty is not about doing the right thing for the other person, but is also about doing the right thing for yourself. There's no point in pretending to be something you're not, as you end up lying to yourself too!
So start by practising on those near 150 questions and be as truthful as you can about yourself. This will be hard, frightening and even painful, but at least it's information your potential partner will know about you before deciding to meet. There's comfort in knowing someone still wants to meet up even after reading about your dark side and it will likely make communication easier because they probably have similar experiences they'd like to share.
Wouldn't you rather spend company with someone who has similar experiences as you?
Are You Ready For Long-Term Relationships?
You've probably read many reviews over and above this one to determine if eharmony is for you. However, the one factor that will determine your success rate on eharmony is whether you're genuinely looking for a lifelong partner!
If you're not emotionally invested in finding a life partner, it's unlikely you will invest time and energy in filling out those questions in the way they are intended. Just like with a CV, passion, personality and interests will jump out off the paper when the person wants the job enough… the whole idea is to get a response through the screening stages rather than relying on luck.
Making A Connection By Standing Out From The Rest
Many instantly assume they need to "find a way" to stand out from the rest and devise a plan on how to achieve this. The problem with that course of action is you're manufacturing a plan on how to be different, rather than looking within yourself and your natural character that makes you different and quirky.
Try not be an actor, but instead look at the things within your character that makes you stand out from the others. For example, I have this ability of acting overly stupid in order to brighten up mundane days. I am often reluctant to show this side of me to the average person as I fear they'd think I am mad. However, if you are looking to spend the rest of your life with someone, they are going to see this side of you anyway.
Don't be an actor and hide who you are, rather show your personality. 
Pros & Cons Of This Dating App
As with any product there is the good and the bad. However, these pros and cons are subjective and not based on hard facts. The bottom line of this section of the article is to help you make an informed choice based on your requirements before signing-up to the premium package. 
| | |
| --- | --- |
| | |
| - Majority of customers are ones wanting serious relations. | |
| - Matching model with 29 key dimensions for predicting successful coupling. | |
| - Robust privacy & security features. | |
| - Video dating feature for a more live interaction. | |

- Can only interact with those who eharmony presents you with.
- Sign-up survey can put off potential users.
- Many consider eharmony to be expensive.
Should You Give Online Dating A Try?
Like anything, nothing is an exact science. The Eharmony interface does have some limitations, such as very basic features, but as a member, this can also be a good thing and certainly made it easier to create an app that matches the websites functionality (which provides a surprisingly decent user experience).
Having said that, the system does an amazing job as a matchmaker based on a number of factors such as common interests, age, height, political preferences and other characteristics of your match preference.
Eharmony Review Conclusion
I would conclude by saying that if any dating site was the answer to finding you the perfect match, then it would be Eharmony. So if you are looking for someone with personality, a committed relationship or even considering marriage then look no further, I rate it a 4.5 out of 5 stars. 
I would definitely give it a try, what do you have to lose? 
Frequently Asked Questions
Can you message for free on Eharmony?
Provided you've completed Eharmony's Relationship Questionnaire and have been accepted on the site, you can use their messaging service and contact matches for free for a whole weekend.

How do I judge a good compatibility score on Eharmony?
Eharmony's Compatibility Score is based on similarities and differences that are the result of the Compatibility Quiz.

The compatibility points lay between 60 and 140, with 100 being a good "average" compatibility score. So 100 is a good starting point and work your way up with profiles that have a score higher than 100. Check their profiles and determine if you like them.
Why do some of my Eharmony matches disappear?
There are potentially two reasons for your matches on Eharmony disappearing, your match manually unmatched you or they deleted their Hinge profile.

Is Eharmony safe & can you report users
Due to stringent verification processes, Eharmony is able to acquire a safe online dating environment for everyone. On the off chance you want to report someone (such as experiencing an unpleasant encounter), eharmony has a security feature that allows you to block people.