Prepare to be swept off your feet and journey into a whirlwind romance with these ultimate romantic destinations worldwide! Love is in the air, and date night has never been so exciting. Whether you're on a honeymoon, celebrating an anniversary, or just madly in love, this comprehensive guide to the most swoon-worthy spots from every corner of the globe will take your breath away. Pack your bags and bring along your significant other as we explore fairytale castles, sunsets on desolate beaches, hidden gastronomic gems, and much more. Love knows no boundaries; neither should your dating locations. Ready to ignite that spark? Strap in — we're about to go on an amorous world tour of a lifetime.
Our website offers comprehensive recommendations for some of the most romantic places around the world to visit on a date. From Bali with its stunning sunsets and luxurious villas, to Paris, famously known as the city of love, there is no shortage of amazing destinations for couples seeking a romantic adventure. Other popular choices include Venice, New York City, Bangkok, and Ushuaia, Argentina.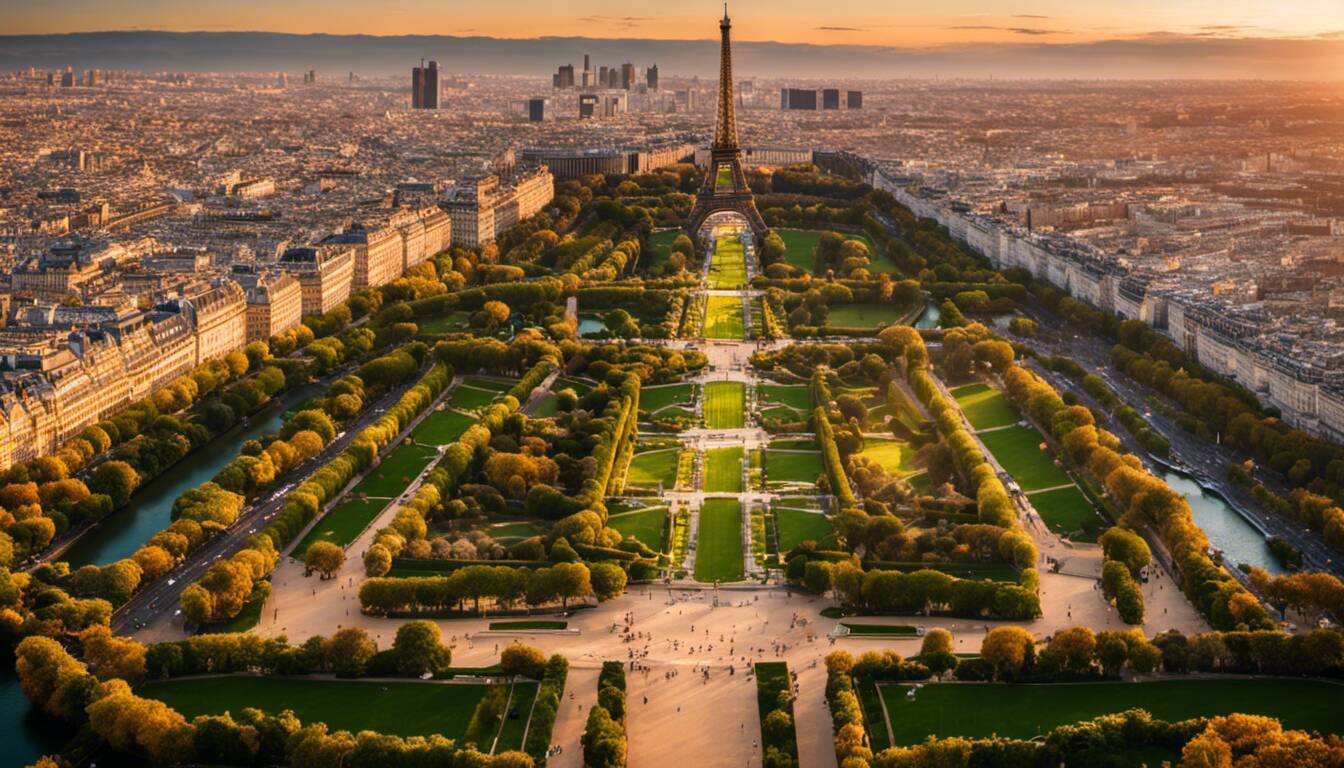 The Best Date Destinations In The World
When it comes to planning a romantic getaway or an unforgettable date, the world is full of enchanting destinations that can set the perfect stage for love and connection. From stunning natural landscapes to vibrant cityscapes, each location has its own unique charm and allure. Let's explore some of the best date destinations in the world and discover what makes them so special.
One of the top romantic destinations for couples in 2023 is Ubud, Bali. This idyllic town offers a peaceful escape with its lush rainforests, towering palm trees, and gentle streams. Imagine strolling hand-in-hand through rice terrace fields or immersing yourselves in the serene yoga and meditation community. Ubud also offers attractions like the famous Monkey Forest, where mischievous monkeys roam free, and Mt Batur's summit hike, which provides breathtaking panoramic views.
Another remarkable destination on our list is Buenos Aires, Argentina. Known as the "Paris of South America," Buenos Aires exudes passion and romance at every corner. Dancing the tango with your partner in one of the city's traditional milongas is an experience that will ignite feelings of intimacy and connection. Indulge in flavorful wines and succulent steaks while admiring the city's architectural beauty, such as the iconic El Ateneo Grand Splendid bookshop. To conclude your evening, venture into Buenos Aires' vibrant nightlife scene and let the rhythm of the city carry you away.
Valencia, Spain is another destination that strikes a harmonious balance between nature and architecture. With its stunning Turia Park, beautifully designed buildings like the Oceanografic, and picturesque beaches, Valencia provides a romantic backdrop for couples to explore together. You can immerse yourselves in authentic Spanish culture by enjoying passionate Flamenco shows or savoring delicious seafood dishes that reflect the city's coastal charm.
Imagine taking a leisurely stroll along the canals in Bath, United Kingdom, with your loved one. This charming city is surrounded by picturesque apple orchards and lush countryside. You can indulge in a calming Roman bath or pamper yourselves at a thermal spa. Historic pubs offering hearty food and craft ales create the perfect ambiance for cozy conversations and shared laughter.
"Traveling – it leaves you speechless, then turns you into a storyteller." – Ibn Battuta
Here are some more destinations to consider for your romantic getaway:
| Destination | Highlights |
| --- | --- |
| Porto, Portugal | Grand bridges, boat rides on River Duoro, Dom Luís I Bridge walks |
| Hoi An, Vietnam | Picturesque town, lantern-lined river, bike rides through rice fields |
| Paris, France | Eiffel Tower views, romantic walks along the Seine River |
| Santorini, Greece | Breathtaking sunsets, white-washed buildings |
| Kyoto, Japan | Cherry blossom gardens, serene temples and shrines |
Now that we've explored some of the best date destinations in the world let's dive deeper and discover the iconic restaurants and famous dishes you can savor while immersing yourself in these romantic settings.
Iconic Restaurants & Famous Dishes
As you embark on a culinary journey with your partner during your romantic escape, certain restaurants remain etched in memory for their exquisite ambiance and exceptional cuisine. In Melbourne, Australia, you'll find an array of establishments that are perfect for intimate dates. From Italian and Tuscan cuisines to German and European delights, these restaurants offer tantalizing menus that cater to various tastes and preferences. Picture yourselves indulging in delectable dishes while sipping fine wines, creating memories that will last a lifetime.
If you're seeking a luxurious dining experience, New York City can't be missed. The city is renowned for its world-class steakhouse restaurants, where succulent cuts of meat are prepared to perfection. These establishments provide not only delectable dishes but also an unparalleled atmosphere that exudes elegance and romance. Treat your significant other to an unforgettable meal while reveling in the vibrant energy of the city that never sleeps.
As we continue our culinary exploration around the world, let's venture into the Lebanese and Mediterranean cuisine scene. Picture yourselves in Beirut, Lebanon or Barcelona, Spain, indulging in mouthwatering dishes like hummus, kebabs, and fresh seafood. The rich flavors and aromatic spices of these cuisines are bound to awaken your senses and elevate your dining experience. Or even consuming the hip trendy flavors of Austin.
"The way to a person's heart is through their stomach." – Old proverb
Scenic Locations & Breathtaking Attractions
Are you looking to plan a romantic getaway with your partner? Look no further! We have curated a list of some of the most scenic locations and breathtaking attractions around the world that will leave you and your loved one in awe.
Let's start with Poland, a hidden gem that offers stunning landscapes and charming cities. Warsaw, the capital, boasts a combination of beautiful parks and historic architecture. Take a stroll through the picturesque Lazienki Park, where you can enjoy the tranquility of nature while admiring the stunning Palace on the Water. The magnificent city of Krakow is another must-visit destination. With its romantic old town and enchanting Wawel Castle, it provides a fairy-tale-like atmosphere that sets the perfect scene for creating lasting memories with your partner.
Meanwhile, in Western Australia, couples can experience diverse landscapes that range from breathtaking deserts to lush wine country. One such destination is Exmouth, located on the stunning Ningaloo Peninsula. Imagine snorkeling hand in hand with your loved one among colorful coral reefs and swimming alongside gentle manta rays and whale sharks. For an idyllic island retreat, make sure to visit Rottnest Island near Perth. This paradise offers secluded beaches, bike rides through natural beauty, and encounters with adorable quokkas – perfectly romantic moments to cherish.
If you're seeking a mix of culture and history along with natural beauty, Liverpool in England should be on your radar. Not only is it hosting Eurovision 2023, but it's also celebrating the 25th anniversary of the Liverpool Biennial contemporary arts festival. As part of the Year of the Coast events, England is showcasing its stunning shoreline from Kent's White Cliffs to Cornwall's rugged cliffs – ideal for enjoying sunset walks or picnics by the sea with your significant other.
Vilnius, Lithuania's capital city, is a lesser-known European gem that will captivate you with its rich history and architectural beauty. As it celebrates its 700th anniversary, the city will be hosting music festivals and exhibitions throughout the year. Stroll hand in hand through the narrow medieval streets of the Old Town, visit Gothic, Renaissance, and Baroque buildings, and scale the Gediminas Tower for panoramic views of the enchanting skyline. Vilnius is also Europe's only capital city where hot air balloons are allowed to fly over its charming landscape – a romantic experience like no other.
Now that we've explored some breathtaking destinations, let's turn our attention to unforgettable activities that couples can enjoy together in these romantic settings.
Unforgettable Activities for Couples
While traveling to scenic locations is exciting on its own, indulging in unforgettable activities as a couple can elevate your travel experience to new heights. Here are some ideas to make your romantic getaway truly memorable.
In Fiji, a tropical paradise known for its pristine waters and coral reefs, embark on a snorkeling or diving adventure hand in hand with your partner. Discover vibrant marine life and explore hidden underwater gems while creating cherished memories together. Immerse yourself in the local culture by participating in traditional kava welcoming ceremonies and enjoying traditional lovo meals cooked underground.
Heading to Charleston, South Carolina? Take advantage of the city's rich cultural scene by attending events like the Spoleto Festival, featuring opera, theater, dance, and music acts from around the world. Indulge your taste buds and savor exquisite cuisine at renowned restaurants such as Magnolias or Bertha's Kitchen. Exploring historic neighborhoods hand in hand or relaxing on the beautiful beaches will add moments of pure romance to your trip.
If you find yourselves in Manaus, Brazil's gateway to the Amazon rainforest, consider staying at one of their eco-lodges that have embraced sustainability initiatives. For example, Juma Amazon Lodge utilizes a solar plant, and Anavilhanas Jungle Lodge operates off-grid facilities, allowing you to connect with nature while minimizing your ecological footprint. Trek through the lush rainforest, cruise along the Amazon River, and encounter diverse wildlife together – all while contributing positively to the environment.
Greece offers a myriad of options for couples seeking an unforgettable experience. In Thessaloniki, indulge in the UNESCO-endorsed local food scene, where you can savor delicious Greek cuisine and sample regional delicacies. Explore the beautiful beaches along the Thermaic Gulf or venture into the nearby mountains for some scenic hiking trails. Plus, keep an eye out for Thessaloniki's new metro system, currently under construction – a unique backdrop for adventurous travel stories.
We've now uncovered some incredible activities for couples that will leave you with memories to cherish forever. But there's more! Let's dive into popular date activities and experiences that will ignite your sense of adventure.
Popular Date Activities & Experiences
When it comes to creating unforgettable memories with your significant other, choosing the right date activities and experiences is key. Luckily, there are countless options available around the world to cater to every couple's unique preferences and interests. From exploring historical landmarks to indulging in culinary adventures, let's discover some of the most popular date activities and experiences that can make your romantic getaway truly remarkable.
For couples who enjoy exploring culture and art, visiting local museums or art galleries can be a captivating date idea. Imagine strolling hand-in-hand through renowned artworks, discovering hidden gems, and engaging in thought-provoking discussions together. You might even come across special exhibitions or installations that are exclusive to the destination you're visiting, adding an extra touch of uniqueness to your experience.
For the adventurous souls seeking thrill and excitement, outdoor activities such as hiking, kayaking, or even skydiving can create lasting memories. Picture yourselves conquering breathtaking trails, feeling the rush of adrenaline as you navigate through white-water rapids or soaring through the sky while taking in awe-inspiring views from above. These types of activities not only allow you to share thrilling moments but also strengthen your bond through overcoming challenges together.
For those who appreciate a more relaxed ambiance on their dates, scenic boat rides or sunset cruises can provide a picturesque setting for romance. Whether it's sailing along a tranquil river, exploring coastal wonders on a yacht, or embarking on a romantic gondola ride through dreamy canals, these experiences offer intimate moments and breathtaking backdrops that will leave you both feeling like you're in a romantic fairy tale.
Sometimes simplicity is what creates the most memorable moments. Going for a leisurely walk in a charming park or botanical garden can provide an opportunity for peaceful conversations and stolen glances amidst beautiful surroundings. Taking time to connect with nature while enjoying each other's company allows you to relax, slow down, and truly appreciate the present moment together.
From exploring vibrant street markets filled with tantalizing flavors to embarking on a culinary adventure in renowned restaurants, food-related date activities can be incredibly gratifying. Sampling exotic cuisines, attending cooking classes, or indulging in indulgent dessert tastings are delightful ways to explore a destination's culinary scene and create a shared appreciation for different flavors and cultural traditions.
Now that we have explored some popular date activities and experiences that can make your romantic getaway extraordinary let's move on to another crucial aspect – finding the perfect accommodations to enhance the overall experience.
Accommodations to Add to the Experience
When planning a romantic getaway, selecting the right accommodations can make all the difference in creating an unforgettable experience. The world offers a plethora of options, each with its unique charm, amenities, and atmosphere that cater to couples seeking a truly romantic escape. Whether you prefer an intimate boutique hotel, a luxurious resort surrounded by stunning landscapes, or a cozy bed and breakfast nestled in picturesque surroundings – there is something for everyone.
Choosing the perfect accommodation is much like setting the stage for a memorable performance. The right ambiance, amenities, and attention to detail can contribute significantly to creating an enchanting atmosphere for you and your loved one.
If you both crave tranquility and seclusion, consider opting for secluded villas or cottages tucked away amidst nature's serenity. These hidden gems provide privacy and peace where you can fully immerse yourself in each other's company without any distractions. Enjoy leisurely mornings sipping coffee on your private balcony or evenings cuddled up under the stars, creating timeless memories in your own little piece of paradise.
For those seeking opulence and indulgence, luxury resorts offer a myriad of amenities designed to spoil you both. Indulge in couple's massages at sumptuous spas, enjoy romantic candlelit dinners by the beach, or savor breakfast in bed while overlooking breathtaking views. These high-end accommodations provide the perfect setting for a romantic escape where you can immerse yourself in luxury and create memories drenched in elegance.
On the other hand, if you both appreciate historic charm, boutique hotels that exude character and uniqueness might be your ideal choice. Imagine staying in a beautifully restored mansion or castle, with each room revealing its distinct personality. These accommodations often offer personalized service and an intimate ambiance that adds a touch of magic to your romantic getaway.
"There is nothing more magical than staying at a charming bed and breakfast nestled in the heart of a picturesque village. Waking up to the aroma of freshly brewed coffee and homemade pastries, spending lazy afternoons exploring cobblestone streets hand-in-hand – these are the moments that create lasting memories." – Personal anecdote.
Remember, when selecting accommodations, it's crucial to consider both your preferences as a couple and what the destination has to offer. Whether it's exotic luxury, forest or ocean views, beachy or sultry vibes, NYC living with city views, vineyard settings, or Mediterranean-style allure – there's an accommodation waiting to enhance your romantic escape.
Popular Hotels for a Romantic Getaway
When it comes to planning a romantic getaway, choosing the right hotel can make all the difference. A truly special and memorable experience awaits you at these popular hotels, carefully selected for their romantic ambiance and exceptional amenities.
Let's start with the Chateau Exterior, an exquisite hotel nestled in the heart of Missouri. The stunning architecture and picturesque landscapes create a fairytale-like atmosphere, perfect for couples seeking a romantic escape. Imagine strolling hand in hand through the beautiful gardens or enjoying a candlelit dinner overlooking breathtaking views.
For those who crave the tranquility of nature, look no further than the Resort Front Entrance. Surrounded by lush forests and serene lakes, this secluded retreat offers privacy and intimate moments amidst picturesque scenery. What could be more romantic than waking up to the gentle sounds of nature and sharing breakfast on your private balcony?
If you're searching for a hotel with incredible sunset views, you'll be captivated by the beauty of the Exterior sunset. Whether you're enjoying a glass of wine together or simply basking in each other's presence, watching the sun dip below the horizon will create a truly magical and romantic moment.
"We had the most romantic stay at the Inn with a view of the Historic Hermann Festhalle," exclaimed Hannah, one satisfied guest. "The charming architecture, combined with its ideal location, made our stay unforgettable."
Indulge in luxury at the moonrise exterior Boutique Hotel, where contemporary elegance meets whimsical charm. This enchanting hotel boasts stunning celestial-themed decor that sets the stage for romance in every corner. Take a moonlit dip in their outdoor swimming pool or pamper yourselves with spa treatments designed to enhance relaxation and rejuvenation.
| Hotel Name | Location | Amenities |
| --- | --- | --- |
| Cascades Swimming Pool Resort | Beachfront | Private pools, beach access, romantic dining options |
| Victorian Suite | Historic district | Four-poster beds, in-room jacuzzi, champagne breakfast |
| Moonrise exterior Boutique Hotel | Urban center | Rooftop bar and pool, spa services, live music events |
Each of these hotels offers a unique experience, ensuring that you and your loved one can create memories to cherish for a lifetime. Before making your selection, consider the location and amenities that resonate with your idea of a perfect romantic getaway. Take into account factors such as proximity to attractions and activities you both enjoy.
Now that you have some fantastic hotel options in mind for your romantic getaway, let's dive into the next step: choosing the perfect destination for your date.
According to a survey conducted by Big 7 Travel, Paris, France tops the list of the most romantic cities in the world with 35% of respondents voting it as their top choice.
A study by Agoda.com revealed that Bali, Indonesia is among the top choices for romantic destinations, with 31% of couples preferring it over other locations.
As per data from Booking.com, around 54% of couples prefer Venice, Italy for their romantic getaways due to its unique charm and history.
Choosing the Perfect Destination for Your Date
The world is full of incredible destinations that provide an idyllic backdrop for a romantic date. Whether you prefer vibrant cityscapes or serene natural landscapes, there's something for every couple. Here are some considerations to keep in mind when choosing the ideal location for your special date.
City Vibes: If you thrive on the energy of bustling cities and love exploring vibrant cultures together, consider destinations like Paris, San Francisco, New York City, or Tokyo. These urban metropolises offer an array of attractions such as fine dining restaurants, cultural landmarks, and exciting nightlife that will ensure an unforgettable date experience.
Nature Retreats: For those who seek serenity in nature's embrace, destinations like Santorini in Greece or Bora Bora in French Polynesia present awe-inspiring landscapes. Picture yourselves enjoying a sunset cruise surrounded by crystal-clear waters or taking romantic walks along picturesque shores. These destinations offer seclusion and natural beauty that will ignite your romantic sparks.
Choosing the perfect destination for your date is like selecting the key ingredient for a delectable recipe. Just as a well-chosen ingredient can enhance the flavor of a dish, the right destination can elevate your date experience, creating lasting memories.
Hidden Gems: If you're looking for something off the beaten path, consider destinations like Prague in the Czech Republic or Ubud in Bali. These lesser-known gems offer a blend of charm, unique local experiences, and breathtaking scenery that provides the perfect setting for an intimate and exclusive date.
Ultimately, it's important to choose a destination that resonates with both you and your partner's interests and desires. Whether it's exploring historical landmarks, indulging in culinary delights, or simply relaxing on pristine beaches, ensure that the chosen location aligns with your shared vision of romance.