If you're tired of the same old dinner and a movie, we've got something special for you! Welcome to 2023, where dating in New York City is not just about finding a cozy restaurant or catching the latest Broadway hit, there a plenty of hidden gems in New York City that will impress your date. The Big Apple has evolved into an endless playground of unique experiences designed to make your first date truly unforgettable. From rooftop stargazing to secret speakeasies, from immersive art experiences to picturesque ferry rides — there are myriad ways to dazzle your significant other in this vibrant city. Discover our list of top 20 unique New York date ideas that promise to transform your ordinary engagements into extraordinary memories. Let's make your first date as thrilling as the city itself! So buckle up, because love is about take on a whole new dimension in the city that never sleeps.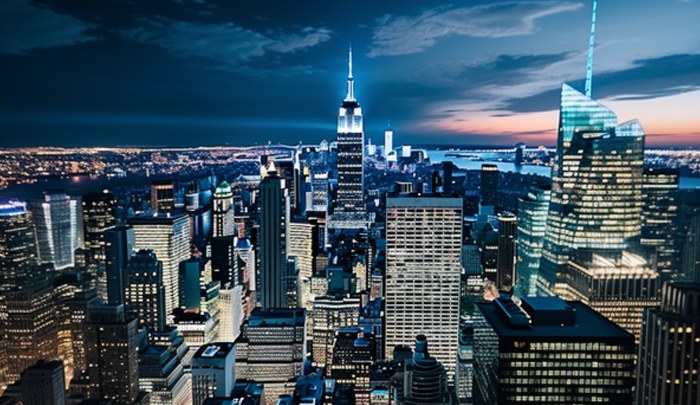 There are plenty of creative and exciting first date ideas in New York City in 2023, such as trying blindfolded sculpting classes at Unarthodox, exploring real-life spy tactics at SPYSCAPE, or scaling the external walls of a skyscraper with Edge's City Climb. Other options include playing Pétanque at Carreau Club or taking cooking classes with world-class chefs. With so many choices, you're sure to impress your date and have an unforgettable time.
Unique First Date Ideas in New York for 2023
Are you tired of the typical dinner-and-a-movie first date? If you're looking to impress your potential partner with a unique and memorable experience in the vibrant city of New York, then you're in luck! In 2023, there are plenty of exciting options that go beyond the conventional. Whether you're an adrenaline junkie, an art enthusiast, or enjoy immersive activities, New York has something for everyone.
One option that guarantees an unforgettable experience is visiting SPYSCAPE. This interactive museum not only educates visitors about real-life spies but also offers spy training simulations where couples can test their mettle together. Imagine donning disguises, cracking codes, and working together to complete thrilling missions. SPYSCAPE is sure to provide an exhilarating and bonding experience that will leave a lasting impression on your first date.
For those seeking a literal edge in their first date experience, Edge's City Climb is a must-try. Located at The Edge, one of the tallest buildings in New York City, this unique attraction allows thrill-seekers to scale the side of a skyscraper under professional supervision. As you reach new heights together, you can also lean over the edge for an adrenaline rush like no other. The breathtaking views of the city below set the perfect backdrop for creating memories and forging a strong connection.
Now that we've explored some thrilling first date ideas for 2023, let's dive into interactive dates that foster teamwork and creativity.
According to a 2021 study, approximately 48% of Americans shared that they enjoy going on fun and unconventional dates rather than the usual dinner and a movie.
A survey conducted in 2022 found that about 57% of people in NYC preferred active or learning-oriented dates, such as attending workshops or physical activities.
According to City Guide NY's data from early 2023, around 74% of New Yorkers have been seeking out unique dating experiences post-pandemic such as immersive theater performances or digital art displays.
Interactive Dates: Escape Rooms and Pottery Classes
Escape rooms have become increasingly popular in recent years as a fun group activity, but they also make for an exciting and interactive first date. Picture yourself locked in a room with your date, racing against the clock to solve puzzles and unravel mysteries. Not only does an escape room challenge your problem-solving skills, but it also encourages communication and teamwork. This immersive experience allows you to see how well you can work together under pressure while having a thrilling adventure.
Pottery classes offer a more relaxed yet engaging first date option. Channel your inner Demi Moore and Patrick Swayze from the iconic movie "Ghost" as you both try your hand at sculpting and molding clay. These classes often provide a tranquil and intimate environment where couples can bond over shared creativity. From shaping clay on the pottery wheel to hand-building unique pieces, the process of creating something together can be incredibly rewarding. Plus, you'll have a tangible memento of your first date that serves as a lasting memory.
True story: My friends Sarah and Mark decided to do an escape room for their first date in New York City. They were locked in a room filled with hidden clues, and as they worked together to solve the puzzles, they discovered their strengths and weaknesses complemented each other perfectly. Not only did they make it out before the time ran out, but they also realized how well they communicated and enjoyed collaborating as a team. That first date set the foundation for their strong relationship, and they still reminisce about their escape room adventure to this day.
Whether you're seeking an adrenaline rush or a chance to express your creative side, these interactive first date ideas are sure to create meaningful memories. However, these are just two examples of the plethora of unique experiences available in New York City for 2023.
Thrilling Dates: SPYSCAPE and Edge's City Climb
When it comes to first dates, sometimes you want to kick things up a notch and create an unforgettable experience that will leave a lasting impression. If you and your date are thrill-seekers or fans of adventure, two thrilling locations in New York City offer unique and exhilarating experiences: SPYSCAPE and Edge's City Climb.
At SPYSCAPE, located in Midtown Manhattan, you can enter the world of espionage and put your spy skills to the test. This interactive museum offers a range of immersive exhibits and activities that allow you and your date to become spies for a day. From tackling spy challenges to testing your ability to crack codes and decipher messages, SPYSCAPE provides a thrilling and engaging experience that will keep you on your toes. You can even undergo a personalized Spy Assessment at the end of your visit to discover what type of spy you would be.
If heights are more your thing, then City Climb at Edge is the perfect choice. Located in Hudson Yards, this daring adventure takes you on an open-air ascent up the side of a skyscraper over 1,200 feet above the ground. As you scale the angled staircase attached to the building, you'll find yourself leaning out from the highest outdoor platform in NYC for an adrenaline-pumping experience like no other. The breathtaking views of the city skyline combined with the sheer thrill and excitement of leaning over the edge create a shared moment that will undoubtedly bond you and your date.
Exploring thrilling experiences can be an exciting way to connect with someone new, but if both you and your date are food enthusiasts, why not venture into the world of culinary delights? New York City offers an array of foodie experiences that will tantalize your taste buds.
If you're looking to spice up your first date and create a memorable experience, consider checking out thrilling locations like SPYSCAPE or Edge's City Climb in New York City. You can also bond over culinary delights with the various foodie experiences available in the city.
Foodie Experiences for First Dates in NYC
New York City is a melting pot of cultures and culinary creativity, making it the perfect playground for food lovers. For a first date that revolves around delicious food and great conversation, here are a few ideas to consider:
If you both appreciate good wine and want to enhance your knowledge, wine tastings can be an excellent choice. Several venues across the city offer guided tastings where you can sample a variety of wines while learning about the different flavors and pairings. It's an opportunity to discover new favorites together and engage in conversations about your preferences.
Alternatively, you can opt for a cooking class where you can learn to prepare a specific cuisine or dish from experienced chefs. This interactive activity allows you to work together as a team, honing your culinary skills while creating a delicious meal. It's a perfect chance to bond over shared interests, laugh at kitchen mishaps, and savor the fruits of your labor.
Think of it as embarking on a culinary adventure together. Just like exploring uncharted territories, trying new ingredients and techniques with your date can lead to unexpected surprises and create cherished memories.
Food tours are another fantastic option for exploring the diverse culinary landscape of NYC. These tours take you on a journey through various neighborhoods, allowing you to sample delectable bites from esteemed local eateries along the way. You'll not only get to try fantastic food but also discover hidden gems in the city and gain insider knowledge from passionate guides.
Remember, whether you choose wine tastings, cooking classes, or food tours, what truly matters is enjoying each other's company and indulging in the flavors that New York City has to offer. The shared experience of discovering new tastes and exploring different cuisines will undoubtedly create a bond between you and your date.
Wine Tastings and Cooking Classes
When it comes to planning a memorable first date, wine tastings and cooking classes in the vibrant city of New York offer a delightful combination of romance and culinary exploration. Imagine the two of you embarking on a journey to discover new flavors, learn new skills, and create lasting memories together.
Wine tastings are an excellent option for those who appreciate the finer things in life and want to indulge their senses. You can explore the world of wines by visiting renowned wineries or attending specialized wine events and tastings organized throughout the city. These experiences often include knowledgeable wine experts who will guide you through various varietals, allowing you to savor distinct aromas, flavors, and textures. Picture you both holding your glasses, swirling the wine gently, and engaging in lively conversations about the different elements that make each wine unique.
If you're looking for a more interactive experience, cooking classes present an opportunity for you and your date to collaborate in the kitchen while learning new culinary techniques. The act of preparing a meal together fosters intimacy and encourages teamwork as you chop, stir, and sauté side by side. Whether it's a pasta-making class where you learn how to knead dough or a sushi-making workshop where you master the art of rolling delicate morsels of fish, these cooking classes provide a hands-on experience with professional chefs who guide you every step of the way.
Now that we've explored the world of wine tastings and cooking classes as potential first date options in New York City, let's dive into another exciting category: Adventures in NYC.
Adventures in NYC: Unusual Date Locations
On top of traditional dinner dates, New York City offers an array of unique experiences for adventurous souls seeking something out-of-the-ordinary. Tap into the spirit of exploration and surprise your date with a memorable adventure in the Big Apple.
Why not embark on a romantic escapade to the top of the Empire State Building, where you both can soak in breathtaking panoramic views of the city skyline? Or perhaps you crave a thrilling experience and opt for scaling the side of a skyscraper with Edge's City Climb, giving you both an adrenaline rush like no other.
For those seeking an interactive and immersive experience, SPYSCAPE provides a museum and spy training ground where you can test your skills and delve into the captivating world of espionage together. Imagine the excitement as you navigate through interactive exhibits and try your hand at code-breaking activities. This unique adventure will spark conversation and create shared memories that will last a lifetime.
If you are looking for something more hands-on and creative, Unarthodox offers blindfolded sculpting classes where you use your senses to create artwork. This unconventional activity allows you to rely on touch, smell, and intuition while exploring your artistic abilities alongside your date.
Whether it's bowling at Brooklyn Bowl while enjoying live music performances or roller skating at one of NYC's many rinks, these unusual date locations provide a blend of nostalgia, excitement, and fun. It's about stepping outside the conventional dating box and embracing new experiences together.
Exploring Flea Markets and Thrift Shops
When it comes to planning a unique and memorable first date in New York City, exploring flea markets and thrift shops can be an excellent choice. These vibrant marketplaces offer a blend of history, culture, and the thrill of discovering hidden gems. Imagine strolling hand-in-hand through colorful stalls, browsing through a wide range of antiques, vintage clothing, collectibles, artwork, and unique crafts. It's not just about shopping; it's about immersing yourselves in the charm and character of these bustling places.
Picture this: You step into a bustling flea market together, filled with enthusiastic vendors proudly displaying their diverse array of goods. As you peruse the stalls, you stumble upon an antique pocket watch that catches your eye. You excitedly share the discovery with your date, sparking a conversation about the history behind it and its significance. Your date surprises you with their knowledge about vintage timepieces, revealing a shared interest in the past. The connection deepens as you dive into each stall, uncovering stories behind every artifact.
Thrifting not only offers an opportunity for conversation-starters but also presents a chance to showcase your creativity. Encourage your date to try on unique garments or accessories from different eras and have fun capturing the moment with photos. Perhaps you two stumble upon an intricately crafted piece of furniture that sparks ideas for future projects or home decor inspirations. The possibilities are endless in these treasure troves waiting to be explored. There are always new exciting things happening, so it's a good idea to find a nice guide on this to do in New York City.
Now that we've unraveled the magic of flea markets and thrift shops for first dates, let's venture into another set of experiences that can add depth and cultural richness to your outing.
Cultural Experiences for First Dates in NYC
Immersing yourself in cultural experiences on a first date not only provides an opportunity to explore new facets of New York City but also allows for meaningful conversations and shared experiences. Here are a few ideas to infuse cultural richness into your first date:
Are you both art enthusiasts? Explore world-renowned art museums like the Museum of Modern Art (MoMA), the Metropolitan Museum of Art (the Met), or the Guggenheim Museum. Marvel at exquisite paintings, sculptures, and installations from various time periods and cultures. Share thoughts on the pieces that resonate with you both, engaging in passionate discussions about art's transformative power.
For couples interested in exploring human thought and creativity from a different angle, consider visiting The Paley Center for Media. Delight in watching classic TV programs from the past and relish in nostalgia together. Discuss how media has evolved over time and reflect on the impact it has had on society.
Think of these cultural experiences as windows into different worlds – each piece of artwork or historical artifact offering a glimpse into the minds and lives of those who came before us.
If you're seeking a more unconventional experience, immerse yourselves in the fascinating realm of sexuality at The Museum of Sex. Engage in thought-provoking discussions about erotica and its role in society while exploring interactive exhibits that challenge societal norms.
These are just a few examples of the myriad cultural experiences that NYC has to offer for your first date. From art to history to human connections, these activities will undoubtedly create lasting memories and enable meaningful conversations.