These hilarious Tinder profiles are what made online dating great. We're both inspired and disgusted a little at the same time by some of these examples. Which one do you think is the funniest bios? Let us know in the comments which of these funny Tinder bios is your favorite.
We've compiled the funniest, most awkward and surprising profiles. The moral of the story here is: Don't take yourself too seriously and you'll have fun! (Oh, and having an emu always helps).
The funniest Tinder profile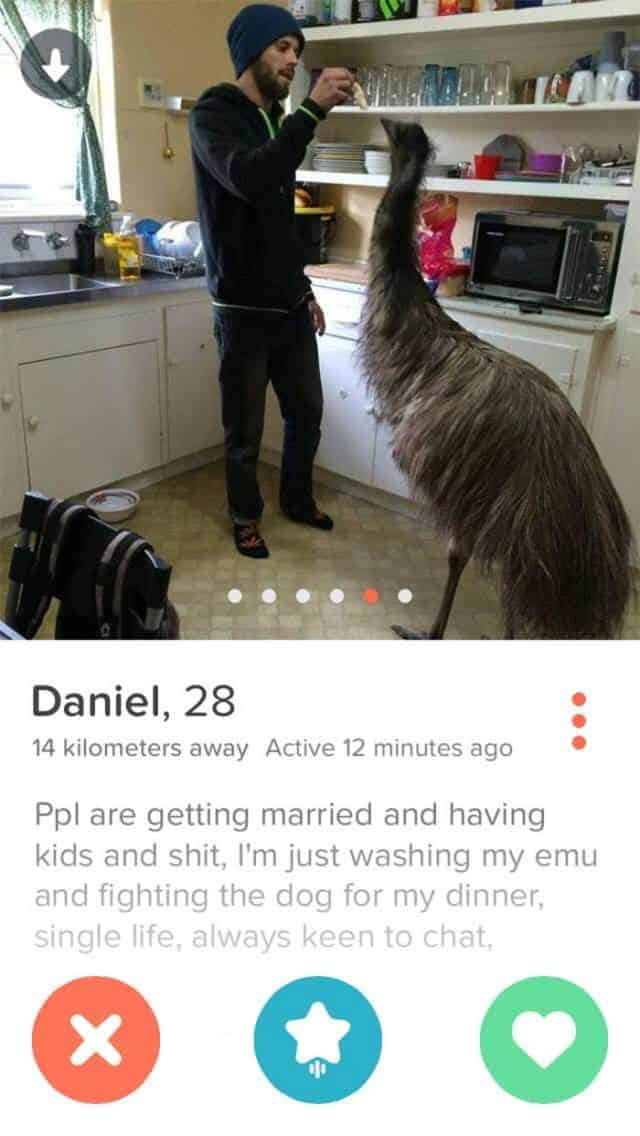 A Taco Profile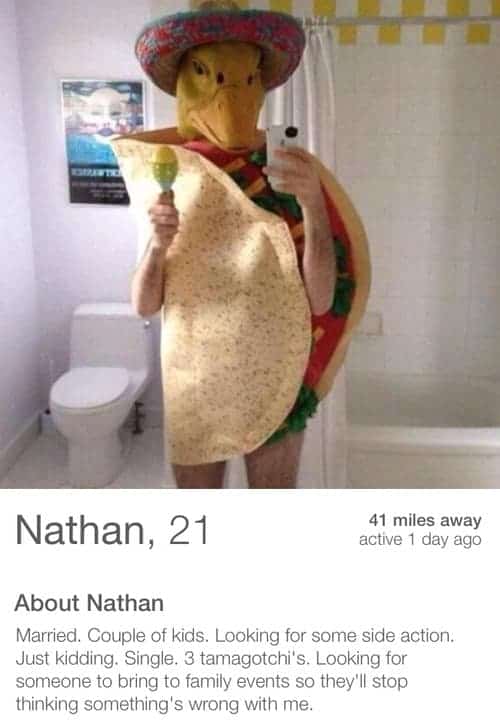 Sometimes you just have to laugh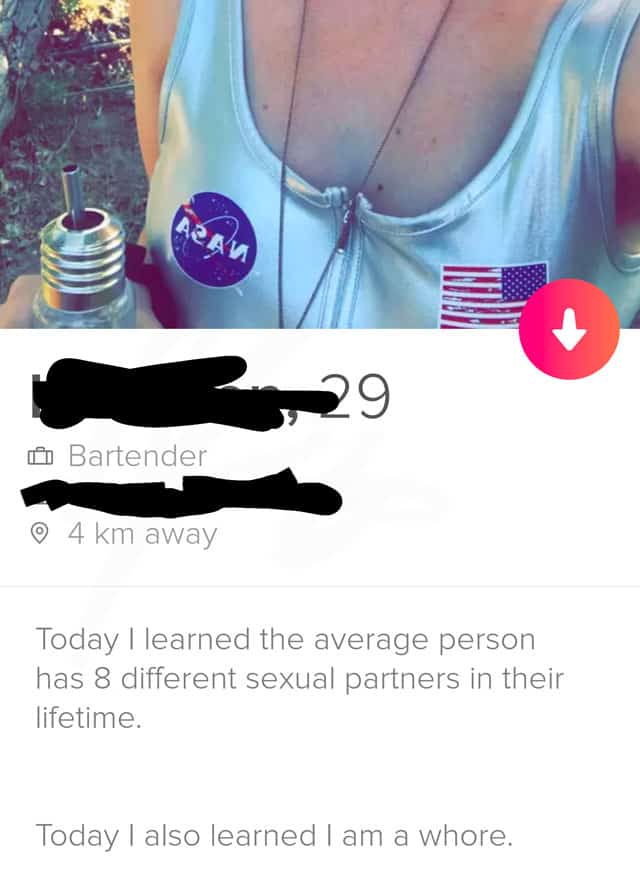 Greatest Tinder Bio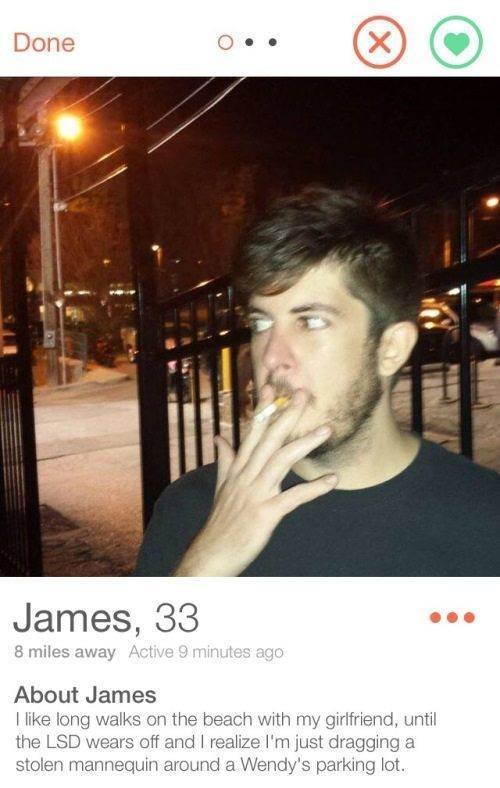 This guy knows what works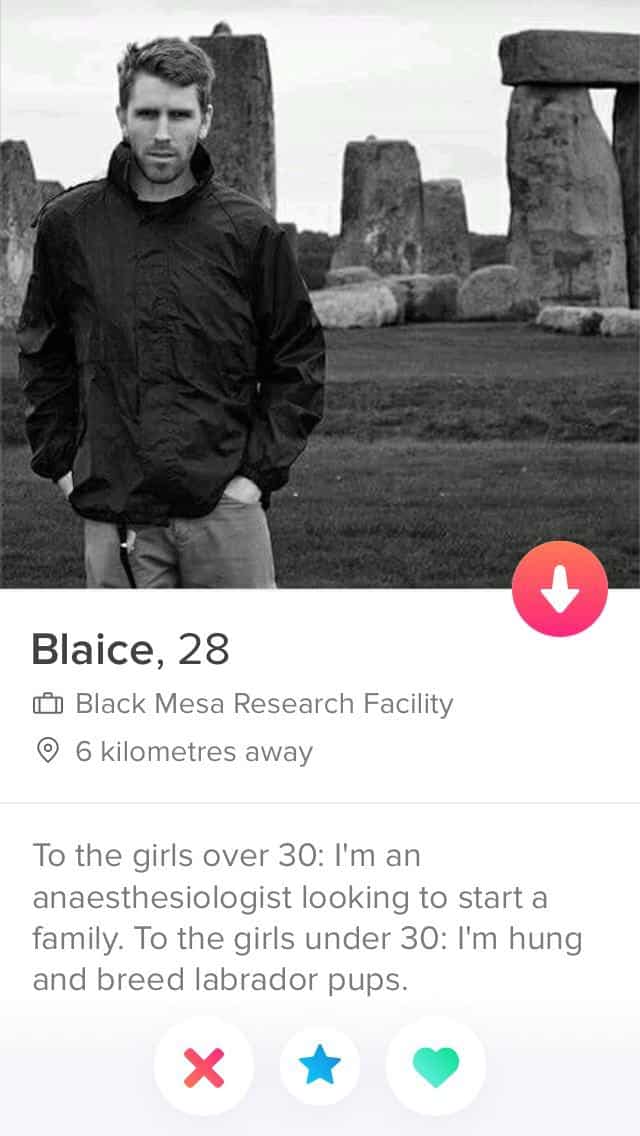 When A Picture Says It All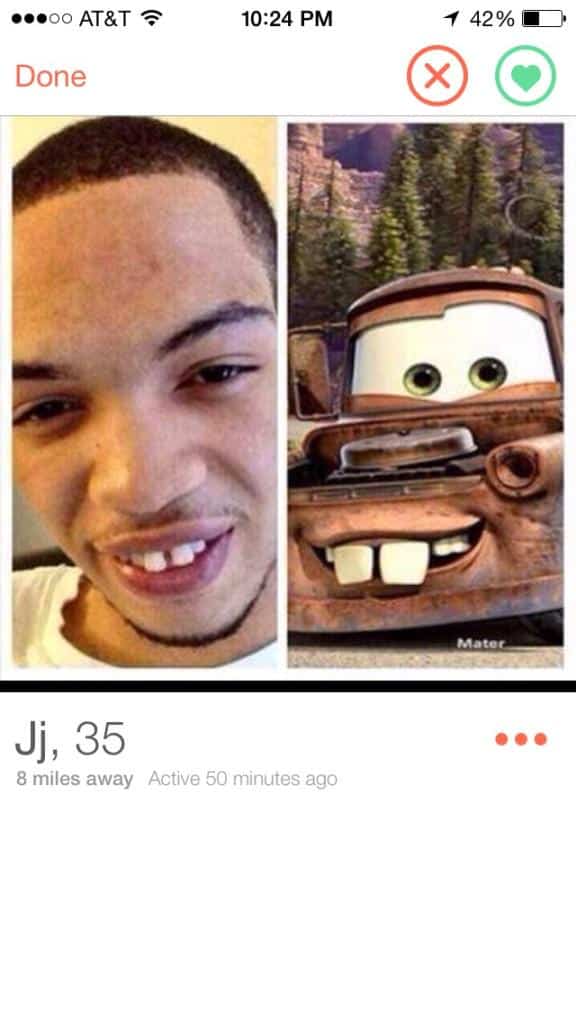 At Least He's Useful In His Bios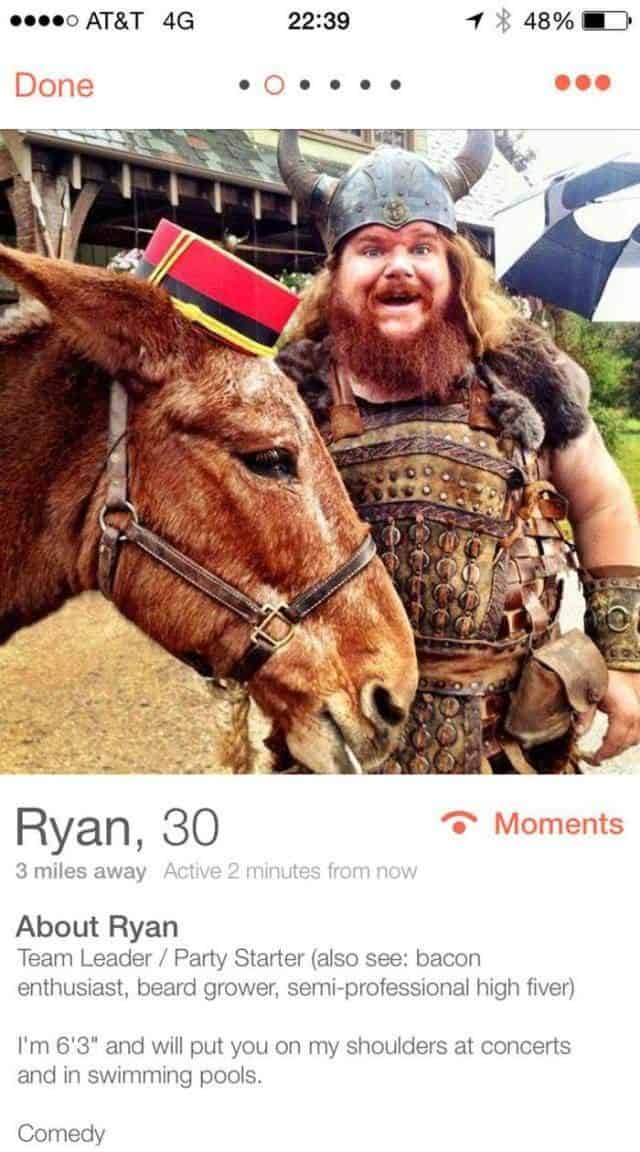 Funny Because It's True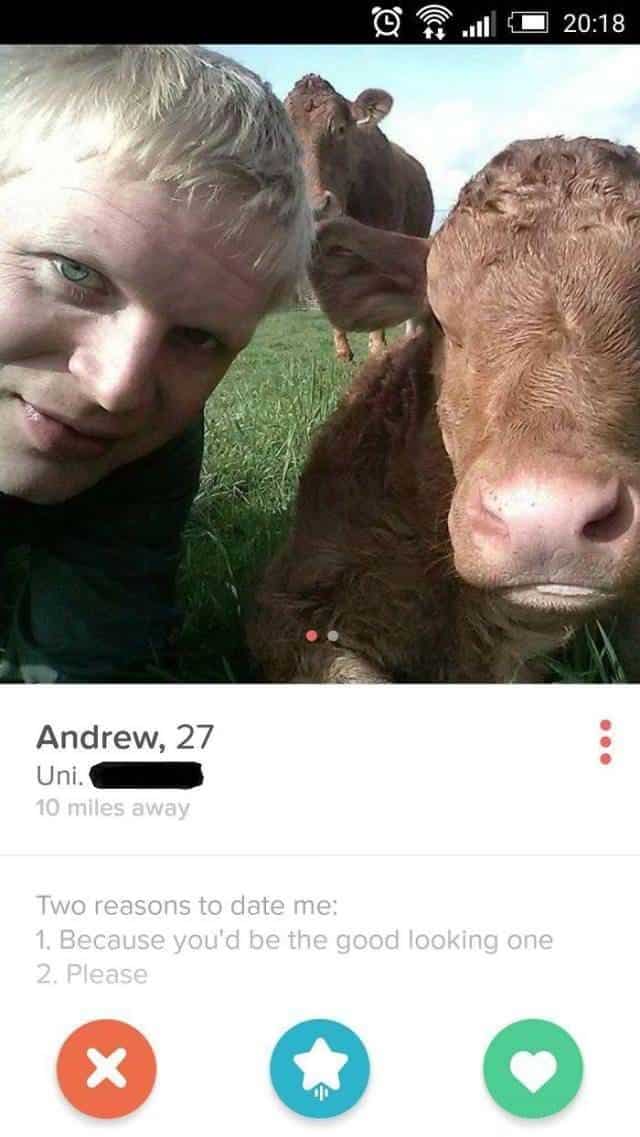 Good For You Profile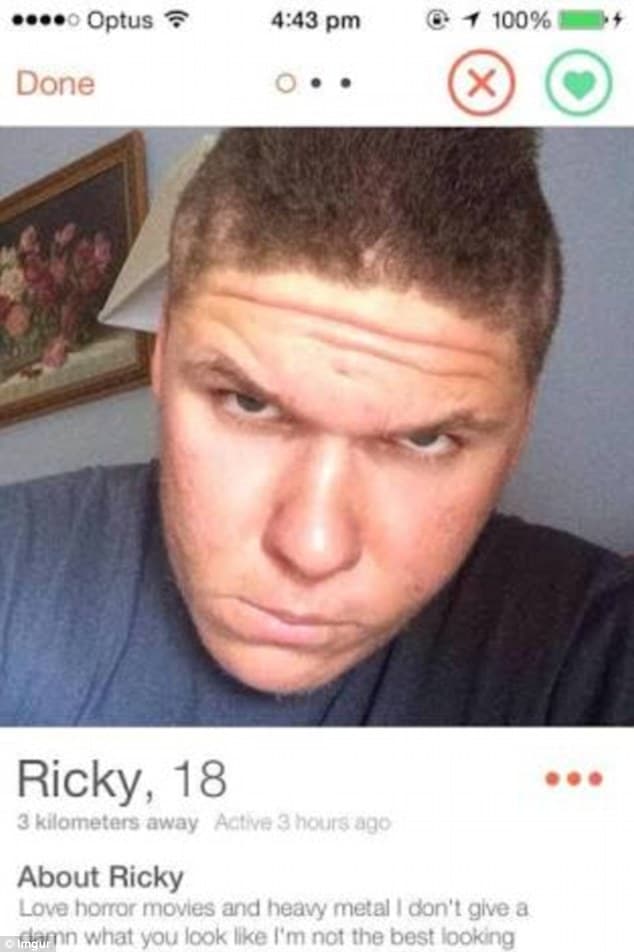 A Lot Of Work Went Into This Profile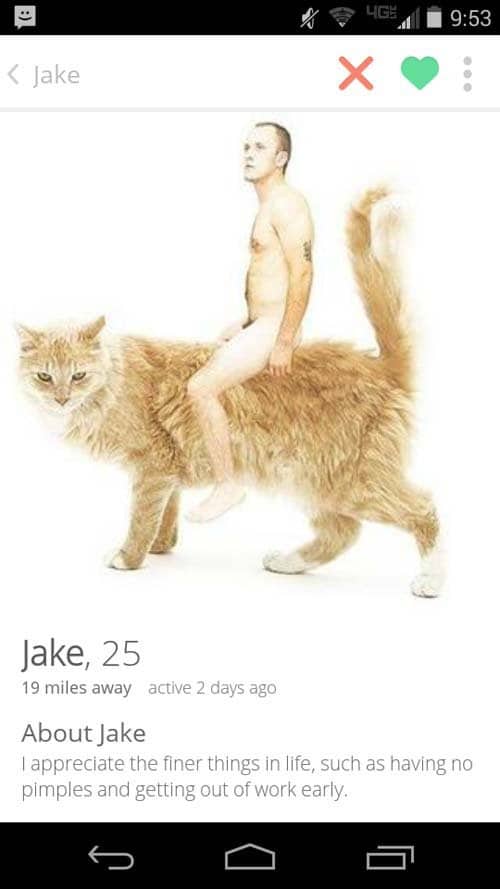 Don't Underestimate My Standards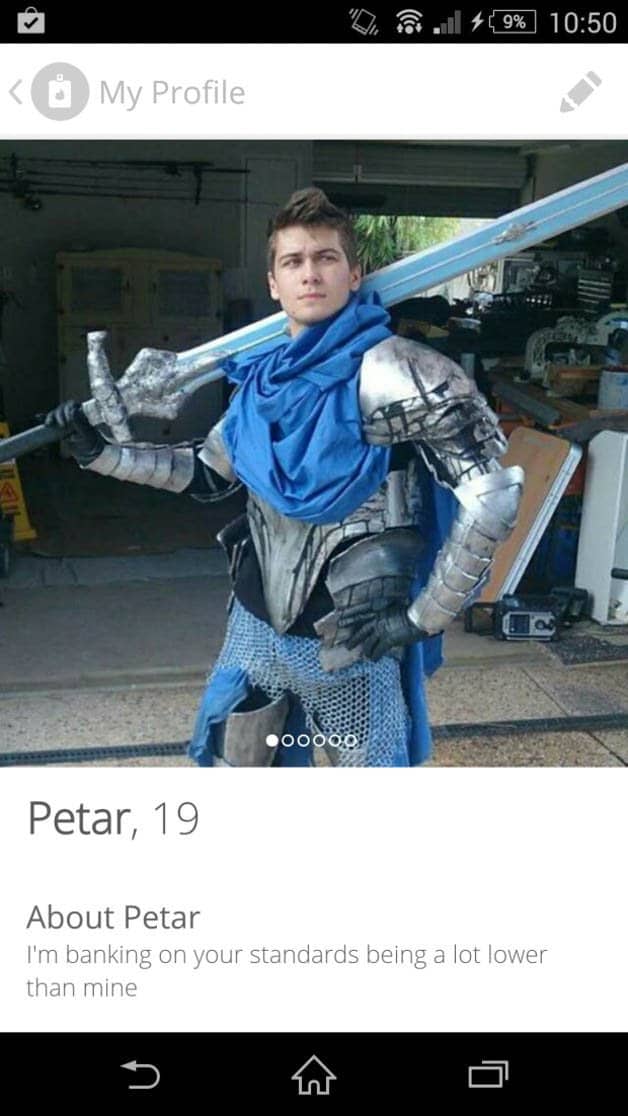 Cute Cat Picture Profile With A Twist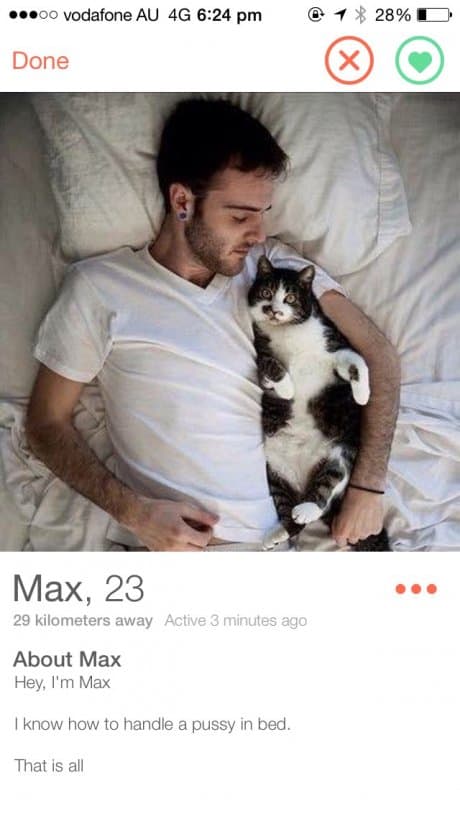 Not Sure How Clever This Is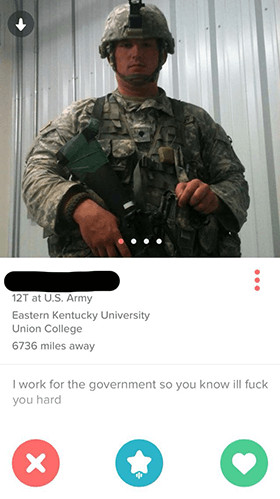 He Seems Like A Fun Guy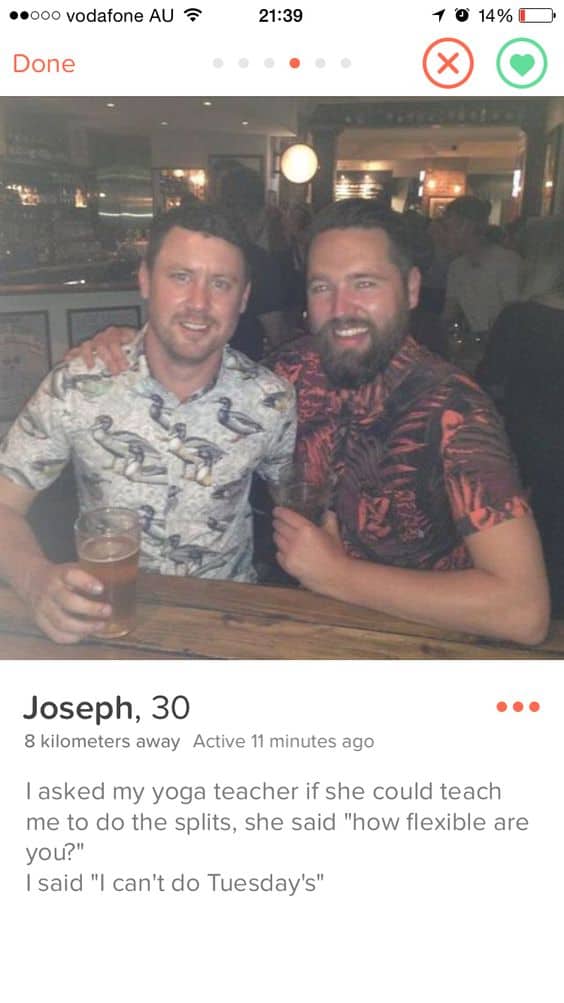 At Least He's Honest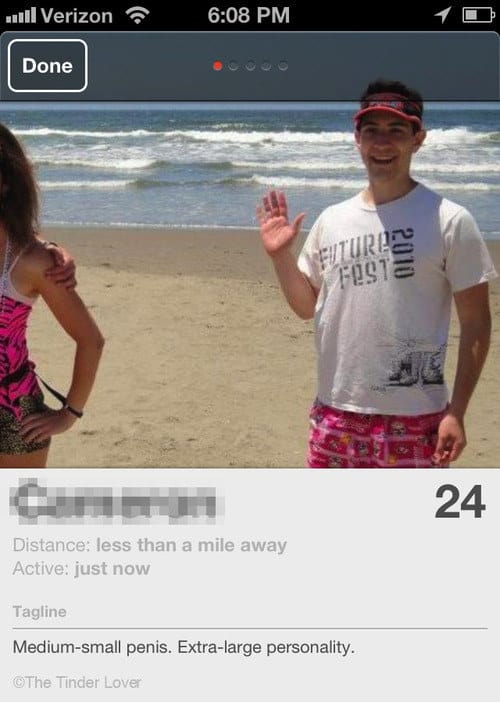 A Profile I'd Run Away From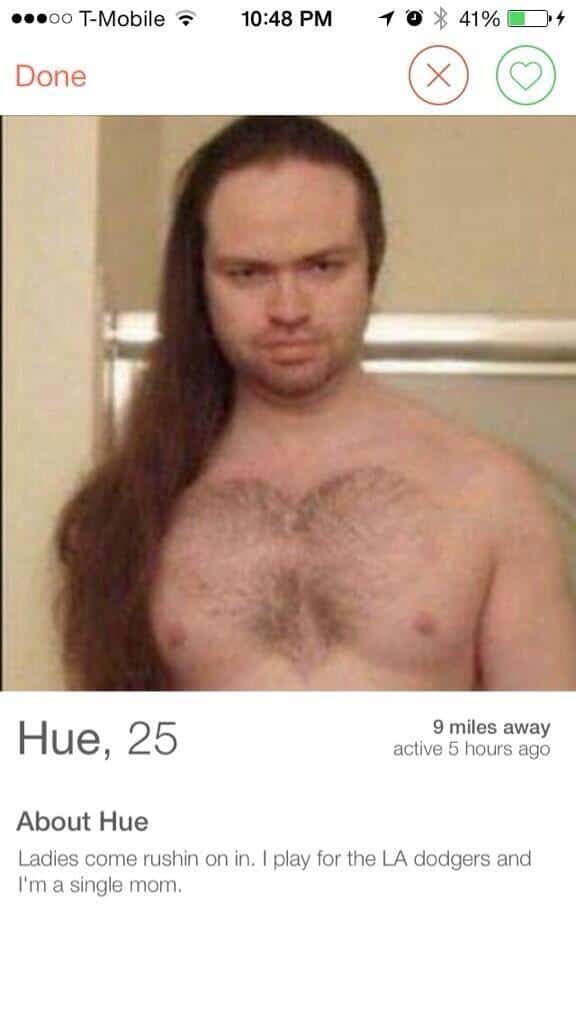 Some People Are Awesome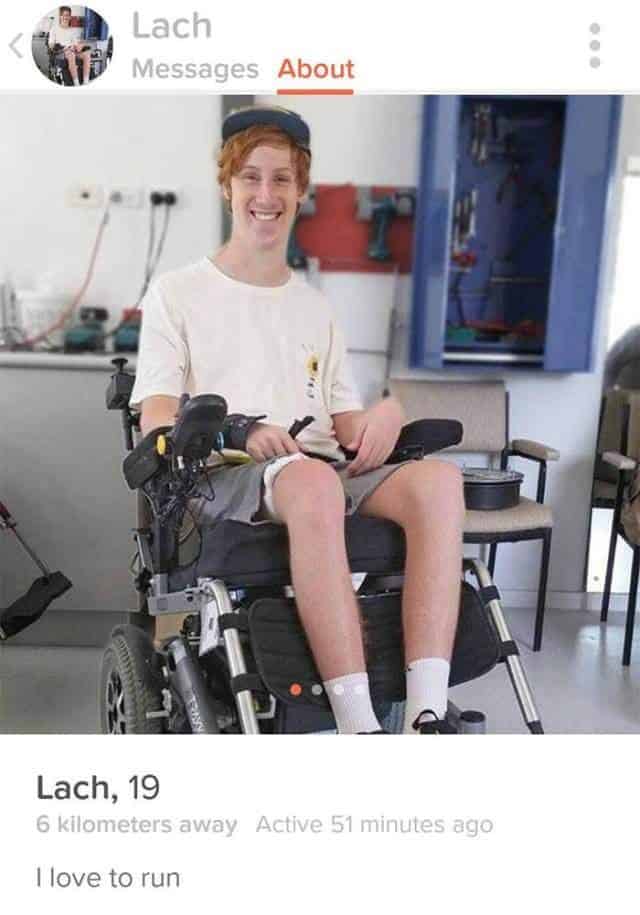 At Least He Knows What He Wants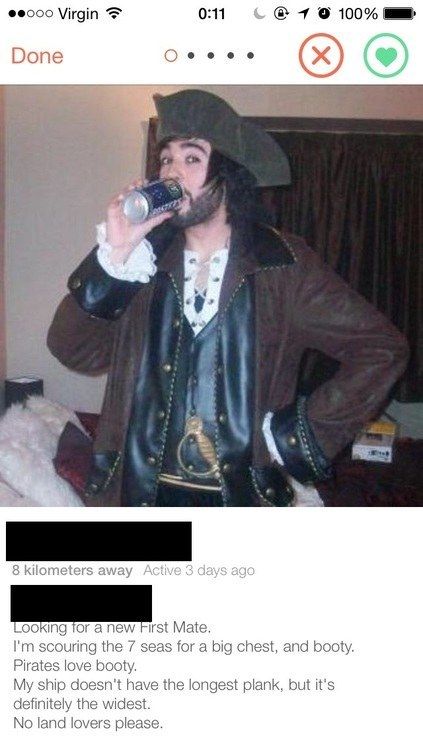 What Kind Of Profile Is This?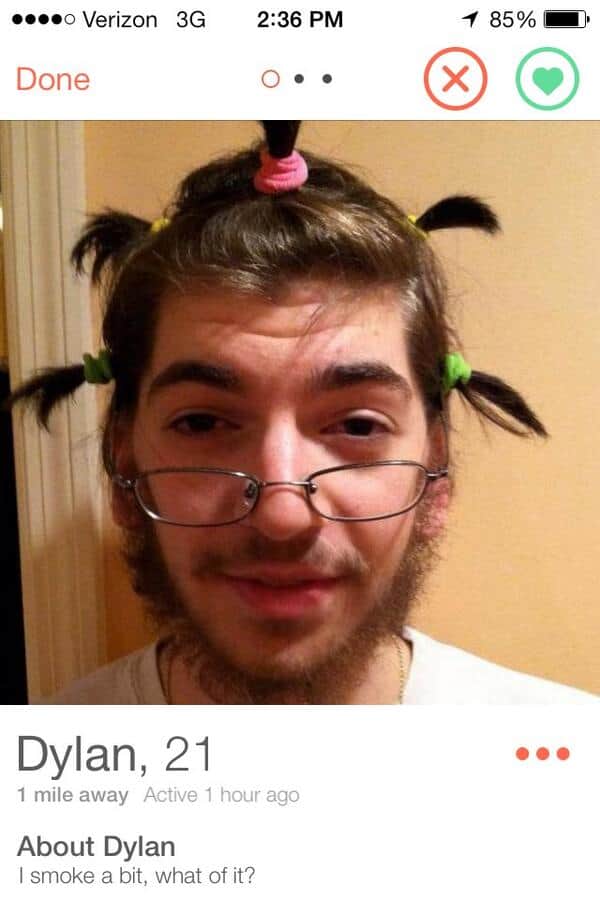 When You Wonder What Went Wrong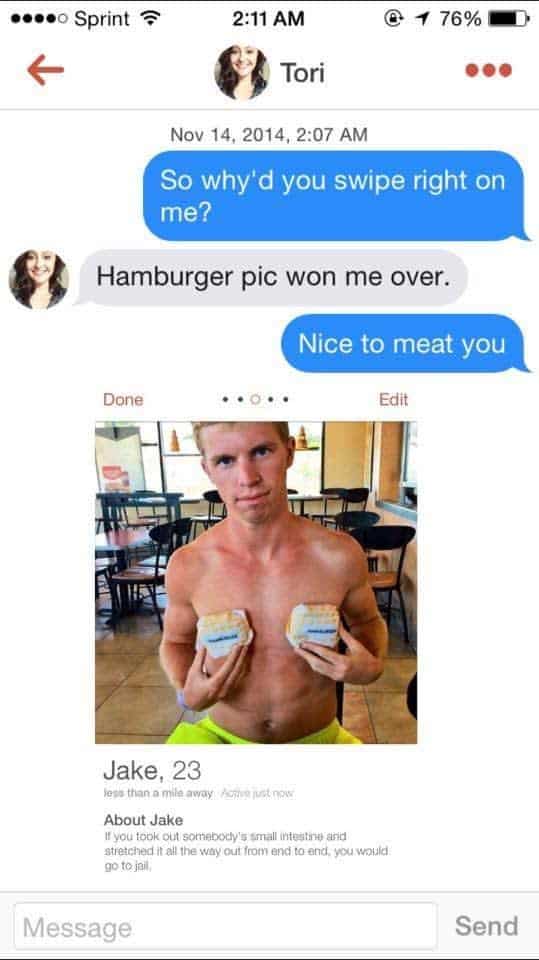 Greatest Tinder Profile Confirmed?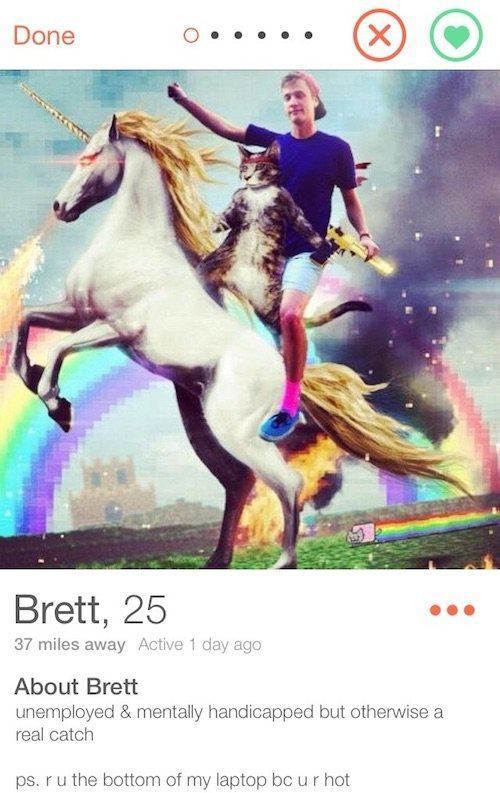 At Least He's Honest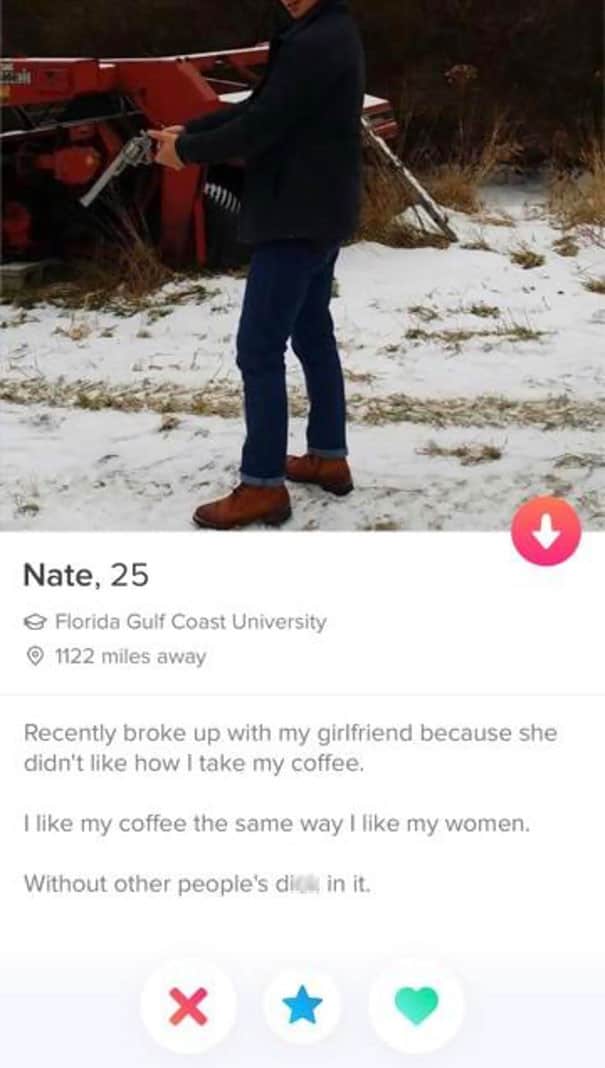 Not The Bio I Was Expecting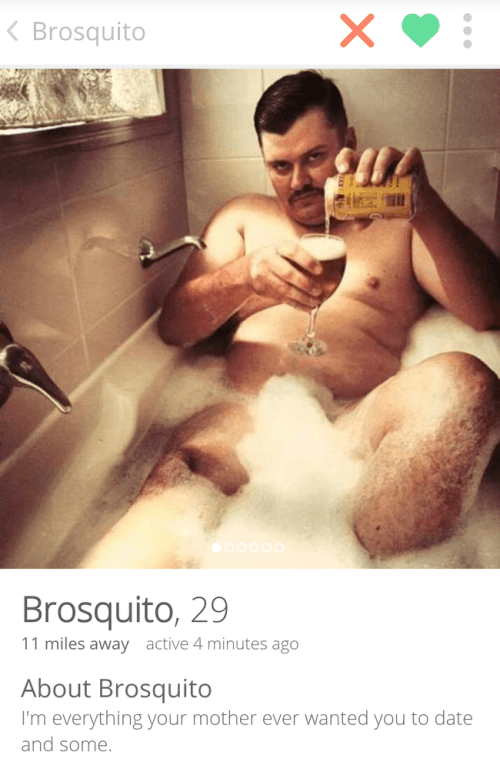 This guy knows what he wants
Inspired by commercials, this guy's Tinder Profile flows.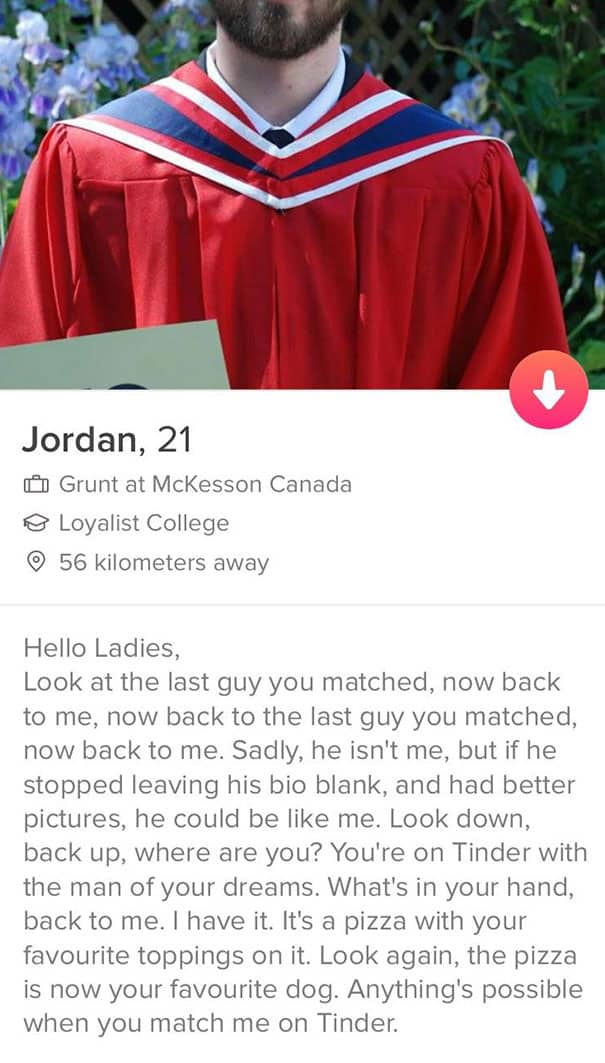 Self Deprecating Humor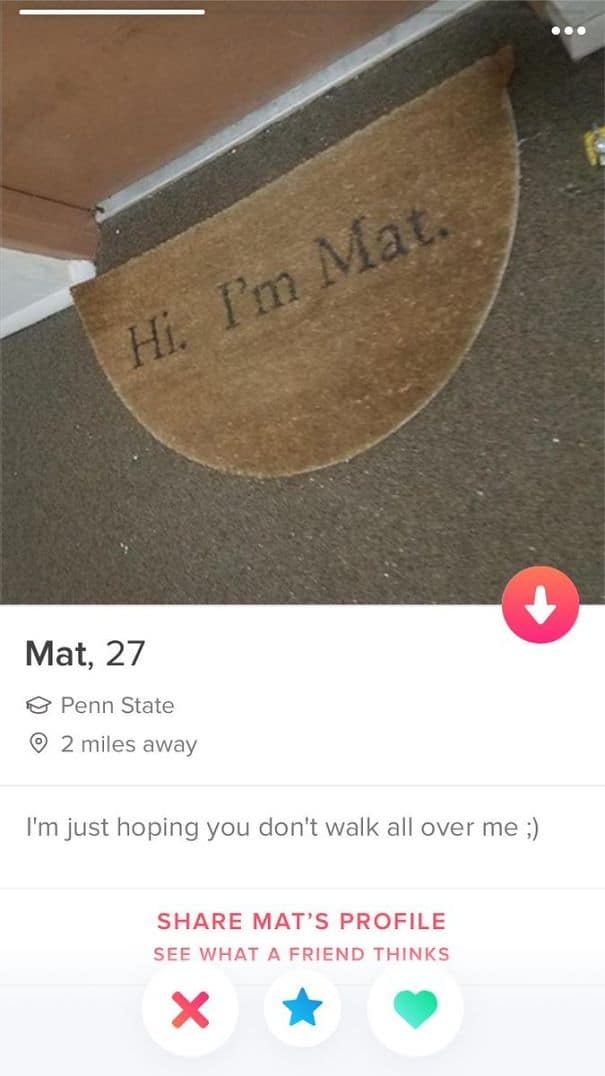 Who are we kidding, no one reads the text. The image says it all.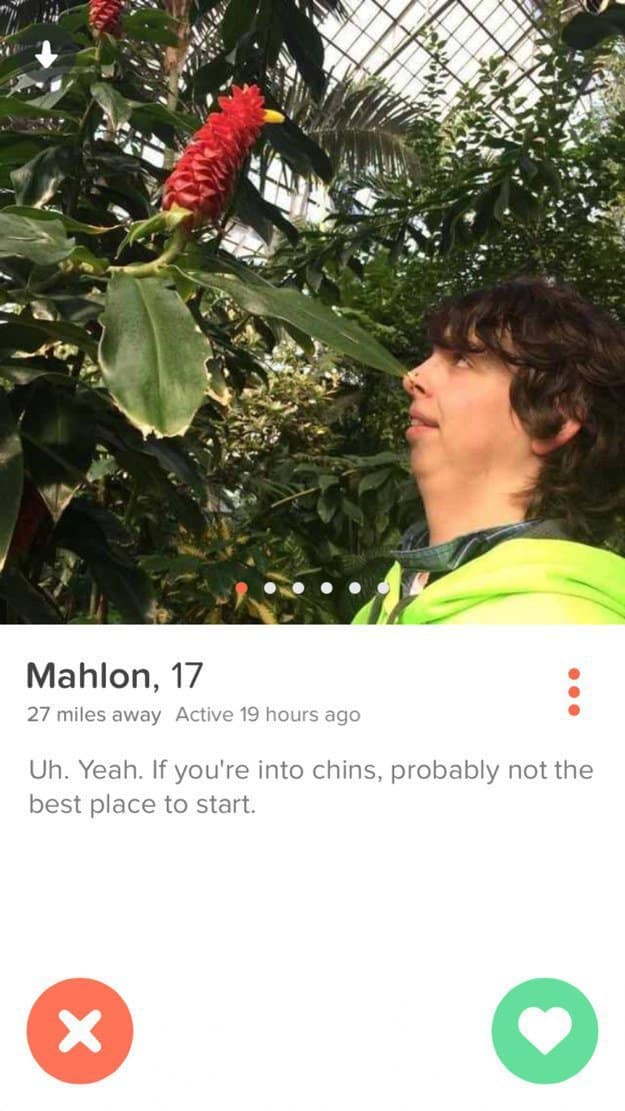 At least his Photoshop skills are decent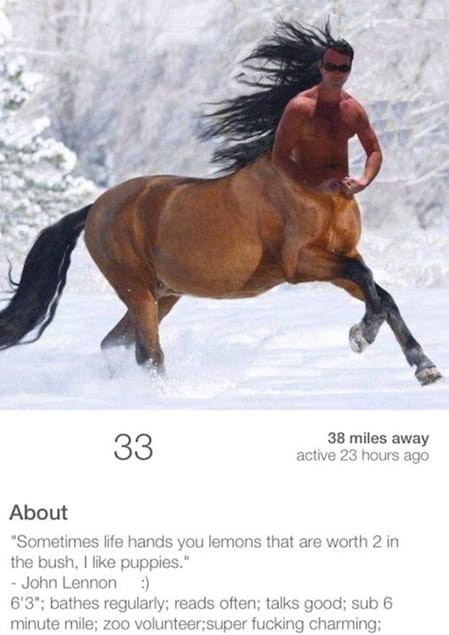 A lot of effort went into this profile picture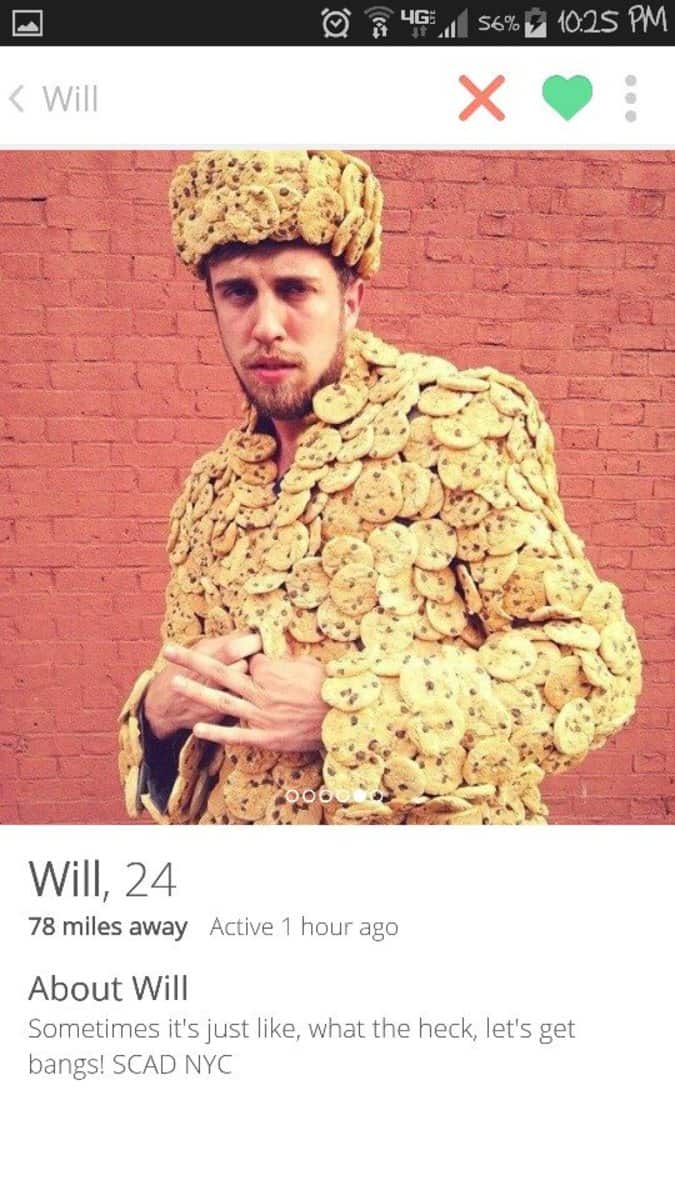 The last line is the best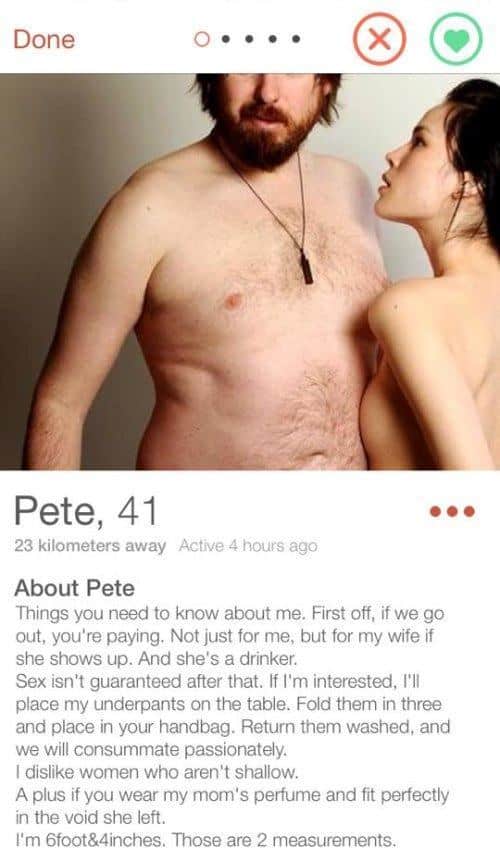 Taking Advantage Of The Situation – Catchy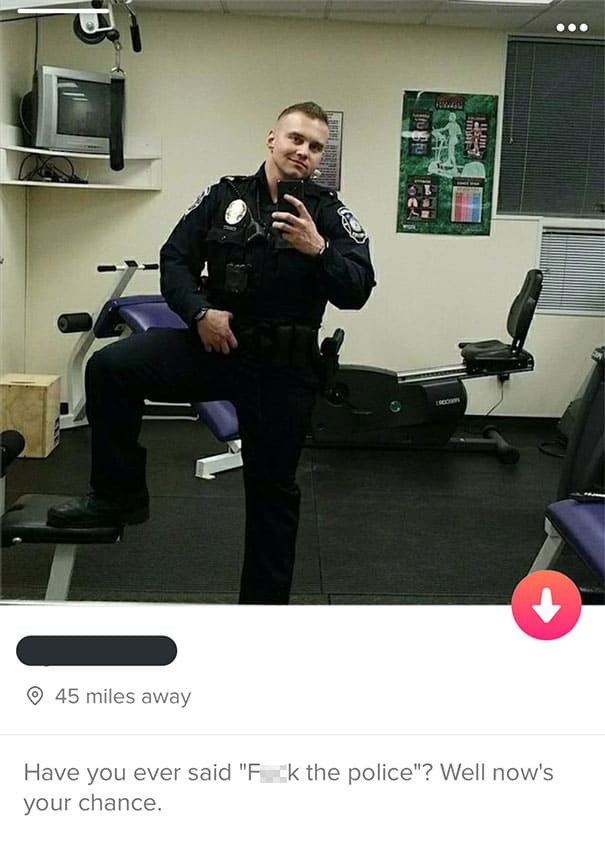 I had to turn my screen upside down to read this bio.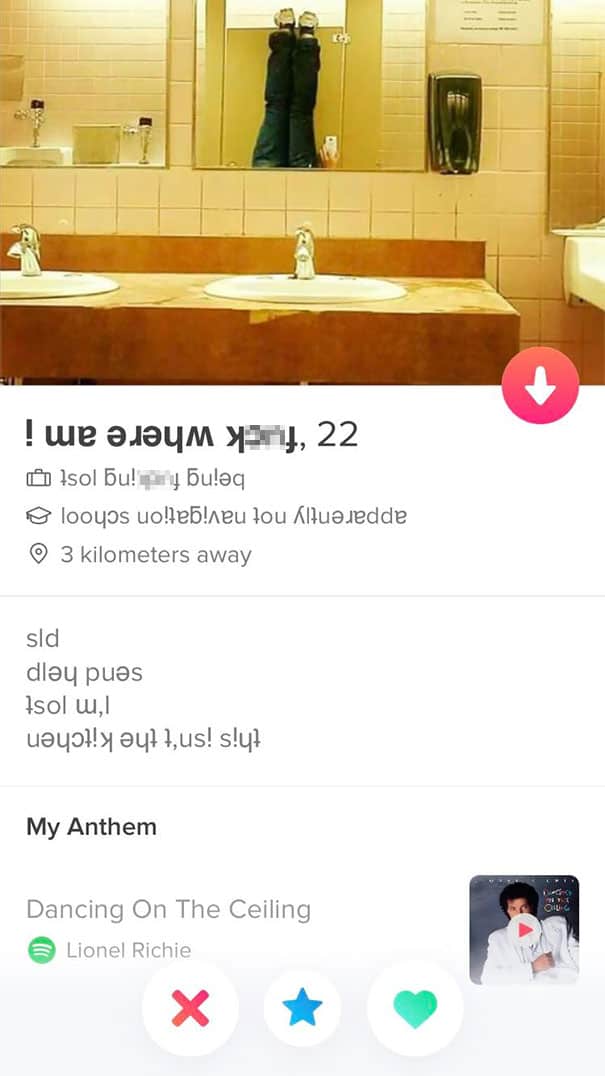 This guy is going to attract weird women into his life.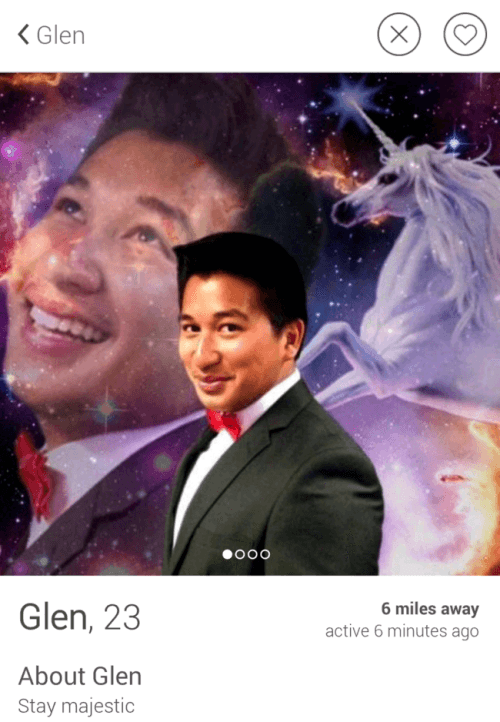 I'm scared of this bio. Really, what's happening here?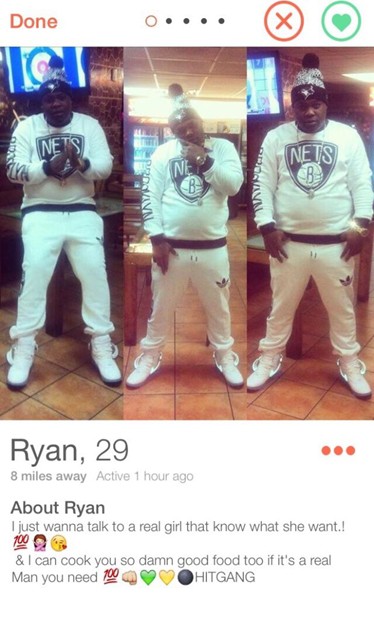 This is one of profile pictures you share with your friends and never swipe right.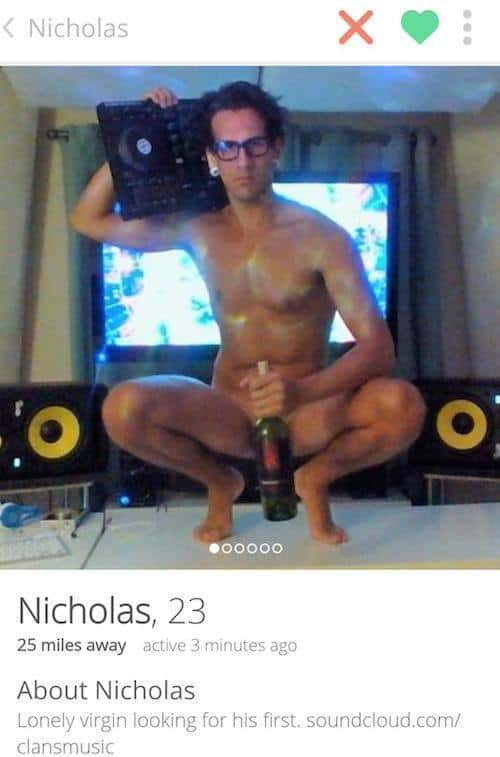 Tinder can be a scary and hilarious place. As always, don't take dating apps like Tinder or Bumble too seriously. If you want some real Tinder tips, read our guide to lines that work on Tinder. To craft a funny bio that actually attracts women, we recommend combining misleading humor with a hint of confidence. For example, "I'm 6 feet, 6 inches. Those are 2 different measurements." Make her think twice about you!
If you enjoy tinder comedy, then you owe it to yourself to check out the Tinder Nightmares book by Elan Gale… one of the greatest reads for anyone that's ever used Tinder.
You'll laugh, you'll cry. You'll call it your favorite book and then give it to your friends when you're done. I highly recommend it for yourself or even as a gift.
Of course, popular dating apps aren't the only way to meet women! We enjoy the old fashion way of approaching women in real life throughout our daily lives. When you see someone that seems interesting, strike up a conversation and discover more about them. Who knows, maybe you'll cross the love of your life today!
Then you won't have to reluctantly swipe right on hot women with boring quotes!
Frequently Asked Questions
What are you sick of seeing in guy's profiles on tinder?
"just ask"

"i'm not good at writing bios"

"don't swipe me if you're going to want to talk forever"

& I second the annoying negativity, bitterness, dead animal photos, and the "8'2" because apparently that matters"

Also apparently 50% of tinder has been to Machu Picchu
What are you sick of seeing in women's profiles on tinder?
"World Traveler" Just because you went to Europe once on Spring Break does not make you a world traveler!
What's an instant warning sign when browsing tinder profiles?
"Mother of three"
Why do variations of this text keep showing up on tinder profiles?
A ton of people men and women like this are on dating apps. The men write things like women are scammers, they never want to meet me, blah blah. The women write about how all men are assholes. Basically it is a bunch of people who should not be dating. So the next great dating app should be matching all these grouchy, negative complainers together.
If tinder was available in the 1800s what kind of profiles would we find?
To the Esteemed Entities on This, the Precursor to Flame:

I am an earner of some twenty dollars and seven per fortnight - having established a position amidst the management of my local manufactory - and as this daguerreotype shall confirm, my physique is of exquisite quality. Mine is a progressive stance on social development and equality, for though I have long possessed the means, never have I owned a negro. Please accept also this artistic depiction of a temple in the savage lands, to which I journeyed for the purposes of stating that the excursion had so greatly broadened my mind.

With this profile, I shall be seeking a woman of good moral standing for evenings of unchaperoned conversation. Those interested should be well-versed in techniques of both comfort and domesticity, and should have neither husband nor suitors. Personality and grace are qualities of utmost importance, and shall be regarded as such, with preference shown to any who possess the skill to read aloud literature of my choosing. No fatties.