Are you delightfully stuck in the whirlpool of a second date and hunting for ideas in vibrant Montreal? Look no further! Take back control of your love life by stepping outside the conventional date box. Welcome to our refreshing list of 10 unique second date ideas for 2023, designed to charm, challenge and create cherished memories in one of Canada's coziest corners. Strap on your adventurous boots (or designer heels), it's time to rediscover dating in Montreal like never before!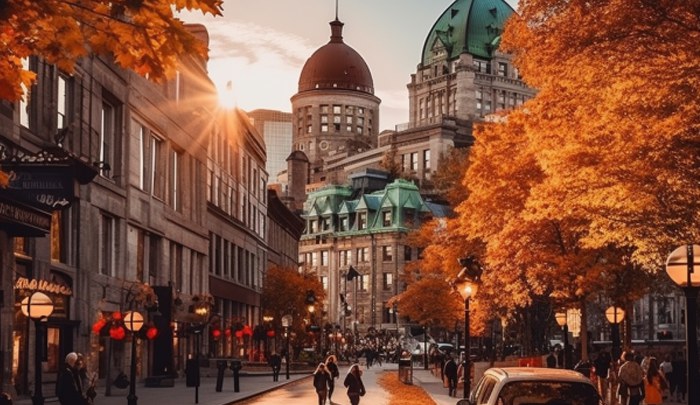 Montreal has a wide range of options for a romantic and memorable second date. Some unique ideas may include going on a helicopter tour to see the city from above, enjoying a float spa experience at Bota Bota, or taking a guided sunset paddleboard tour at Parc Jean-Drapeau. Additionally, exploring Old Montreal's cobblestone streets and architecture, ice-skating at Parc du Mont-Royal, or indulging in fine dining at one of the many restaurants around the city can make for an unforgettable experience.
Unique Second Date Ideas in Montreal 2023
Congratulations on landing that second date! Now it's time to kick up the romance and create unforgettable memories in beautiful Montreal. Luckily, this vibrant city offers a plethora of unique options for your special outing. Whether you're looking for adventurous thrills or intimate moments, Montreal has something for every couple. Let's dive into some extraordinary second date ideas that will leave a lasting impression.
One enchanting option is to take a leisurely stroll along the charming Lachine Canal. This picturesque spot provides a serene setting for romantic conversation while surrounded by beautiful scenery. Choose any section of the 14.5-kilometer trail that suits your preferences and enjoy the company of your date as you explore the hidden gems along the way. And why not stop at one of the cozy cafes or inviting bars that line the canal for a refreshing drink or quick bite to eat?
Another idea that combines adrenaline and breathtaking views is a helicopter ride over Montreal. Imagine soaring through the sky with your date, taking in panoramic vistas of iconic attractions such as the Olympic Stadium and Mount Royal. This thrilling experience offers a bird's-eye perspective of the city's beauty and allows you both to bond over this exhilarating adventure. Some tours even offer an opportunity to visit Îles-de-Boucherville National Park, adding an extra touch of natural wonder to your date.
If you're seeking something more laid-back but equally mesmerizing, consider embarking on a romantic ride on the Ferris Wheel at the Old Port of Montreal. As you ascend into the sky and take in the breathtaking city skyline, you'll feel a sense of wonder and excitement alongside your companion. The heated cabins ensure comfort during colder months, while in warmer seasons, you can enjoy pleasant breezes as you soak up the stunning views. The Ferris Wheel operates daily, including evenings, making it an ideal spot to catch fireworks displays or enjoy the city lights at night. Canada has some of the most vibrant cities in North America. If you are travelling with your date, perhaps you can check a guide to Toronto or Vancouver too.
Now, let's focus on one of these unique second date ideas in Montreal—A Mesmerizing Ride on the Ferris Wheel at the Old Port.
According to a 2021 survey conducted by Dating.com, outdoor activities rank top among preferred second dates, making opportunities for things like ice skating at Parc du Mont-Royal, or a stroll along the Lachine Canal ideal options.
The same survey revealed that cultural experiences such as attending Shakespeare-in-the-Park rank highly for second dates, suggesting this could be a preferred choice during summer months in Montreal.
A report from YouGov in 2021 indicated that unique experiences tend to make more memorable dates – so the Tyrolienne MTL Zipline, paddle boarding rentals at Parc Jean-Drapeau, or even a helicopter tour over Montreal might make a particularly successful second date.
A Mesmerizing Ride on the Ferris Wheel at the Old Port
Imagine you and your date entering the Old Port, hand-in-hand, ready to experience a truly magical moment. As you approach the towering Ferris Wheel, anticipation builds, and a sense of excitement fills the air. The wheel stands proudly at 60 meters tall, offering an unrivaled vantage point from which to appreciate Montreal's beauty. Its elegant design and modern construction make it an architectural marvel that perfectly complements the surrounding historic atmosphere.
Stepping into a climate-controlled gondola with ample seating for up to eight people, you settle in for a romantic journey unlike any other. As the wheel begins its smooth rotation, you are treated to a breathtaking 360-degree view of Montreal's vibrant cityscape. The wheel's panoramic windows, made from anti-UV tempered glass, provide crystal-clear visibility while protecting you from the elements. This unobstructed view allows you and your date to immerse yourselves in the charm and grandeur of Montreal.
To add an extra touch of exclusivity to your experience, consider splurging on the VIP cabin with a glass floor. This upgrade will elevate your ride to new heights as you marvel at the world beneath your feet. It's an opportunity to create cherished memories that will be etched in your hearts forever.
Ascending higher into the sky, you feel a sense of tranquility wash over you—a break from the hustle and bustle of daily life. Sharing this serene moment with your date sparks deepening connections and fosters a closeness that can only come from such an enchanting experience.
Some might argue that a Ferris wheel ride is cliché or overdone, but it's important to remember that it's not about finding the most unique or unconventional activity. Rather, it's about creating an atmosphere of romance and wonder where you can focus on building a meaningful connection with your date. The Ferris Wheel at the Old Port offers precisely that—an opportunity to escape the ordinary and indulge in a shared adventure.
As your rotation comes to an end, you find yourselves back on solid ground, but the memories made during this extraordinary moment remain. Completing this unique second date idea at the Ferris Wheel provides an ideal segue into continuing your evening at one of Montreal's romantic restaurants or exploring other attractions that await within this vibrant city.
The Ferris Wheel at the Old Port in Montreal offers a romantic and magical experience for couples. The climate-controlled gondolas provide an unobstructed 360-degree view of Montreal's beautiful cityscape, perfect for creating cherished memories with your date. Splurging on the VIP cabin with a glass floor can provide an extra touch of exclusivity to the experience. Despite being considered cliché by some, the Ferris Wheel offers an opportunity to escape the ordinary and indulge in a shared adventure, fostering a deeper connection between you and your partner. And after the ride, you can continue your evening exploring other romantic attractions within the vibrant city of Montreal.
Ice Skating at Parc du Mont-Royal
Picture this: you and your date glide hand in hand across a glistening ice rink nestled within the picturesque Parc du Mont-Royal. The crisp winter air kisses your cheeks as you twirl and spin, creating memories that will last a lifetime. Ice skating at Parc du Mont-Royal is not only a classic winter activity in Montreal but also a perfect idea for a romantic second date.
As you lace up your skates, take a moment to appreciate the stunning surroundings of Mount Royal. The park's iconic beauty provides a scenic backdrop as you venture onto the ice. The towering trees, snow-covered hills, and charming Lac-aux-Castors Pavilion add to the enchanting atmosphere. You'll find yourself immersed in nature's wonder while enjoying the exhilarating experience of gliding gracefully on ice.
But it's not just about the picturesque setting; the ambiance at Parc du Mont-Royal adds to the magic. Soft music plays gently in the background, filling the air with a festive charm. The sound of laughter and conversation from other skaters creates an atmosphere of merriment and romance.
Let's not forget about practicalities. Access to the rink is free, so all you need to worry about is skate rentals if you don't have your own pair. And fear not, for there are ample rentals available onsite to accommodate visitors like yourself. Whether you're novices or seasoned skaters, taking to the ice together will create a shared sense of excitement and adventure.
As you glide along with your date, take breaks and warm up by visiting the nearby Lac-aux-Castors Pavilion. Step inside and indulge in some delicious treats together—perhaps savor some creamy hot chocolate or enjoy a mouthwatering snack. The cozy restaurant offers warmth and comfort after a few energetic laps on the ice.
What makes this second date idea even more appealing is that it caters to various interests. Skating at Parc du Mont-Royal is a family-friendly activity, meaning you'll find people of all ages enjoying themselves on the ice. Whether you're both experienced skaters or trying it out for the first time, this experience promises to be enjoyable and memorable.
In addition, the park provides Wi-Fi access, allowing you to capture and share those special moments instantly. Snap a selfie with your date or send a video of your graceful moves to friends – sharing the joy of your romantic adventure in real-time.
Romantic Adventures Outdoors
When it comes to planning a second date that ignites passion and sparks excitement, why not venture into the great outdoors for some romantic adventures? Montreal offers a plethora of opportunities to connect with your partner while experiencing nature's beauty firsthand.
Explore the city's vibrant bike paths hand in hand, taking in the stunning views as you pedal along. Feel the wind against your skin as you navigate charming streets lined with colorful heritage buildings. Stop by a local cafe for a warm drink or treat yourselves to an outdoor picnic with delicious pastries from a neighborhood bakery.
If you prefer water-based activities, consider renting kayaks or canoes and embarking on an adventure through Montreal's scenic waterways. Paddle peacefully along the St. Lawrence River or explore smaller lakes within the city's parks. The tranquility and serenity of gliding through calm waters will create intimate moments and allow uninterrupted conversations.
For those seeking more adrenaline-pumping experiences, consider ziplining through the trees in a nearby forest or taking a hot air balloon ride at sunrise or sunset. These thrilling activities not only provide a rush of excitement but also offer breathtaking views and an opportunity to bond with your partner over shared exhilaration.
Montreal's outdoor romantic adventures are not limited to the daytime. The city's vibrant nightlife presents its own set of enchanting opportunities. From moonlit strolls along the riverfront to cozy outdoor movie screenings under the stars, you can create an ambiance that exudes romance and creates lasting memories.
No matter which outdoor activity you choose for your second date, be sure to dress appropriately for the weather and pack essentials like water, sunscreen, and snacks. Embrace the beauty of nature together, immersing yourselves in the moment and deepening your connection as you explore the wonders of Montreal's outdoor spaces.
Just like nature itself, romance is unpredictable, ever-changing, and full of surprises. By embarking on adventurous outdoor dates, you symbolize your willingness to take risks and embrace the unknown together – a sign of a strong foundation for any relationship.
Paddle Boarding at Parc Jean-Drapeau
Looking for a unique and adventurous second date idea in Montreal? Look no further than paddle boarding at Parc Jean-Drapeau. Located on the picturesque Saint Lawrence River, this activity offers a perfect blend of excitement and tranquility. Whether you and your date are experienced paddlers or new to the sport, Parc Jean-Drapeau has something to offer for everyone.
Parc Jean-Drapeau is an ideal spot for stand-up paddleboarding (SUP) activities, including exploring the lake and lagoons. The park offers equipment rentals and lessons provided by the KSF team, who are experts in SUP, yoga, and physical training. You can either bring your own SUP equipment or rent it at the park. If you are bringing your own board, be sure to pay for access to the Jean-Doré Beach lake. A personal flotation device is mandatory, and rentals are available on-site if needed.
Picture yourself gliding gracefully on the water with your date by your side, enjoying the stunning views of the park's natural surroundings. The calmness of the water provides an ideal setting for meaningful conversations and getting to know each other better. Plus, engaging in a fun activity like paddle boarding can help break down any initial awkwardness and create lasting memories together.
When it comes to reaching Parc Jean-Drapeau, opting for public or active transportation is highly recommended as parking rates are not included in the rental prices. This adds convenience and removes any worries about finding parking spaces. Once you arrive, you'll be greeted by a vibrant atmosphere buzzing with energy from fellow paddlers, creating a lively ambiance for your second date experience.
An Evening Stroll along Lachine Canal
If you're seeking a more relaxed yet enchanting second date experience in Montreal, consider taking an evening stroll along the breathtaking Lachine Canal. This location offers a charming combination of natural beauty and historical significance that is sure to impress your date.
The Lachine Canal stretches over 14 kilometers, providing ample opportunities for a leisurely walk while taking in the picturesque scenery. Enjoy the peace and tranquility as you meander along the canal's banks, hand in hand with your date. The tree-lined paths and shimmering water create a romantic ambiance, perfect for getting to know each other on a deeper level.
As you stroll along the canal, you can encounter numerous landmarks and points of interest. From historic buildings to vibrant neighborhoods, the canal offers glimpses into Montreal's rich history. You might stumble upon art installations, local cafes, and charming boutiques that add an element of surprise and delight to your date.
Benefits of an Evening Stroll along Lachine Canal
| Benefit | Explanation |
| --- | --- |
| Serene Atmosphere | The serene atmosphere of the Lachine Canal provides a peaceful setting conducive to meaningful conversations and connections. |
| Historical Charm | Exploring the canal allows you and your date to discover Montreal's historical landmarks and gain insights into its past. |
| Scenic Views | The stunning views of the canal and surrounding greenery offer a beautiful backdrop for romance and shared moments. |
To enhance your date experience further, consider bringing along a picnic blanket and some snacks or stopping at one of the nearby restaurants or cafés for a romantic dinner by the water. The options are endless, depending on your preferences and budget.
Just like how the calm waters reflect the evening sky's colors, an evening stroll along Lachine Canal sets the stage for a romantic second date that will be etched in your memories for years to come.
Creative and Exciting Experiences
When it comes to planning a second date, it's important to think outside the box and create experiences that are both creative and exciting. After all, you want this date to be memorable and leave a lasting impression. Here are a few unique ideas to consider:
How about delving into the world of mysteries and puzzles with an Escape Room Experience at Escaparium Montreal? This interactive game will challenge you and your date to work together and solve clues in order to escape from a locked room within a specified time limit. It's a fantastic opportunity to test your communication skills, problem-solving abilities, and learn more about each other in a fun and thrilling environment. The excitement of successfully solving puzzles can create a sense of shared accomplishment, fostering a deeper connection between you and your partner.
Another alternative is to explore the wonders of nature while enjoying some fresh air. Biking or hiking on Mount Royal offers a picturesque backdrop for your second date. You can rent bicycles or explore the numerous trails together, taking in breathtaking views of the city skyline as you ascend. Connecting with nature can help create a relaxed atmosphere where you can engage in meaningful conversations while basking in the beauty of the surroundings.
If you're looking for an adrenaline rush, consider visiting iSaute Trampoline Park. Jumping around on trampolines might seem silly at first, but it's an incredibly fun experience that guarantees laughter and creates an enjoyable atmosphere. You can challenge each other in friendly competitions or even join group activities like trampoline dodgeball. Not only will this date activity bring out your inner childlike joy, but it will also allow you to bond through shared laughter and playfulness.
Remember, creativity is key when planning a second date. By thinking outside the box and choosing experiences that are exciting and unconventional, you have the opportunity to create moments that are truly memorable.
Now that we've explored some creative and exciting date ideas, let's turn our attention to a specific event that promises an enchanting evening under the stars.
Shakespeare-in-the-Park: A Free Show under the Stars
Imagine an evening filled with romance, drama, and a touch of magic as you enjoy a free outdoor theater performance in a beautiful park. Shakespeare-in-the-Park is an annual event that offers exactly that. It combines the allure of Shakespearean plays with the captivating ambiance of the outdoors.
Repercussion Theatre's production of Shakespeare-in-the-Park in 2023 is set to present Cymbeline, a play that blends elements of fairy tale, historical fiction, and tragic-comedy. With music, talented actors playing multiple roles, and an eco-conscious design, this experience promises to transport you and your date into a world of theatrical wonder.
The beauty of Shakespeare-in-the-Park lies not only in the incredible performances but also in its accessibility. The show will be touring various parks from July 13th to August 6th, offering you multiple opportunities to catch a performance near you. Plus, it's presented in English, with French and English subtitles available on their web application, ensuring a seamless experience for all audiences.
Attending Shakespeare-in-the-Park provides an ideal setting for a second date. You can pack a picnic basket with your favorite snacks and cozy up together on a blanket as you enjoy the show. The communal atmosphere of watching live theater amidst nature creates a sense of collective awe and appreciation. This shared experience will undoubtedly spark conversation and allow you to connect on deeper levels as you reflect on the performance and its themes together.
Remember, while admission is free for Shakespeare-in-the-Park shows, it's always appreciated to make a donation to support Repercussion Theatre's endeavors in bringing these magnificent productions to life year after year.
Escape Room Experience at Escaparium Montreal
Looking for a thrilling and immersive activity to enjoy on your second date in Montreal? Look no further than the Escape Room Experience at Escaparium Montreal. Escape rooms have become incredibly popular in recent years, offering a unique and engaging way to test your problem-solving skills while building rapport with your date. And Escaparium Montreal is one of the premier venues in the city, providing a range of captivating escape room scenarios that are sure to leave a lasting impression.
Upon entering the escape room, you and your date will be transported into an intricately designed world filled with puzzles, clues, and mysteries to unravel. The attention to detail in the set design at Escaparium Montreal is truly impressive, creating an immersive atmosphere that adds to the excitement and suspense. From themed rooms like ancient temples, mysterious laboratories, or even high-tech heist scenarios, there is something for everyone's taste.
Picture yourself and your date embarking on a quest to discover hidden treasure within an ancient Egyptian tomb. As you work together to decipher cryptic symbols, find hidden compartments, and solve riddles, you'll not only experience a rush of adrenaline but also cultivate teamwork and communication skills. The sense of achievement when you finally unlock that final puzzle or make an exciting discovery can be incredibly rewarding and create lasting memories for both of you.
To enhance your overall experience at Escaparium Montreal, the staff is dedicated to providing excellent customer service from start to finish. They will guide you through the rules of the game and provide hints if needed so that you never feel overwhelmed or frustrated. This ensures that both newcomers to escape rooms and seasoned enthusiasts can fully enjoy their time together.
Memorable Dining Experiences
After an exhilarating escape room experience, it's time to treat your taste buds to memorable dining experiences in Montreal. This vibrant city offers a plethora of culinary delights that are sure to impress your date. From trendy foodie hotspots to cozy and romantic establishments, there is something for every palate and preference.
When it comes to fine dining splurges, Le Club Chasse et Pêche stands out as a top choice. Located in the historic district of Old Montreal, this award-winning restaurant offers a sophisticated ambience and an exquisite menu that blends classic French cuisine with contemporary twists. From perfectly cooked meats to delicate seafood dishes, each plate is a masterpiece of flavors and presentation. The attentive service adds an element of elegance, ensuring that you and your date feel pampered throughout the evening.
Imagine savoring a beautifully plated dish of seared foie gras paired with a glass of carefully selected wine, surrounded by warm candlelight and elegant décor. The intimate setting of Le Club Chasse et Pêche sets the stage for an unforgettable dining experience, where time seems to slow down, allowing you to fully immerse yourself in the flavors and ambiance.
For those seeking a more casual yet equally memorable dining experience, exploring Montreal's vibrant culinary scene is a must. From quaint cafes serving delectable pastries to bustling food markets showcasing international cuisines, the city offers endless options to satisfy any craving.
Whether you choose to indulge in poutine from a local food truck or explore the diverse array of ethnic restaurants along Boulevard Saint-Laurent, these experiences can truly showcase Montreal's cultural richness. Sharing delicious food together can create a deep connection as you bond over new flavors and explore different culinary traditions.
Fine Dining Splurge at Le Club Chasse et Pêche
If you're looking to impress your date with an exquisite dining experience, look no further than Le Club Chasse et Pêche in Montreal. This highly acclaimed restaurant has been serving exceptional cuisine since 2004, making it a top choice for a memorable second date.
Step into the elegant ambiance of Le Club Chasse et Pêche and be transported to a world of culinary excellence. The restaurant is renowned for its fine dining experience and exceptional customer service, ensuring that every aspect of your evening is nothing short of perfection. From the moment you enter, you will be greeted by attentive staff who will guide you through an unforgettable gastronomic journey.
As you peruse the menu, prepare yourself for a culinary adventure like no other. Le Club Chasse et Pêche offers a variety of cuisines, including French, seafood, and continental dishes. Each dish is meticulously crafted with precision and creativity, resulting in flavors that will tantalize your taste buds. From the delicate presentation of each plate to the explosion of flavors in every bite, the food at Le Club Chasse et Pêche is truly exquisite.
Indulging in a fine dining splurge at Le Club Chasse et Pêche goes beyond just the food itself. It's an experience that engages all your senses. The intimate and relaxing ambiance sets the stage for an unforgettable evening filled with conversation and connection. Soak in the sophisticated atmosphere as you savor each course, creating lasting memories together.
Picture this: you and your date sharing a perfectly seared steak while surrounded by candlelight in a cozy corner of the restaurant. The soft jazz music playing in the background adds to the romantic atmosphere as you enjoy an impeccable wine selection recommended by their knowledgeable sommelier.
Le Club Chasse et Pêche is not just for special occasions; it's a destination that caters to those seeking a truly extraordinary dining experience. Although some customers have mentioned the restaurant as being pricey, the overall consensus is that the quality of food and service provided is worth every penny.
After treating yourselves to an exceptional dining experience at Le Club Chasse et Pêche, let's explore another unique option for your second date in Montreal.
Unique Dining on Bateau-Mouche Montreal Dinner Cruises
Looking for a date idea that combines romance, sightseeing, and delicious food? Look no further than Bateau-Mouche Montreal Dinner Cruises. Embarking on this unique dining experience will give you and your date a fresh perspective of the city while indulging in a delectable four-course meal.
With the St. Lawrence River as your backdrop, you'll board the cruise ship and be greeted by a warm and inviting atmosphere. As you embark on your journey down the river, soak in the stunning views of Montreal's illuminated cityscape. The combination of sightseeing, dinner, and live music creates an enchanting ambiance that sets the stage for a memorable evening.
The four-course meal offered on Bateau-Mouche Montreal Dinner Cruises is nothing short of exceptional. From mouthwatering appetizers to sumptuous main courses and delectable desserts, each dish is expertly prepared, catering to diverse palates and dietary preferences. Vegetarian options are also available upon request, ensuring that everyone can enjoy this unique dining experience.
Imagine yourself sitting on the open-air upper deck of the boat, savoring a delicious salmon dish while feeling the gentle river breeze caress your face. The live music fills the air, adding a touch of romance to your night as you engage in meaningful conversations with your date.
This versatile experience appeals not only to couples but also to families with older kids who are looking for an intimate outing. As such, it's advisable to book your Bateau-Mouche Montreal Dinner Cruise in advance, as this popular activity tends to sell out quickly.
Some may argue that a dinner cruise might be too cliché or touristy. However, the unique perspective it provides of the cityscape, combined with the exceptional food and entertainment, makes it a memorable choice for a second date. Plus, the cruise offers a relaxed and intimate setting that allows for uninterrupted conversations and quality time together.
Whether you're looking to impress your date with fine dining at Le Club Chasse et Pêche or embark on a unique dining experience aboard Bateau-Mouche Montreal Dinner Cruises, both options guarantee an unforgettable second date in Montreal. Now, you might want to close the deal by visiting a hidden gem in Toronto for a third date, it could be the beginning of a last longing relationship.