The online dating world has changed drastically over the past twenty years. As our culture has embraced meeting someone online as normal in 2020, it's no wonder we use it to find potential matches. You can find almost anything on the internet after all, so why not potential dates?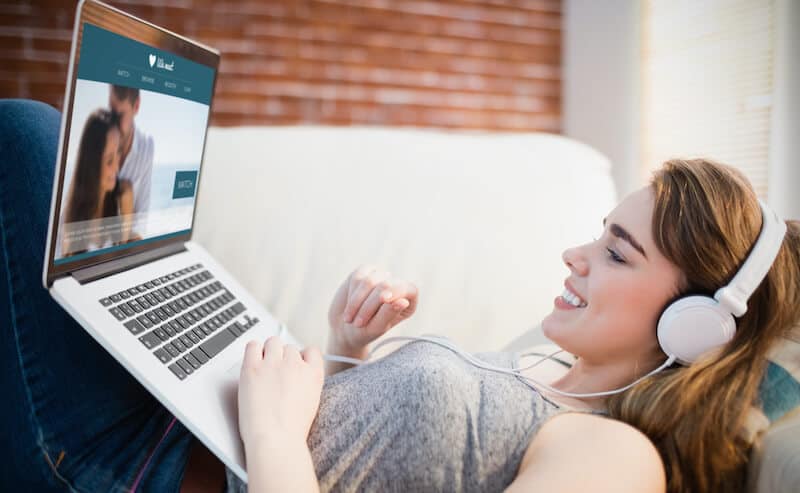 Whether you're seeking the love of your life or a short-term fling, there are dating sites to help you on your way.
We'll cover the best online dating apps for love, hookups, the ones with the best matching systems, personality tests and the ones that are just fun for swiping.
The Top Dating Sites With Over A Million Users
| Rank | Website | | Verdict |
| --- | --- | --- | --- |
| #1 | eHarmony | | Overall best dating site for dates & relationships due to the ease of use and wide audience. |
| #2 | Elite Singles | | The best place for single professionals that want to meet, date and have fun. |
| #3 | Zoosk | | The relationship maker for men and women looking for a long term partner. |
| #4 | Bumble | | A worthy option for those looking for an app to find them dates. (Works best for women). |
If you're looking to meet someone within the next 24 hours, you're at the right place. We want to help you find your match. We'll go over the sites that are like Tinder (but with more profile information) that help you highlight personality traits instead of focusing exclusively on 1-2 good pictures. Of course, not all online dating sites are created equal, some have a larger user base, others are connected with social media so you'll have to decide what you're looking to gain before your first dating experience.
OkCupid Online Dating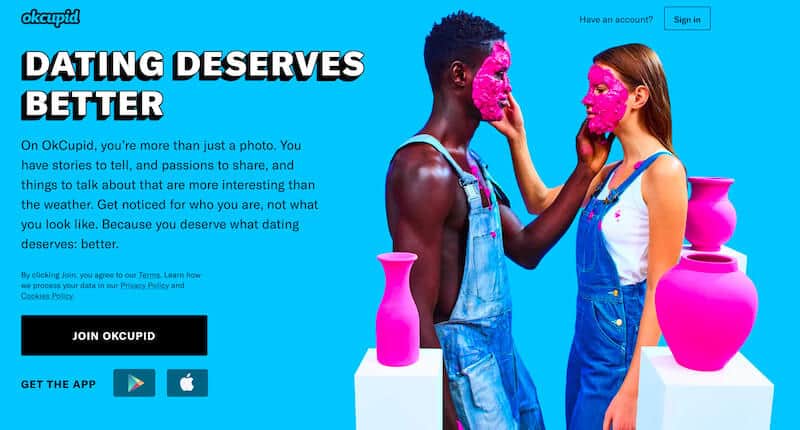 When you're tired of swiping, but not quite ready to leap into marriage, OkCupid provides a modern happy medium. It remains one of the best sites for long-term relationships because it uses an in-depth matching system. That's the one feature we really like and because of it, you're likely to get the most real dates per month on OkCupid because the users on the site are there to meet someone.
Pros: OkCupid leverages a combination of shallow and deep questions within their personality test to make their matches. We're not talking about a spectrum of cheesy inquiries to impossible, soul-searching decisions, either. It's a good blend that allows OkCupid's algorithms to do their work within the dating pool to find you a partner.
Cons: There are a lot of questions to answer, and some of them can be answered in a manner that hides character flaws. Your profile information might not be a perfect representation of who you are. Conversely, you'll be browsing through the many available profiles and photos that might not properly represent the person.
Bottom line: If you're serious about finding a relationship, but not necessarily seeking "the one," then Ok Cupid could be a good choice for you. (Plus, the personality quiz was fun.)
Match.com – Internet Dating at it's Finest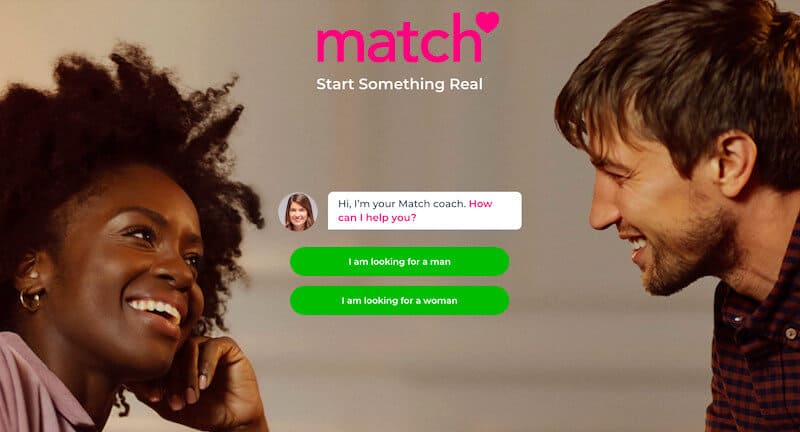 Match.com is the most well-established dating website because it's easy to join, has a reliable matching system, and is used by a lot of people. The site also offers singles activities for in-person meet-ups.
Pros: It's easy to use, and you can get started for free. Profiles include three sections that allow you to detail your personal statistics, answer open-ended questions, and share your interests. There are a lot of ways to interact for free (winking, liking, favoriting). However without access to messages, you're likely to be left wanting more.
Cons: Only paid subscribers can send messages and see who's viewed your profile. (We aren't crazy about that bit.) They've also garnered a lot of complaints over the last few years for being overpriced, difficult to cancel, and having limited matches in some areas.
Bottom line: If you're in an area where there are a lot of members and access to singles activities, Match could be a reasonable service. We found that there were many professionals on the site with excellent photos, we liked the messaging service (after paying) and they have the best events.
eHarmony – The Relationships Site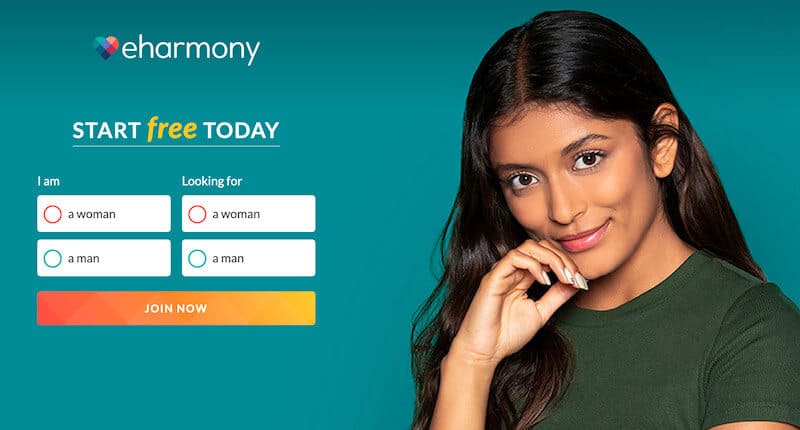 Are you serious about finding love? eHarmony has emerged as one of the best sites for singles seeking a serious relationship. Know for producing the most amount of couples, they have the best matching system out of all of them. Expect to pay a small premium for their matchmaking system. The in-depth questionnaire will take you about half an hour, and users who are completely honest fare the best with matches. Overall, it's well worth the cost… especially for introverts.
The beauty of eHarmony premium is that it's focus is on matchmaking you with compatible singles in your location. If you're a woman in your 30's looking for a husband, you won't be matched with someone that lives at home, goes to school and doesn't want children. We were impressed with the people it retrieved and suggested to us.
Pros: It's a community of people (both men and women) seeking long-term relationships, not a hookup or flings. The platform is easy to use, and the matches tend to be more compatible than with other sites. You'll spend less time browsing categories and more time messaging members your age that are more serious about what they want in life.
Cons: If you're a member of the LGBTQ community, you'll be directed to one of their sister sites for a better dating experience. In that sense, it's not for everyone.
Bottom line: This is the site for people who are serious about long-term commitment. EHarmony is one of the best dating sites to try first if you're just starting out. It has a lot of features, photos and privacy options. The cost for the membership is reasonable and we like it's focus on compatibility. Read our full eHarmony review to find out more.
Happn – A Dating Site With A Twist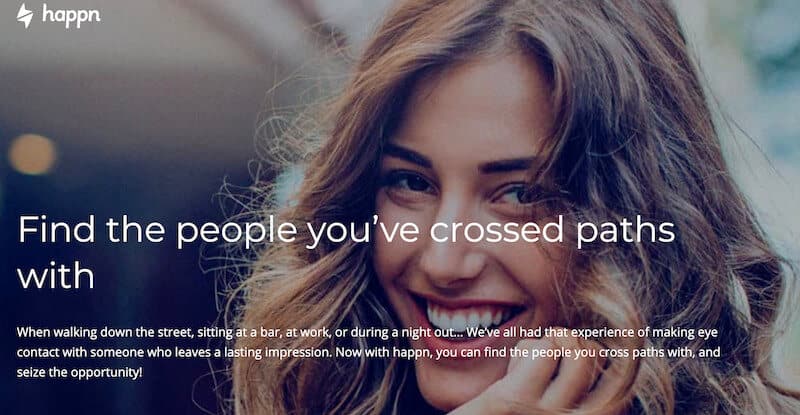 Download this app on your phone, and whenever you cross paths with another Happn user, their profile and location will show up in your timeline. Since this is a location-based app, you can put your profile into "invisibility mode" to hide your location for periods of time. There are so many apps like Tinder so it's a breath of fresh air to see Happn innovate.
Pros: It's easy to get started using your phone number or Facebook account. The only required information is your name, date of birth, gender, and whether your seeking men, women or both. If you'd like to talk to somebody, you can send a "Hello!". It allows you to get to know someone without having to feel like you need a good ice breaker. If ever you feel like you walked by a possible love connection, this is the app for you.
Cons: Profiles show limited information. If there are not a lot of users in your area, you won't end up with many matches. This is best used in popular regions inside the United States and Canada.
Bottom line: Happn easy to use with some cool features, but it's best for users in highly populated cities. In six months, I've ran into a handful of people (but then again, I don't live in a very popular area like New York city).
Elite Singles – Fun First Dates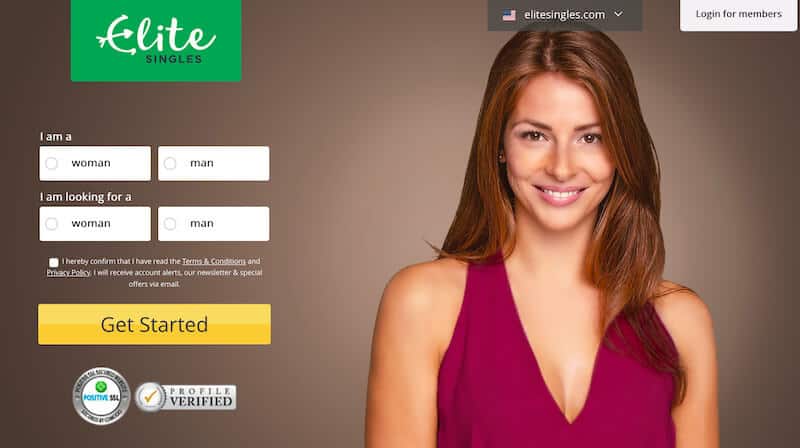 Elite Singles caters to professionals seeking similar matches without the games. Take a personality test, input your profession, and income bracket to receive up to seven matches per day. It's a popular dating site because of the results that it produces. Try it for three months and you'll probably be a little overwhelmed with the coffee shop date requests you get! Just make sure to read it's code of conduct.
Pros: The site is easy to use, and Elite Singles boasts good numbers for their worldwide platform with a solid success rate. Of course, you can choose how much personal information you give out (even though more is always better).
Cons: It takes a while to fill out the questions in order to get good profile information, and you can't peruse the pool to seek out matches on your own.
Bottom line: There's no room for one-night stands on Elite Singles, but be prepared to pay a premium price for your connections. You'll be lovestruck in no time.
Zoosk – One Of The Top Dating Sites For Relationship Seekers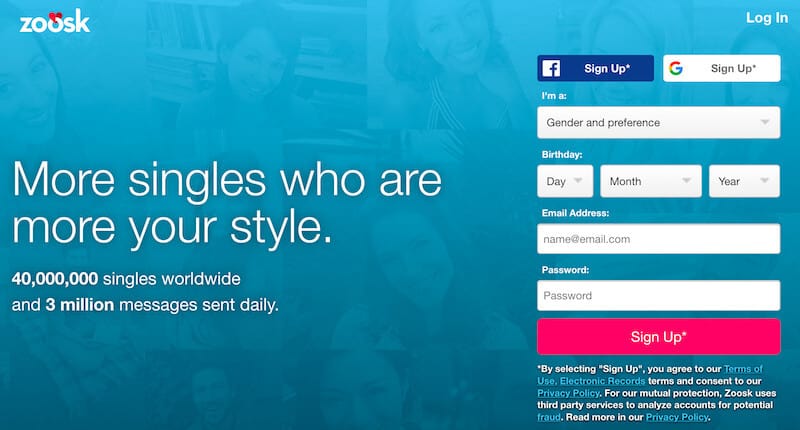 Zoosk is one of the most popular and flexible matchmaking platforms in the world. They have a lot of unique features and an active member base. It's fast and easy to sign up, and you can use your Facebook or Google account to get started. They have a website and an app that are both user-friendly.
Pros: There are no lengthy questionnaires to complete, and you can choose from several options, including the type of relationship you're seeking.
Cons: There are a lot of user complaints about inactive user profiles on message boards, and you need a paid membership to interact with others. That's why there are so many people pushing it (to get an affiliate commission).
Bottom line: If you're patient enough to deal with inactive profiles, there are a lot of cool features to explore within the Zoosk dating service.
Christian Mingle – The Best For Christians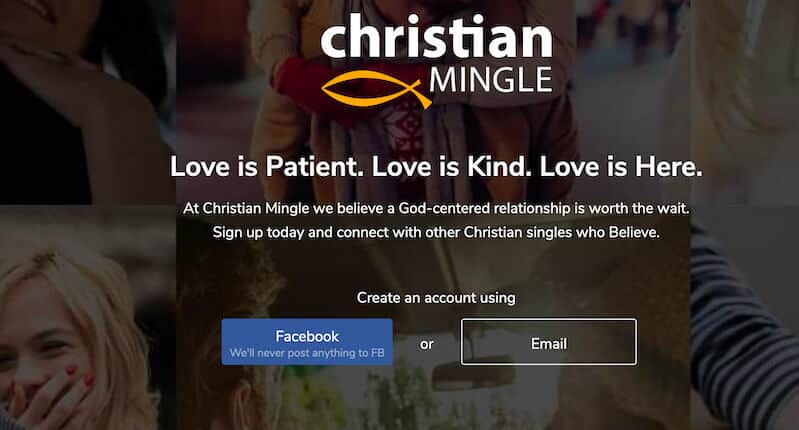 Christian Mingle was created for singles seeking wholesome, long-term relationships. They have an active member base and provide daily matches based on user preferences.
Pros: The signup process is easy. You can use an email or Facebook account. There are no personality questionnaires. Instead, you can expect to answer questions about your beliefs, family ideals, and commitment. It's an interesting take on a relationship questionnaire however there are many success stories so it seems to be working.
Cons: There are not a lot of features, and you have to pay for a membership if you want to use the important ones, like messaging. We've seen reports of people looking up social media accounts to avoid this so you might want to use different pictures.
Bottom line: If you're Christian and want to meet somebody who shares your values, there are no other dating options or viable alternatives than Christian Mingle.
Our Time – Match With Others On This Online Dating Over 50 Website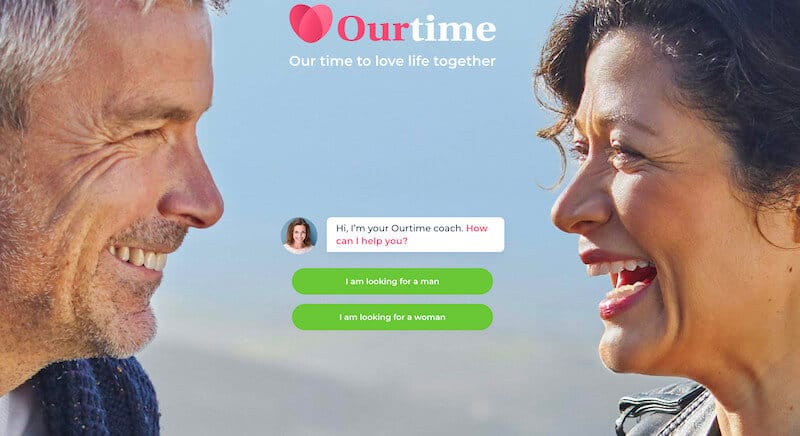 Our Time is booming due to a recent marketing push with a lot of new members seeking a new love life signing up every day. The site caters to singles over the age of 50 and doesn't limit matches to romantic connections. It's a safe place to meet new friends as well!
Pros: Getting started is easy, and you only need to fill in basic questions. They offer a free search option and a chat room.
Cons: To gain access to all features, like sending messages, you need to be a paid member.
Bottom line: This age demographic is often neglected in the online matchmaking world, but Our Time decided it's time for that to change.
Plenty of Fish – Best Free Site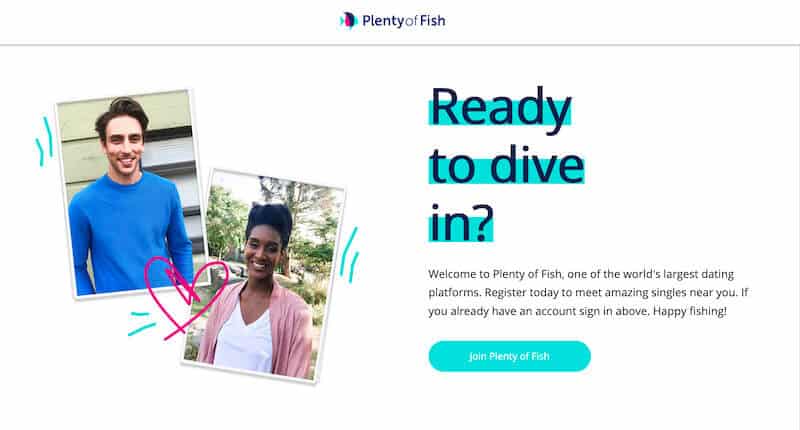 Plenty of Fish, or POF as it is commonly known, is a fun, free dating site. Since 2003, POF has evolved into a global community. There are forum posts that function as conversation starters and dating advice for the community.
Pros: Users can get started for free in a matter of minutes. However, if you're looking for more compatible matches, you'll want to complete their questionnaire so the "POF Chemistry Predictor" (which is just a fancy term for compatibility quiz) can do its job.
Cons: Some members may not present themselves accurately in their profiles, and it's tough to weed them out. If they aren't what they seem like on the first date or the body language seems off, then politely excuse yourself and move on.
Bottom line: Users can take advantage of most features for free, and it's easy to make contacts. Plenty Of Fish been around for the longest so it's entirely possible that they are responsible for the most amount of dates (even though there is no official data).
The Popular Dating Apps
While we believe it's easier to sit down and browse profiles on a laptop, apps have come a long way (and even surpassed simple websites). Here's what we think of the most popular dating applications
Bumble – The App That Puts Women In Charge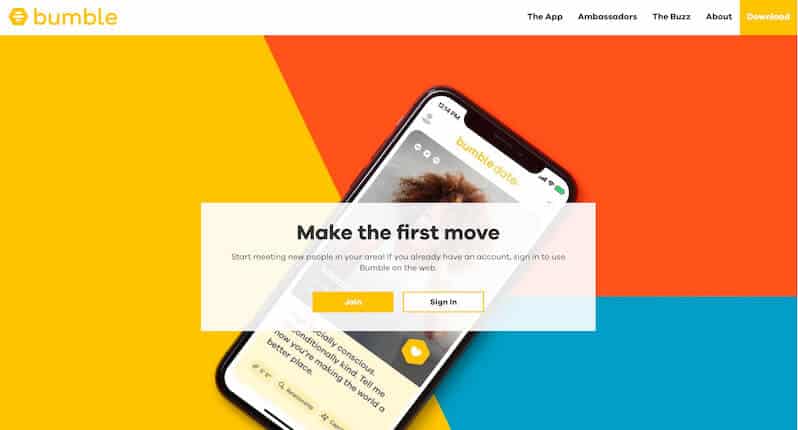 Bumble is an app that puts ladies in the driver's seat. When a match is made, the woman decides whether or not to message their match. If the man is interested, he can reply, but men cannot initiate contact with matches. Either party can initiate contact in same-sex relationships and platonic relationships.
Pros: It's easy to sign up, especially if you use your Facebook account. There is no search option, but you will continue receiving matches until there aren't any more that match your preferences. You'll be encouraged to link your Instagram profile for more authenticity.
Cons: You can only register using Facebook. There are 24-hour time frames on connections, which means you need to check in every day. Depending on your sex, you might have a drastically different experience: women report numerous matches while men often feel ignored. Also, there are limitations to the free membership (unless you use a VPN) and we don't like that it displays if you have a friend in common.
Bottom line: Just like Tinder with Tinder plus, Bumble is fun for swiping, but unless you pay for a membership, you're not likely to get many meaningful matches.
Tinder – The Most Popular Dating App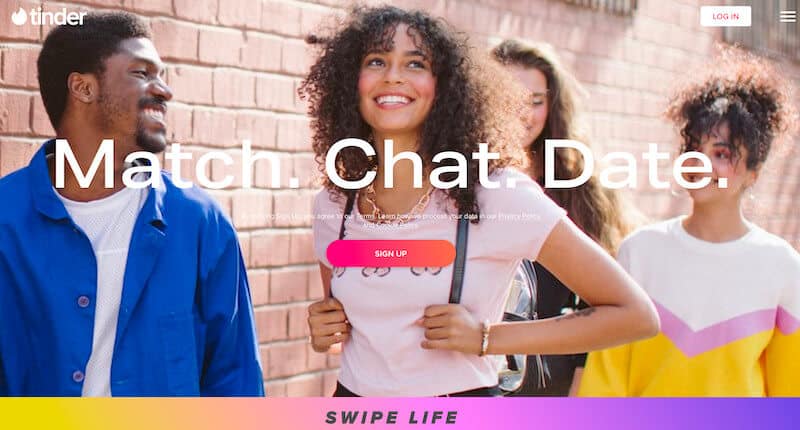 Swiping right or left is the basis of the Tinder app. You can customize your profile in several ways, including attaching songs via Spotify. Messages can only be sent to people who match. Users do have the option to un-match if they want to block further contact from another member.
Pros: It's easy to sign up and navigate. You can connect with other apps, including Instagram, Spotify and Snapchat (and maybe even Pinterest). It has well over a million users and it's likely that you have people your city (even if it's in a remote location).
Cons: There are a lot of fake profiles and people who may say they're looking for a deeper connection only to flip the script when you meet up. It's not as secure as some of the other sites.
Bottom line: Tinder was great in the beginning and quickly became synonymous with online dating, but it's devolved to a swipe fest with more one-night stands than serious dates.
Dating Over 40 – Finding That Special Person
Dating apps can be a minefield at any age, but for singles over forty, it can be absolutely maddening. There are so many sites and apps to choose from, and you can run into some bad experiences if you aren't prepared.
Some of the matchmaking platforms create difficult situations with too many fake users, too little security, or a combination of faults. If you're not looking for hook-ups, your choices narrow substantially.
For singles over the age of 40 who are looking for something meaningful without the head games, your best bets are eHarmony and OurTime.
Best Sites For Long Term Relationships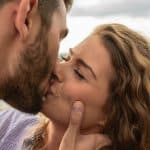 When you're done with one-and-done dating, meet-ups at bars, and all that goes with the single-life, it may be time to trade up. If you're ready to pursue something long-term, as in real love and even the possibility of marriage, it's probably time to dump the free membership and invest in a matchmaking site.
Singles seeking long-term commitment will want to check out OkCupid, Zoosk, eHarmony, or Match.com. These four dating sites have the best long-term results, and it's likely due to their in-depth questionnaires and algorithms. They get a lot of press for a reason!
For LGBTQ – Find Your Ideal Partner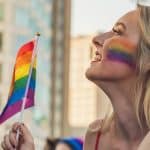 Society has come a long way concerning same-sex relationships. However, not all dating sites have embraced the opportunity to match members of the LGBTQ community. Fortunately, a few sites are working for the LGBTQ community.
HER and Fem are apps dedicated to matchmaking for lesbian and queer women. Grindr and Adam4Adam are options for gay men to find matches. OkCupid, Zoosk, and Plenty of Fish all offer options for singles of all orientations. You'll get the most interesting photos on these sites!
Remember, be open about what type of relationship you're looking for and very clear with your preferences, so you make the most of your time and matches.
For Hookups Without The Effort
What happens when you are just too busy to date?
If you're simply looking for a hookup, you've got a list of options as we reviewed the best ones for you. When you're over the swipe-life and looking for connections that fit with your busy life, try Elite Singles, Happn, Plenty of Fish, and Bumble.
Does Free Dating Still Exist?
If free membership is a make-or-break for you, the best option is Plenty of Fish because they offer so many features. However, even POF tries to convince you to upgrade to a paying membership.
Verdict: The Best Dating Sites of 2020
When you're just getting started with dating sites, it's common to go with the free membership as a sort of trial. When people get bored or annoyed, they often decide join one of the other 80 million people currently on paid sites. Usually, they are pleasantly surprised because you get a lot more dates for very little.
If you want to find your best match, I'd recommend eHarmony or Zoosk. For singles in search of a fun date or a hookup, try Elite Singles.