Looking for a hookup? The good news is you don't have to waste time in bars and clubs. Not when you can pop online, get chatting to someone who's just as horny as you – and literally meet up the next night.
It can be that simple. But only if you pick the right site.
Thing is, everyone seems to have their preferred app. To make sure you don't waste your time (and money) on a hookup site that's not right for you, we've come up with an article that covers all bases. Whatever you're looking for, we've got you covered.
Join me as I take a look at the best hookup sites of 2020.
Adult Friend Finder – The Ultimate Hookup Site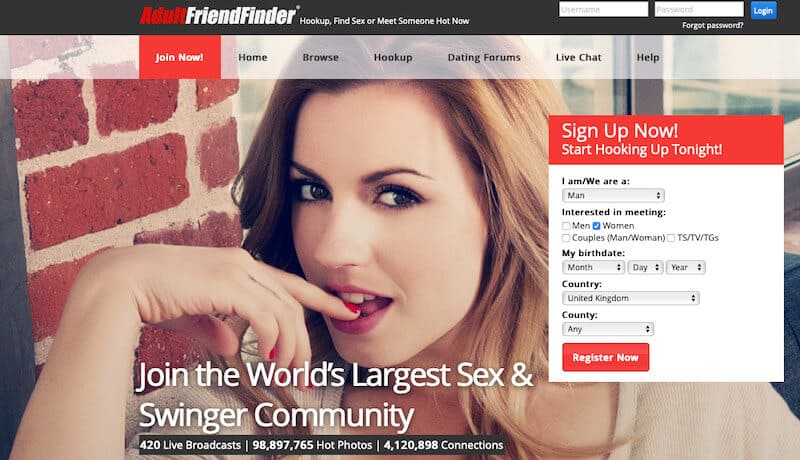 Adult Friend Finder is one of the world's most popular hookup sites. It's home to more than 80,000,000 members globally but it is very graphic. Some users will prefer this – some won't.
The sign up process is simple enough and you don't have to go through any detailed questionnaires or tests. Once your profile is up and running, you can use it to find any kind of hookup – you can search for singles, poly's, couples, fuck buddies and much more.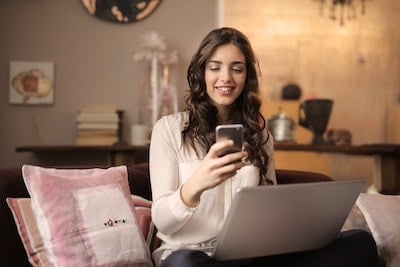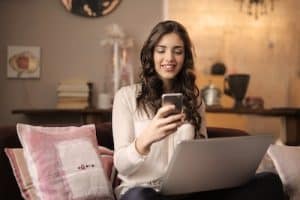 I like how easy it is to filter your search according to different sexual preferences, and I also like the fact that everyone who signs up to this website is super horny. On the other hand, there are also a lot of fake profiles on here, so you'll need to be wary of that.
Who's It For?
Anyone of any kind of sexual orientation and with any type of sexual preference who wants to get laid fast.
Oh, and who doesn't mind watching some webcam action while they wait for a reply.
Key Features
Live member webcams
Adult movies
Sex Academy (this introduces you to a variety of sexual practises/interests and delivers sex tips)
Contest (submit a video of yourself performing a sex act and you'll definitely get noticed more)
Prices
There's a free version but you can't really do anything except browse profiles.
1 month – $20
3 months – $36
12 months – $108
Pros:
Millions of members
Ideal for anyone of any sexual preference
No-frills
Feature-rich
Cons:
Dated website design
Lots of fake profiles
My Verdict
Definitely sign up to Adult Friend Finder if you just want sex and don't care how you get it. This goes for singles and couples.
Tinder – Most Recognized Pickup App Online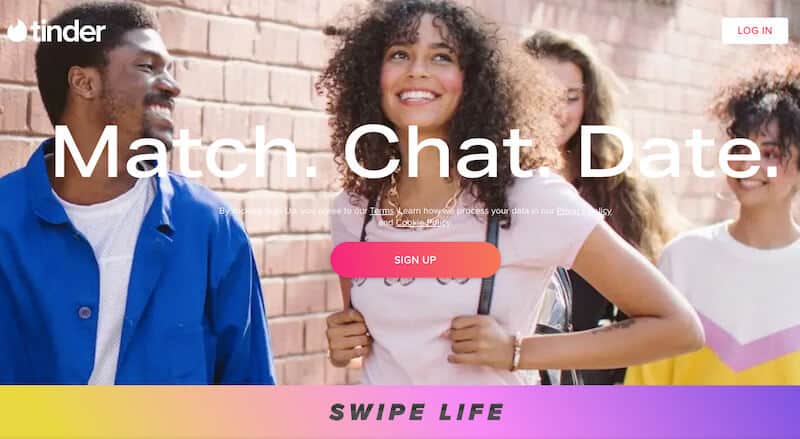 Unless you've been living under a rock (or married!), you'll have heard of Tinder. Tinder is a (mostly) free dating app that was initially marketed as a hook-up app. It still is a hookup app for many, but the place is now also populated with men and women who are looking for something more serious.
Fear not, though, because it's not that hard at all to find a hookup here. All you need to do is modify your profile so people know what you're looking for (or you can just add your sexiest pics without even filling in your bio – that tends to work) and start swiping.
The premise couldn't be simpler: Registration literally takes two minutes and all you need to do is add some pics, add a few lines to your bio and swipe left or right on potential matches. If they swipe you back, you can start chatting.
Who's It For?
Anyone who's looking for a hookup and who isn't in the mood for a feature-rich app.
Key Features
Tinder Gold (see who's 'liked' you)
Super Likes (you get a free one each day. A Super Like will put your profile near the top for whoever you used it on, which means they won't miss out on you)
Boost
Prices
Completely free to sign up and send messages. Tinder Gold and other features, such as the 'Boost' feature, do cost a few dollars, but most users just stick to the free version.
Pros:
Free to use
Millions of active users
Super easy to use
Cons:
Can be hard to get a match unless you pay to boost your profile

Can't see who's liked you unless you upgrade
My Verdict
It's free – why wouldn't you sign up? Definitely worth a shot unless you're looking for something more graphic and upfront (see Pure below).
OK Cupid – For Your Hookup Needs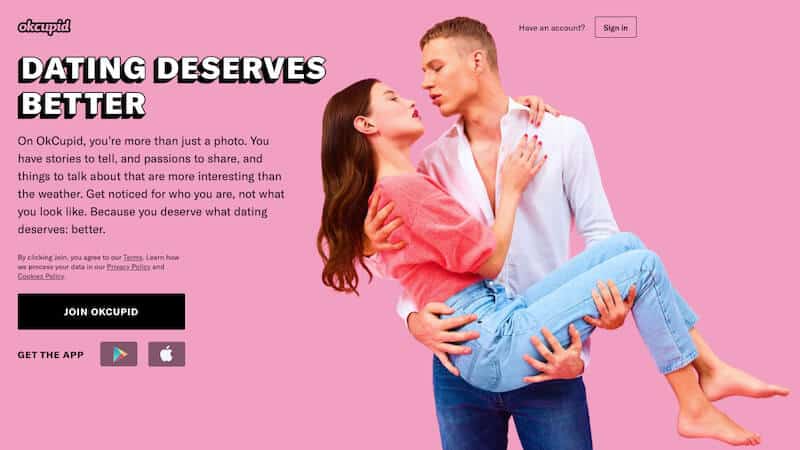 OK Cupid is a great dating site to find a hookup because it's really easy for users to amend their profile so that you know exactly what they're looking for. Then, you just need to adjust your search filter so that you find them.
Plus, it's home to millions of active members.
The site has been around for well over a decade and it's popular with users thanks to its professional but cute and fun design, as well as its ease of use.
The main thing with OK Cupid is that you have to spend some time filling out your profile. Add your best pics (ask a friend to help) and write about yourself in your bio.
Even if you're just looking for something casual, it helps a LOT to go into detail in your bio. This is because OK Cupid's user base is generally filled with smart, socially aware people who have a lot of respect for others. They want a hookup but they want to get to know you first.
Who's It For?
Socially aware types who are looking for hookups, but don't want to join a graphic website like Adult Friend Finder. It's also popular with lefties and it's a safe space for the LGBT community.
Key Features
The A-List (gets your profile seen by more people)
Prices
Totally free to send and receive messages. Paid features include getting yourself on the A-List.
Pros:
Free to use
Full of engaged, intelligent users
Easy to search and message people
Cons:
Fairly draconian policies means it might be a while before someone sees your message
Lots of users aren't looking for a hookup
My Verdict
Only bother with OkCupid if you're willing to put some effort into getting to know people.
Down – The App For Sexy People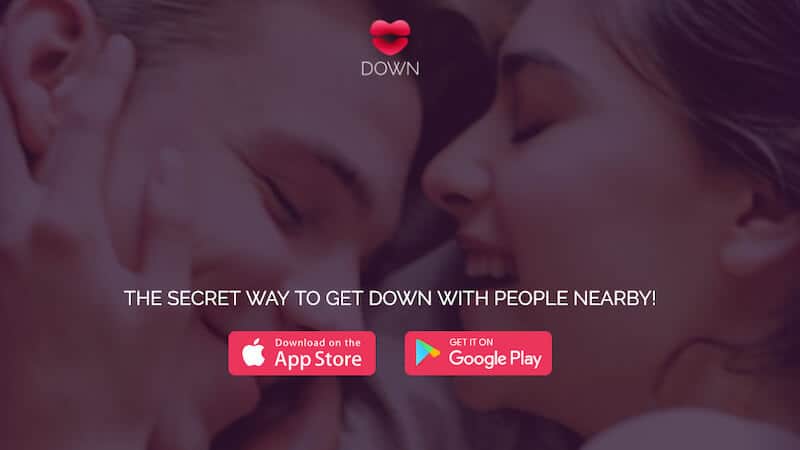 Down works a lot like Tinder: You pop onto the app and start swiping left on the people you don't like, and right on the people you do like. If you happen to match, you can start chatting.
You need a Facebook account in order to verify your profile. Then, you're free to add some photos, a few lines in your bio, before amending what you're looking for so that you attract like-minded people. In other words, select 'GET DOWN' for hookups.
Who's It For?
Anyone who's on Tinder can 'double down' with Down.
Key Features
Search function (Unlike Tinder, you can actually search for specific users on Down)
Down Score (the more people that 'like' you, the higher your Down score is)
Prices
Down is free to send and receive messages but you need to pay $19.99 per month in order to use extra features that may increase your chances of success.
My Verdict
Down is a lot like Tinder but has a search function – but a much smaller use base. Only subscribe if Tinder isn't working out for you.
Elite Singles – For Professionals Seeking Pleasure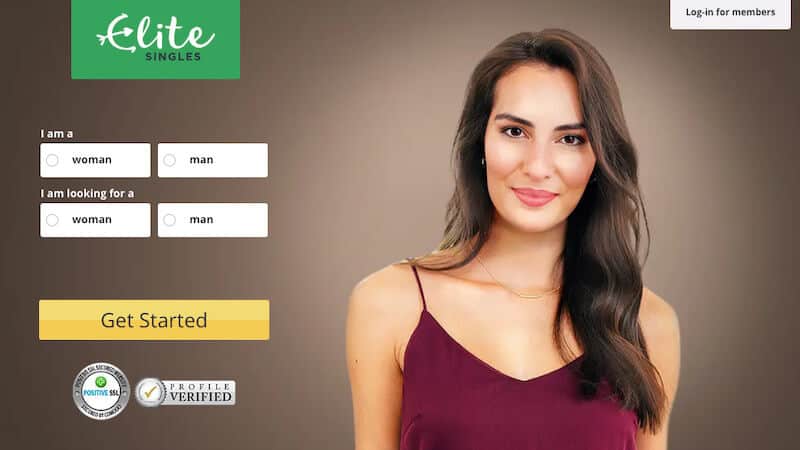 Looking for someone who's got brains and a hot body? If so, Elite Singles is going to look and feel like heaven.
Elite Singles is for the highly educated folk among us who've got everything – brains, a good career and ambition.
The only thing missing is sex.
Although not strictly a hookup site, it's still possible to find a steamy casual sex encounter here. To that end, it's really important to do what I did. First of all, take the time to properly fill out your profile and let everyone know what you're looking for. Make sure to carefully fill out the initial personality test, too, because this will determine your future matches.
And because Elite Singles guarantees you daily matches between 7 and 3 people, you need to make the most of things. Be the best flirt you've ever been, be witty and deliver a few killer one liners that put them in the mood for sex.
Who's It For?
Educated, career-oriented men and women who want some fun.
Key Features
Match Recommendation (aims to find you the best matches)
Have You Met? (shows you the best matches you've missed)
Prices
1 year – $31.95 per month
5 months – $44.95 per month
3 months – $59.95 per month
Pros:
Filled with the creme de la creme of society
Most of the members are mature (over 30)
Sleek design
Cons:
You'll need to be patient
Picky users
My Verdict
I highly recommend Elite Singles if you're looking for a genetically brilliant mate.
Pure – For Casual Encounters With Anonymity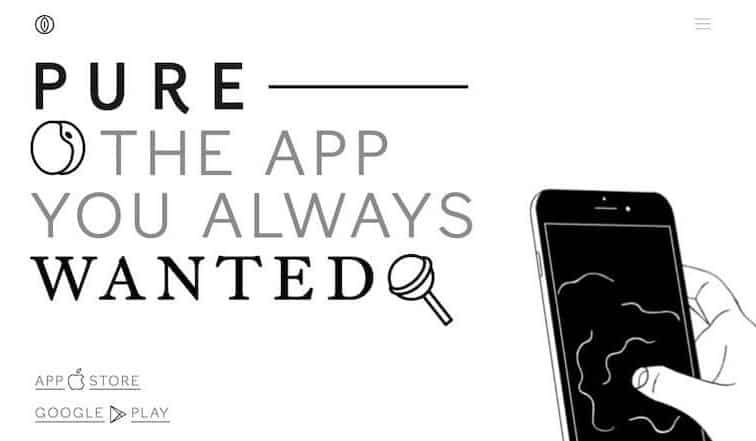 Pure is a bit different to any other hookup site I've used. Instead of you choosing who you chat and meet up with, the app chooses for you! That's right – your casual encounters are anonymous, which makes them more risqué and – dare I say – sexier.
Hookups on demand? You bet. It works kinda like Tinder-meets-SnapChat. You're given an hour to locate and talk to someone before deciding to meet up. If you decide against meeting up, you lose each other FOREVER. Ha.
The app is very minimal and there's no need to even fill out a bio.
Who's It For?
Anyone who wants to spice up their sex life with an app that's definitely different.
Key Features
Chat Now (this is a paid feature that lets you chat without waiting for the other person to like you back)
Prices
1 week – $10.99
2 months – $21.99
3 months – $43.99
1 year – $54.99
Ashley Madison – The #1 Adulterous Site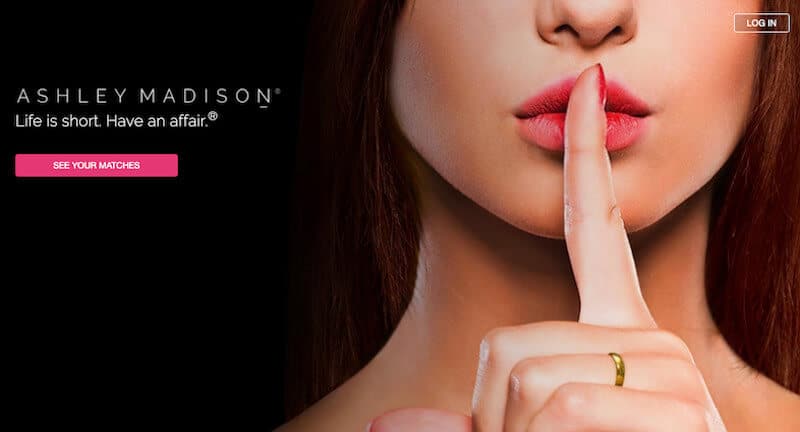 Ashley Madison would probably be the number one hookup site if the world was perfect. See, Ashley Madison is aimed at adulterous couples who are looking to spice up their life by having an affair.
Here, you'll find bored housewives and sexually frustrated men who are looking for a no-strings-attached hookup ASAP.
So far, so good?
It gets better. The website is one of the easiest I've used, and the features – such as Priority Man – make it really easy to get a match.
However, you need to be ultra cautious because there are a ton of fake profiles on here. But as long as you're careful, do the right things and make a connection with someone, it's totally possible to land a hookup.
Who's It For?
Anyone looking to have an affair.
Key Features
Priority Man (makes your profile more visible for a while)
Travelling Man (ideal for if you're heading to another city/country for a few weeks)
Prices
The ladies get to use everything for free, but men have to purchase credits to send messages and use specific features:
Elite 1,000 credits
Classic – 500 credits
Basic – 100 credits
Pros:
Very popular
Classy design
Excellent features
Cons:
Security concerns
Lots of fake profiles
My Verdict
Use Ashley Madison if you're married and need a sexual release elsewhere.
Grindr – The Largest Gay, Bi & Trans App In The World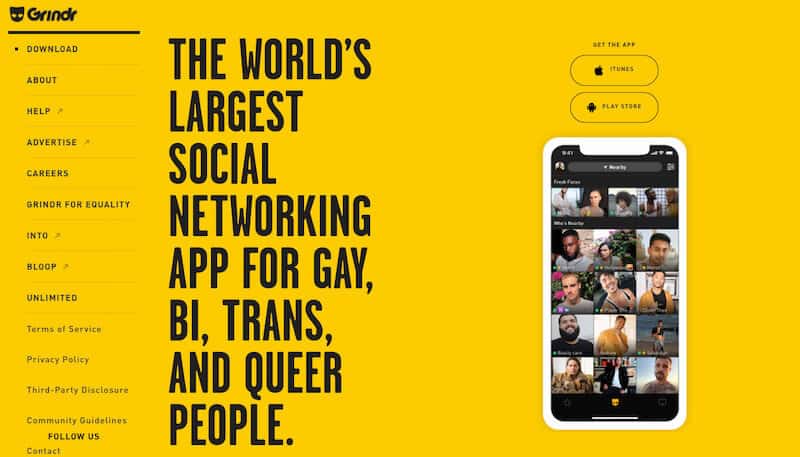 Grindr is a location-based hookup site aimed squarely at gay, bi and trans people. It's completely free to send and receive messages, there are millions of active users and you can use the app to swap naughty pics, chat – and arrange a hookup.
To get started, you just need to download the app from the App Store and register using your Facebook account or your email address. Then, you need to add your location and a few pics and you're on your way.
Sexual health is really important on this app, so make sure to let other users know your status. It will increase your chances of landing a hookup.
Who's It For?
Members of the GBT community who want an app that lets them get down and dirty.
Key Features
Tap (if you're shy, 'tap' a user to let them know you're into them)
Favourites (keep track of your fav users by adding them to your favourites list)
Prices
Free to send and receive messages, however Grindr Xtra requires an upgrade. Here are your payment options:
1 month – $24.99
3 months – $6.99 per month
6 months – $4.99 per month
12 months – $3.99 per month
Grindr Xtra comes with features such as Unsend and Viewed Me.
My Verdict
Grindr is HUGE in the gay community, so it makes sense for men looking for men to use it.
Verdict: Best Hookup Sites Of 2020
In my opinion, Adult Friend Finder is the best hookup app for seriously naughty singles and couples who don't mind graphic content, whilst Elite Singles is ideal for something more classy. Both have high user bases and both require patience (AFF because of the fake profiles and ES because the elites among us are kinda picky).
That said, all the hookup sites in this list are excellent choices. Hopefully you're not a bit clearer in regards which ones are right for you. The next step is to sign up, grab the free trial if there is one – and see what's what.
Good luck!
Frequently Asked Questions
How do people hookup with just anyone?
When you realize that hooking up with people isn't a huge deal, it becomes much easier. Think of it like jumping into a pool of cold water, it's cold the first time but once you're wet, it's easy to go back. The same applies to hooking up once you've done it a few times.
What was your worst hookup?
I ended up hooking up with someone with a fetish they didn't disclose. At first I thought it was fun but once they started calling me mommy I knew things had gone wrong.
What are the best ways to hookup right now?
Honestly the apps that are out right now are pretty good and make it easier than ever to find people that want the same thing. Otherwise go to a bar and ask 100 people if they are down to go home. Both methods work but one requires less rejection.
What's your hookup holy grail?
I have always wondered what it would be like to hook up with a girl that squirts. Well it finally happened last time and it was everything I thought it would be. It came out of the blue, she just held me and exploded in the best possible way. I still think about it.