Let's face it, Tinder has had its day. It was a pretty good dating app a while back, but it's been overtaken by rivals.
If you're fed up of having no success on Tinder (this is NOT new, it's happening to everyone) and want more matches and more dates, it's time to try out the dating apps that work.
The good news? There are plenty of Tinder alternatives in 2020 that are not only largely free, but which also have a huge user base, and which don't have a silly algorithm getting in your way!
So come join me as I take a look at the best dating apps like Tinder of 2020.
Why Tinder Sucks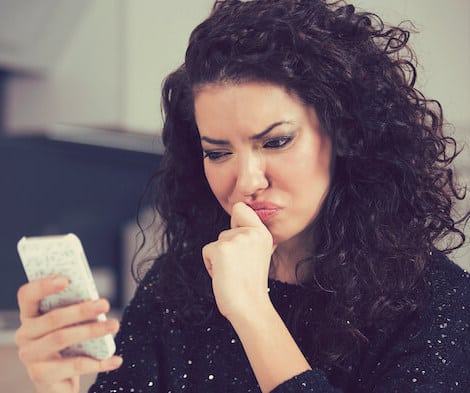 Tinder sucks these days for a number of reasons. For one thing, many men and women openly admit to ONLY using it for VALIDATION. In other words, they just want to build up their "likes" so that they can feel better about themselves.
Secondly, Tinder uses an algorithm that makes it virtually IMPOSSIBLE to find a match in 2020. It works like this: When you first sign up to Tinder and start "liking" people, your future success depends entirely on how many people like you back.
If only one or two like you within the first few hours, Tinder decides that you have zero sexual market value and will put you to the back of the queue. They only want the hot people to be seen! For anyone to even see your profile they'd have to be swiping for HOURS. Lame.
Thirdly, even if someone has liked you, you could be trawling through hundreds of profiles before you come across them. Therefore, your chances of matching with a "perfect" date are literally zero.
But have no fear! Here are the best alternatives:
Zoosk – The Dating Site With A Huge Makeover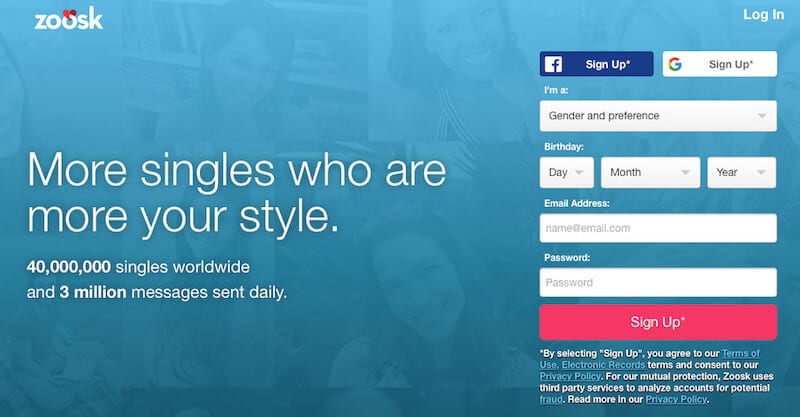 Zoosk used to be a very average dating site, but it's been given a huge makeover in the last few years so that it's now one of the best.
It's ideal for those who are looking for something casual, as well as those looking for love. Its current user base of more than 40,000,000 is very active and it's totally free to send and receive messages.
There's also no need to waste time completing a lengthy personality test when you first sign up to Zoosk either. Instead, the site uses a piece of technology known as Behavioural Matchmaking that uses Artificial Intelligence to learn more about you as you use the site. Over time, it gets to know you so well that it puts ideal matches in front of you. This is one of the best features I've seen on a dating site!
Who's It For?
Anyone looking for something serious or casual, and who hates "swipe" apps.
Match – For Those Looking For The Right Match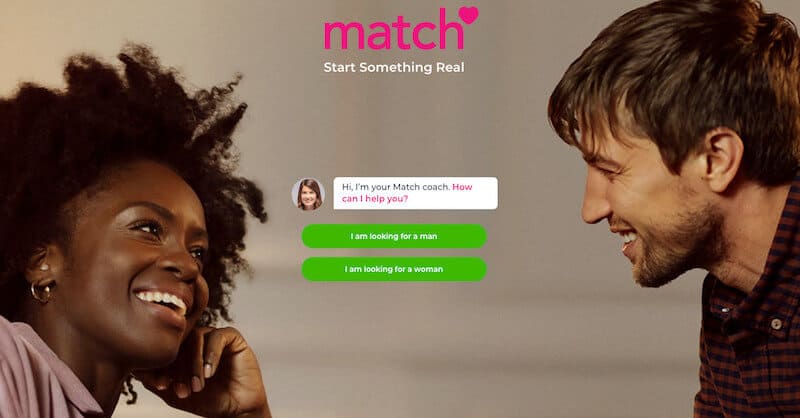 One thing Match instantly does better than Tinder is its search feature, which displays users according to whatever filters you choose. For example, you can filter your search according to age, location and whether or not they have a photo.
However, Match is a premium dating site and is only free to sign up to. In order to send and receive messages, you have to upgrade your membership by choosing a payment plan. Prices start from just $10 a month if you lock yourself into a 6 month subscription. I think this is a pretty good deal for anyone who's serious about looking for love, and who is prepared to take their time.
If, on the other hand, you're looking for something casual, you could pay $30 and sign up for just a month.
Is it worth it? Match definitely has a lot of plus points. It has a high user base, most of the profiles are real and the users have taken the time to fill out their bio's, and there are lots of features that improve your chances of success, such as MatchMe, which boosts your visibility.
All in all, Match has a good layout, it's very easy to get "likes", and the user interface is such that you won't find it hard at all to find someone you like the look of. The only downside for some people is that you'll need to put a bit of effort into creating your profile and composing messages!
Who's It For?
Anyone who's prepared to pay a little extra for a dating app that's full of people looking for a serious, long-term relationship.
OKCupid – Where Choice Is In Abundance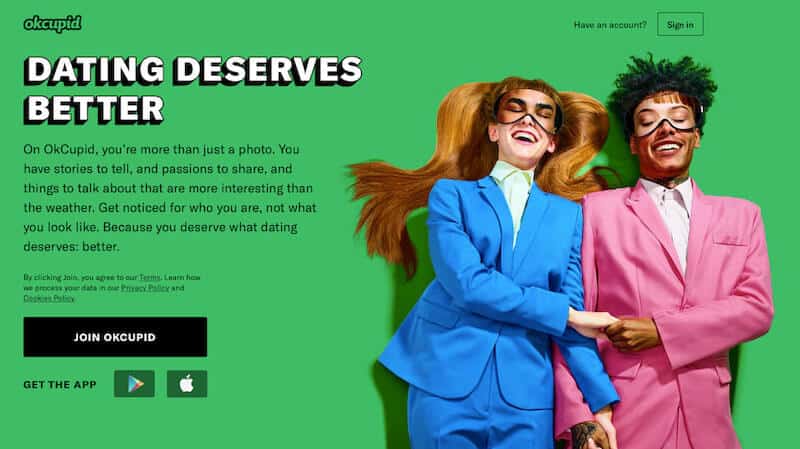 OKCupid has been around a lot longer than Tinder – and for good reason. It's one of the world's premiere dating sites that has millions of active users.
I rate it as a better alternative to Tinder because it takes the best of Tinder (high user base and it's for those looking for friends, something short-term, as well as something long-term) but it's not one of those annoying "swipe" apps. Instead, there's a search function that gives you a comprehensive overview of active users in your local area. If you're interested in someone, you just need to "like" them and – if you want – shoot them an opening message.
I like the fact that OKCupid's users are very engaged and switched on. Most of them have taken the time to fill out their profile, and this makes it easier for you choose potential matches, as well as start conversations.
OKCupid also give you a series of prompts, such as "last show I binged on", to help you write your profile.
On the other hand, OKCupid doesn't always make your life so easy. In a bid to protect its users, anyone who you've "liked" and sent an introductory message to disappears until they've liked you back. This is so that people can't send continuous messages to anyone who clearly isn't interested.
Also, you might be left waiting a while for someone to reply to your first message, as OKCupid actually makes it kinda difficult for anyone to see who's liked them.
However, it's free and there are loads of people who've enjoyed dating success with this dating app. It's also very popular with the LGBT community and left-leaning voters. For many, it's seen as a "safe space" dating app.
Who's It For?
Open-minded people not afraid to create lengthy bio's and make proper connections.
Hinge – For Serious Daters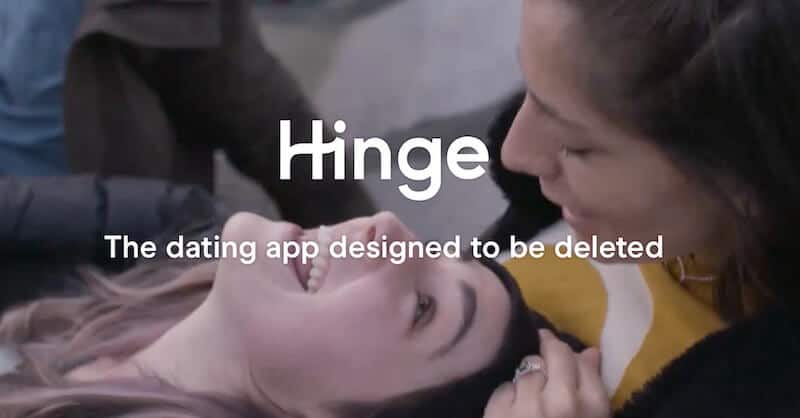 Hinge is a mobile dating app whose tagline is "designed to be deleted." That's really clever – but does the app justify the hype?
First things first, Hinge is primarily aimed at people who are looking for something serious. If you're looking for a hookup, this might not be the best place to look. There are very few fake profiles (if any), and each user is given a series of prompts that have replaced the need to write out a bio from scratch.
For example, when you first sign up and create your account, you might be asked for your favourite movie, the last boxset you binged, the best place you've ever travelled to … and so on.
If someone comes across your profile and likes your answers, they'll let you know. And you can do the same.
Like Tinder, Hinge is a "swipe" app, but unlike Tinder it isn't based on appearances. Instead, it's based on common interests and genuine connections.
It's completely free to use and you must upload 6 photos before you can start using it. The only mark against it is that it puts potential matches in front of you, as opposed to letting you search for matches.
Who's It For?
Those who like Tinder but who are looking for something more than a hookup or mere validation.
Happn – The App That Finds Love Nearby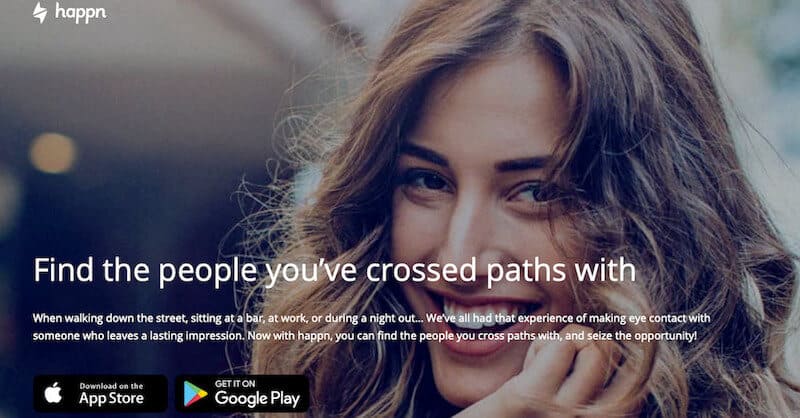 Happn is a geo-location based dating app that has more than 50,000,000 members worldwide. Its premise is different to anything I've come across before: It seeks to pair you up with people you've already met.
Sound strange?
The app shows you matches according to your chosen proximity. If you've met someone within a 250 metre radiance recently and they're on the app, there's a good chance you'll cross paths with them on here. And because there's so close by, there's every chance you might meet up tonight.
Like Tinder, then, it's a "swipe" app, although you can upgrade your account to access a search feature. Like Tinder, two people must "like" each other before exchanging messages, but there are more features that make Happn less restrictive. For example, the "Hello" feature lets you write "hey!" on anyone's timeline, letting them know you want to chat.
Other cool features on Happn include being able to send voice messages and an "I'm Up For .." feature that lets people know what you fancy doing in the next 6 hours.
Also, it's easier to get more matches on Happn because of the location-based algorithm.
Who's It For?
Anyone who just wants a local date – maybe even tonight.
Bumble – Tinder's Cousin, But Better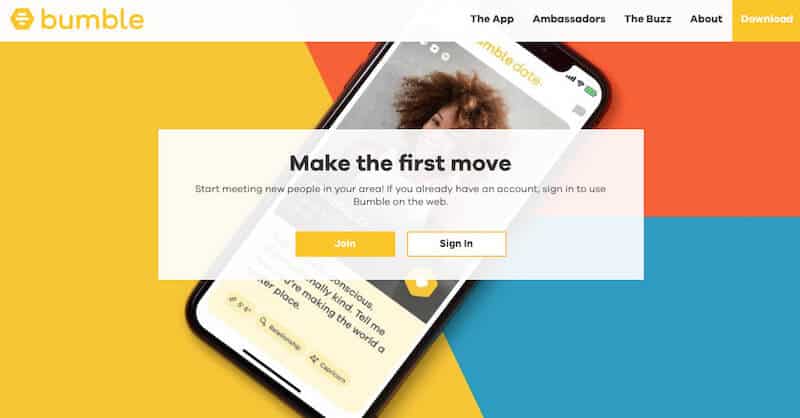 Bumble has enjoyed a LOT of success in recent years and it's probably second to Tinder when it comes to dating apps popularity. It was actually created by the same folk who created Tinder but the main difference between the two "swipe" apps is that Bumble has this thing where only women can send the first message.
Does that work? Yeah, it works really well, although some guys might get frustrated. But that's cool because there are other apps – such as Hinge – that you can use instead. Or, you can go back to Tinder (not recommended).
Like Tinder, Bumble is super visual. You need to make sure you upload your best pics first and then add a killer one liner or two. There's no need to write an exhaustive bio because that isn't what Bumble is about. Instead, success tends to come to those who have the hippest, wittiest profiles that catch the eye.
The interface is really user-friendly, it's free to send and receive messages BUT all matches disappear if no one has made a move within the first 24 hours. I like this feature because it encourages people to actually send messages, and it stops people using Bumble for validation and a self-esteem boost.
Who's It For?
People looking for dates, mates and everything in between.
eHarmony – Classy, Sophisticated & Seeking Love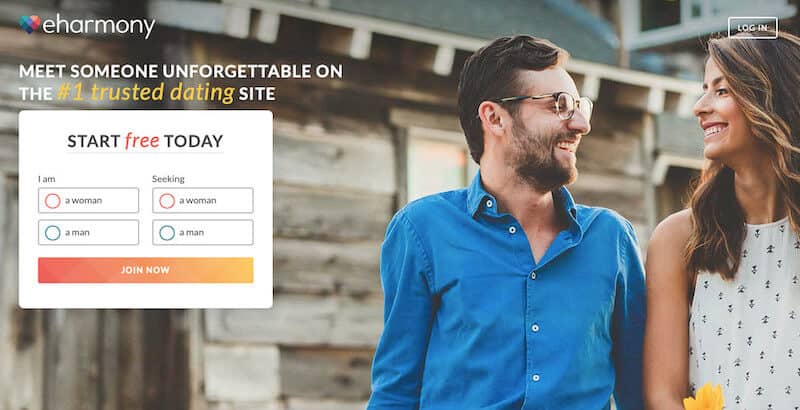 eHarmony is far more classy as a dating site than Tinder. It's aimed specifically at people who are looking to find love, and it uses sophisticated, scientific match matching models that ensure you're not wasting your time.
Moreover, because people who sign up to eHarmony have to pay in order to use its suite of features, it's a lot easier to make genuine connections. No one is here for validation!
A trusted dating site, eHarmony has been around for two decades already. It's currently home to millions of active users, and it's claimed that 1,200,000 people met their partner here! Most of the members are aged between 25 and 34, and most of them are educated and career-oriented.
If this sounds ideal to you, the sign up process is kinda lengthy but worth it, and while it's free to register an account you'll have to lock yourself into a monthly contract before you can start sending messages. Prices start from $5 a month if you choose a 24 month subscription, or $15 a month if you sign up for 6 months.
Who's It For?
Men and women are looking to settle down.
Coffee Meet Bagel – The Newest Contender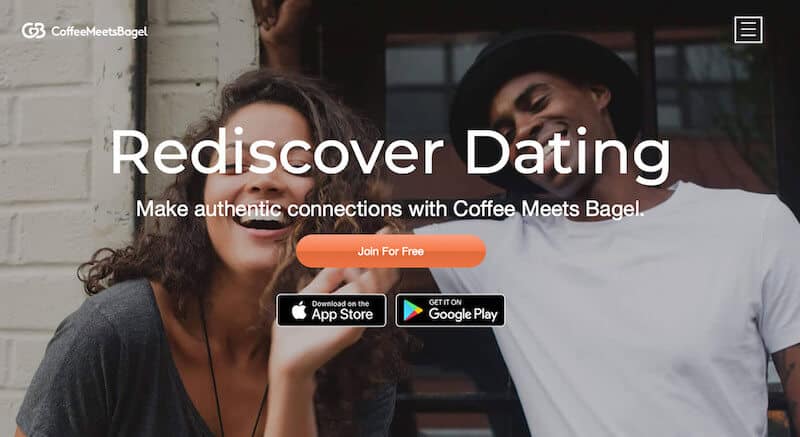 Coffee Meet Bagel is one of the least-known dating sites out there. This means traffic is fairly low but don't let that put you off because it's well worth using as a "side" app when things are moving slowly on other apps for you.
Because of the low traffic, landing a perfect match isn't so easy on Coffee Meet Bagel. Moreover, there's no search function and you get a limited number of curated matches each day. I actually like this idea because it stops you mindlessly swiping all day long. Instead, you can either choose to like or pass on your matches. If you choose neither, the match vanishes after 24 hours.
You need a Facebook account to use Coffee Meet Bagel. Once you've hooked it up, the app uses your information to curate a list of matches based on your interests and the types of friends you already have. It's a pretty cool way of doing things, and it's all done so that you make better connections with people.
Coffee Meet Bagel may be modest and low key, but let's face it – it's still better than the brash Tinder. It's also free to send messages.
Who's It For?
Anyone who feels like they need a "dating app on the side" to improve their chances.
Verdict: The Best Tinder Alternatives
These are the best dating apps like Tinder of 2020. My personal picks are Bumble if you're looking for something easygoing, and OKCupid or Zoosk if you're not exactly sure what you want. Match, meanwhile, is ideal if you're prepared to spend a bit of cash in your quest for something longer term.
Whichever app you choose, I wish you all the best!