Savoring a delicious slice of pepperoni pizza in the heart of Brooklyn. Exploring the enchanting corners of Central Park. Gazing at the majestic skyline from the top of the Empire State Building. Welcome to love in New York City, where every street corner brims with potential for romance and adventure. Whether you're a city native or just visiting, choosing an unforgettable first date location can be daunting amidst all these exciting possibilities. Fear not! We're here to guide you through your first date jitters by lining up some of 2023's freshest, fun-filled, and most memorable experiences that are guaranteed to break the ice and make sparks fly. Dive into this post for inspiration—it's time to make a first impression that lasts.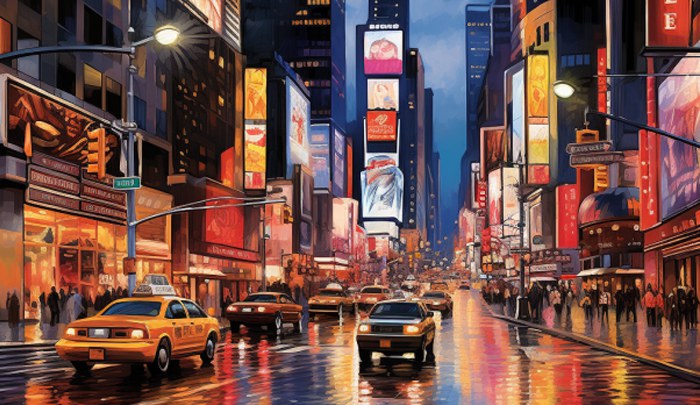 There are countless options for fun and unique first date ideas in New York City in the year 2023. Some suggestions include visiting SPYSCAPE for an interactive museum experience, taking a sensual sculpting class at Unarthodox, or challenging each other to a game of bowling and catching a live show at Brooklyn Bowl. Additionally, couples can enjoy outdoor activities such as roller skating, playing Pétanque at Carreau Club, or trying Edge's City Climb for a heart-pumping adventure. For those interested in culinary experiences, cooking classes or food-related events like wine tastings or afternoon tea are also great options. Other ideas include exploring museums like MoMA or the Paley Center for Media, shopping at flea markets or thrift stores, or attending game nights or dance classes together. The possibilities are endless!
Innovative First Date Ideas in NYC, 2023
When it comes to first dates, the pressure of creating a memorable and enjoyable experience can be exhilarating and nerve-wracking at the same time. In the bustling city of New York, the options are vast and unique, offering something for every couple's interests and preferences. In 2023, there are several innovative first date ideas that stand out among the rest, providing a blend of excitement, creativity, and opportunities for genuine connection.
An interesting trend noted by Eventbrite in 2020 showed that couples are 42% more likely to seek out interactive experiences during dates compared to non-interactive ones, this statistic could potentially influence the popularity of active date spots like SPYSCAPE, Brooklyn Bowl and Unarthodox.
According to a survey conducted by OnePoll, about 56% of couples say cooking together strengthens their relationship, which implies the rise in popularity of couples' cooking classes in NYC.
A study by the Journal of Outdoor Recreation and Tourism found that shared adrenaline-inducing activities can increase attraction between partners, which might explain the interest for adventurous date activities such as Edge's City Climb in New York.
In 2023, New York City offers a plethora of unique and innovative first date ideas that cater to different interests and preferences. These ideas not only provide an exciting and memorable experience but also foster genuine connection between the couples.
If this is your first time in the city, it's also a great opportunity to visit some must-see places in New York.
Interactive Experiences: SPYSCAPE and Unarthodox
For couples seeking an interactive and unconventional first date experience, two venues in New York City capture the imagination and offer thrilling adventures: SPYSCAPE and Unarthodox.
SPYSCAPE combines elements of espionage and technology to create an immersive experience like no other. Couples can step into the shoes of spies, exploring hidden worlds, breaking codes, and running surveillance with a system developed by MI6 experts. Additionally, SPY HQ allows couples to uncover their personal spy roles and profiles using CIA-developed challenges – a fun and mentally stimulating activity for those craving intrigue. The high-tech museum at SPYSCAPE showcases extraordinary gadgets used by real-life spies, adding an element of awe to the overall adventure.
Unarthodox offers an artistic escapade that allows couples to tap into their creative side together. With unique experiences like pottery classes or paint-and-sip sessions, couples can engage in a hands-on activity while exploring their artistic abilities. These interactive art outings provide a relaxed yet engaging atmosphere for conversation to flow organically as you unleash your inner artist side by side. It's not just about creating art; it's about fostering connection through shared experiences.
Consider these examples as starting points for innovative first date ideas in NYC in 2023. Whether you choose to embark on a thrilling spy adventure at SPYSCAPE or embrace your artistic flair at Unarthodox, the key is to choose an experience that speaks to you and your potential partner's interests and passions. Remember, the goal is to create a memorable and enjoyable experience that allows for genuine connection and sets the stage for future adventures.
Artsy Outings: Pottery Class and Paint-and-Sip
Looking to tap into your creative side while bonding with your date? New York offers a plethora of artsy outings that can provide a fun and memorable experience. One option is taking a pottery class together, where you can learn the art of molding clay into unique creations. Guided by expert instructors, you can unleash your artistic talents while enjoying each other's company. Another popular choice is attending a paint-and-sip session. This involves sipping on your favorite beverage while recreating a painting under the guidance of a professional artist. It's a relaxed and enjoyable activity that allows for free expression and conversation between you and your date.
Now that we've explored some artsy outings, let's dive into adventure-based New York date ideas that are sure to get your adrenaline pumping.
Adventure-Based New York Date Ideas
For couples seeking an adventurous and thrilling experience, New York has plenty to offer. One exhilarating option is City Climb at Edge, located in Hudson Yards. This heart-stopping attraction allows you to scale the outside of a skyscraper over 1,200 feet above the ground. You'll climb a 45-degree angled staircase and lean out from the highest outdoor platform in NYC, creating unforgettable memories together.
Imagine the rush of adrenaline as you conquer your fear of heights side by side, marveling at the breathtaking views of the city below.
If you're looking for something more active and nostalgic, roller skating is an excellent choice. Lace up your skates and hit one of the many roller rinks scattered across the city. Whether it's gliding hand-in-hand through Central Park or showing off your moves at Pier 2 Roller Rink in Brooklyn, roller skating is guaranteed to add an element of fun and playfulness to your date.
With these adventure-based New York date ideas, you can create a truly unique and exhilarating experience with your partner.
Thrilling Activities: Edge's City Climb and Roller Skating
Looking to add some excitement to your first date in New York? Look no further than Edge's City Climb and roller skating. With each offering a unique and exhilarating experience, these thrilling activities are sure to create unforgettable memories that you and your date will cherish.
Start off by conquering Edge's City Climb, an awe-inspiring adventure that takes you 1,131 feet above the ground. As you ascend the tallest outdoor sky deck in the Western Hemisphere, you'll be treated to breathtaking views of the iconic New York City skyline. The combination of adrenaline-pumping heights and stunning panoramas is bound to create an exhilarating atmosphere for you and your date.
If you're looking for something more interactive and playful, why not try roller skating? Lace up your skates and glide around one of New York City's many scenic parks or rinks. Whether it's Central Park, Bryant Park, or Prospect Park, roller skating provides a fun and energetic activity that allows you to bond with your date while taking in the city's vibrant ambiance.
So whether you prefer reaching new heights or gliding across the pavement with wheels on your feet, these thrilling activities are guaranteed to make your first date in New York unforgettable.
Culinary Excursions for NYC First Dates
Indulging in culinary adventures is a fantastic way to create a memorable first date experience in New York City. With its vibrant food scene and diverse cuisines, the city offers a plethora of options for food-loving couples seeking an extraordinary dining experience.
One popular choice is to explore cooking classes together. These classes not only provide a unique opportunity for bonding but also allow you to learn new skills while preparing delicious meals side by side. Imagine impressing your date with mouthwatering dishes like handmade pasta or gourmet desserts that you made together. It's an interactive and fun way to connect while exploring your culinary prowess.
For those seeking a more immersive dining experience, consider booking a seat at one of New York City's unique dining establishments. From hidden speakeasies and rooftop bars to themed restaurants and dinner cruises, the possibilities are endless. Imagine sipping craft cocktails in a secret bar or enjoying a candlelit dinner with panoramic views of the city skyline. These extraordinary dining experiences are sure to leave a lasting impression on your date.
New York City is also renowned for its bustling food markets such as Chelsea Market and Smorgasburg, where you can embark on a culinary adventure together. Explore the various stalls offering diverse cuisines, sample mouthwatering treats, and discover new favorites together. It's a casual yet exciting way to navigate the city's gastronomic landscape.
So whether you choose to get hands-on with cooking classes or embark on an extraordinary dining journey, New York City's culinary excursions offer a world of flavors for an unforgettable first date.
Cooking Classes and Unique Dining Experiences
If you're looking for a date idea that combines culinary delights with interactive and educational experiences, New York City has plenty to offer. Cooking classes provide the perfect opportunity to bond with your date while learning new culinary skills together. From mastering the art of sushi rolling to exploring the intricacies of French pastry making, these classes are designed to entertain and bring couples closer through the love of food.
But why stop at just cooking? How about taking your dining experience to another level with unique dining experiences in the Big Apple? Imagine indulging in a romantic dinner cruise around NYC, where you can enjoy exquisite cuisine while taking in breathtaking views of the city skyline. Or perhaps you'd prefer a magical evening at Nitehawk Cinema in Brooklyn, where you can savor delicious food and cocktails while watching a movie on the big screen. These unique dining experiences create unforgettable memories and add a touch of adventure to your date night.
Whether you're sharpening your culinary skills or embarking on a one-of-a-kind dining adventure, cooking classes and unique dining experiences offer a delightful blend of romance, education, and gastronomic pleasures for an unforgettable first date in New York City.
Date Ideas at Iconic New York Locations
New York City is renowned for its iconic locations that have become synonymous with romance and memorable dates. If you're looking to impress your date with an extraordinary experience, why not explore some of these unique locales?
Imagine strolling hand in hand through the picturesque Central Park, enjoying a picnic amidst nature's beauty. Or take a romantic sunset walk along the iconic High Line, an elevated park built on a historic freight line. The stunning views of the cityscape make it a truly enchanting setting for a date.
For those seeking something more adventurous, consider visiting Edge's City Climb at Hudson Yards. Scale the towering skyscraper's exterior and lean over the edge, experiencing an adrenaline rush like no other. It's a perfect choice for thrill-seekers looking to create lasting memories together.
And let's not forget the vibrant and diverse art scene in New York City. Take your date to world-famous museums like the Museum of Modern Art or the Guggenheim, where you can immerse yourselves in creativity and appreciate iconic works of art.
From romantic parks to thrilling heights and captivating art, New York City offers a plethora of iconic locations for unforgettable first dates. Explore these unique locales and make your date a truly special experience.
Museums, Markets, and More Unique Locales
New York City is renowned for its vibrant cultural scene, offering a plethora of museums, markets, and unique locales that are perfect for first dates. Museums like the Museum of Modern Art (MoMA) and the Guggenheim provide an immersive experience into the world of art, showcasing a diverse range of styles and cultures. Imagine strolling hand in hand through the halls of MoMA, marveling at iconic masterpieces by artists such as Van Gogh or Picasso. The conversations sparked by these artistic wonders can deepen your connection and provide a window into each other's tastes and perspectives.
Picture yourself exploring the vibrant and eclectic Brooklyn Flea market with your date. As you browse through stalls filled with vintage clothing, handmade crafts, and delectable food options, you create new memories together. Sharing a laugh as you try on quirky hats or discovering a hidden gem among the myriad of items available can be an adventure in itself.
If you're looking to step outside the ordinary dating scene, New York City has various unique locales that are sure to leave a lasting impression.
One such locale is the Paley Center for Media, where you can explore the rich history of television and cinema together. From classic TV shows to iconic movie moments, you'll find yourselves immersed in nostalgia and engaging in conversations about beloved characters and memorable scenes.
For couples seeking more adventurous experiences, Magic Jewelry in Chinatown offers a one-of-a-kind encounter with feng shui, aura photography, and energy readings. Explore the mystical side of life as you dive into discussions about symbolism, personal energies, and even delve into your compatibility as a couple based on feng shui principles. It's an opportunity to connect on a deeper level while learning about ancient traditions.
Another offbeat option is visiting the Museum of Sex—a provocative and daring choice for couples interested in exploring erotica and sexuality. This museum offers a thought-provoking and eye-opening experience, with exhibits that challenge societal norms and facilitate meaningful conversations about intimacy, desire, and relationships.
Museums, markets, and unique locales provide an immersive experience that combines education, entertainment, and adventure in one. Whether you choose to explore the art world together, wander through vibrant markets, or venture into unconventional venues, these first date activities create opportunities for connection, conversation, and shared memories that will enhance your budding relationship.
If you're already familiar with these places, there are lots of hidden gems in New York that you have yet to discover.
So dive into the cultural tapestry of New York City and embrace the unique experiences it has to offer. Step beyond the traditional dinner-and-a-movie routine and create unforgettable memories with your potential partner.