Ready to step up your dating game but unsure how? Montreal, with its vibrant and diverse charm, has an endless selection of unique and exciting second-date ideas. In the heart of this Canadian city are adventures waiting to create unforgettable memories. Whether you're a foodie seeking culinary surprises, a history buff yearning for a cultural treat, or thrill-seekers hunting for adrenaline-pumping activities, 2023 is the year Montreal steps it up to cater to all these experiences! So grab your coat (or your sunglasses) because we're about to dive into some fantastic ways you can make your second date in Montreal absolutely unforgettable in 2023!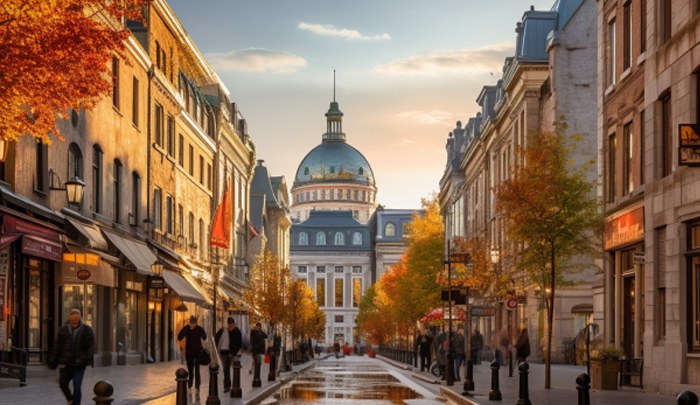 In 2023, Montreal offers a wide range of unique and romantic options for a second date. Consider taking a sunset SUP yoga class at Parc Jean-Drapeau, relaxing with your partner at Bota Bota floating spa, or enjoying the breathtaking view of the city on a helicopter ride over Montreal. You could also go for a romantic stroll along the picturesque Lachine Canal or have an adventurous afternoon ziplining through the Old Port on the Tyrolienne MTL Zipline. Whatever your preferred date style may be, Montreal has something for everyone in 2023.
Exploring Montreal's Scenic Locations
Montreal, with its rich blend of culture, history, and natural beauty, provides the perfect backdrop for a romantic second date. Whether you're a local or visiting the city, exploring its scenic locations can create lasting memories. From sprawling parks to picturesque waterfronts, Montreal offers an array of breathtaking spots to discover with your special someone.
One such location is the iconic Mont-Royal Park. Situated in the heart of the city, this park offers stunning panoramic views of Montreal's skyline and surrounding mountains. Consider taking a leisurely hike or strolling hand-in-hand through the park's tree-lined paths. As you ascend to the summit, you'll find yourselves immersed in nature while enjoying each other's company.
Another scenic spot worth exploring is Old Montreal. With its charming cobblestone streets and historic architecture, it exudes a sense of romance and nostalgia. Take a leisurely walk along the waterfront promenade of the Old Port, admiring the picturesque views of the St. Lawrence River. Don't miss out on visiting Place Jacques-Cartier, where street performers add a lively ambiance to the area.
Now that we've explored some of Montreal's scenic locations, let's dive into specific walk spots that provide a romantic atmosphere for your second date.
In a recent study by eHarmony, 70% of respondents preferred outdoor activities for a second date. With over 30 park areas and countless outdoor attractions, Montreal can easily facilitate this preference.
The same report indicated that around 64% of people believe shared meal experiences like a dinner at a restaurant create deeper connections during early dating periods. Montreal, with its plethora of fine-dining options, caters precisely to that need.
An Expedia survey found that approximately 92% of responders stated they are more likely to feel romantic on vacation or in a new setting. This statistic bodes well for tourists considering Montreal as the backdrop for their second date, given its rich blend of European charm and North American modernity.
Romantic Second Date Walk Spots
There's something inherently romantic about going for a walk with someone special. In Montreal, there are several enchanting spots perfect for a leisurely stroll where you can connect and enjoy each other's presence.
One such spot is the Lachine Canal Promenade. This historic canal spans several kilometers and offers a scenic pathway ideal for walking hand-in-hand. As you meander along the canal, you'll pass by charming cafes and small shops while being surrounded by beautiful greenery.
If you prefer a more urban setting, consider exploring the Quartier des Spectacles. This vibrant area is known for its lively atmosphere and cultural events. During the summer months, the Quartier des Spectacles hosts outdoor art installations and performances, creating a captivating backdrop for your date walk.
For those seeking a touch of tranquility, a visit to the Botanical Garden can provide an idyllic setting. With its beautifully landscaped gardens and peaceful ambiance, it's an excellent location to escape the hustle and bustle of the city. Take your time wandering through the various themed gardens, hand in hand with your date.
Montreal has several gorgeous locations perfect for a romantic walk with your special someone. The Lachine Canal Promenade offers a historic and scenic pathway filled with charming cafes and greenery. The Quartier des Spectacles is known for its lively atmosphere and outdoor art installations during the summer months. For those seeking tranquility, the Botanical Garden provides a peaceful ambiance with beautifully landscaped gardens to explore hand in hand with your date.
Montreal's Unique Dining Experiences
When it comes to planning a memorable second date in Montreal, exploring the city's unique dining experiences is a must. Montreal is renowned for its vibrant food scene, offering a variety of options that cater to different tastes and preferences. Whether you're a fan of world-class fine dining or seeking out hidden gems with authentic and diverse cuisines, this city has something to offer everyone.
From charming local bistros to trendy fusion restaurants, Montreal's dining scene never disappoints. You can treat your date to an intimate dinner at a French-inspired restaurant, indulging in delicacies like escargot and coq au vin. Or perhaps you both have a taste for exotic flavors and want to venture into the world of Asian cuisine, where you can savor mouthwatering sushi rolls or spicy Thai curries.
One unique dining experience in Montreal is Les Mômes, which offers a dinner party vibe with a menu influenced by French cuisine. They use local ingredients and promote sustainability, creating a truly immersive gastronomic adventure for your second date.
Now that we've explored the concept of unique dining experiences in Montreal, let's dive into some exotic cuisine restaurant choices that will surely impress your date.
Exotic Cuisine Restaurant Choices
If you and your date are looking for an exciting culinary adventure filled with exotic flavors and spices, Montreal has an array of restaurants that won't disappoint. These establishments bring international cuisines to the forefront, allowing you to explore different tastes and cultures within the city.
One standout choice is Anemone, which focuses on seasonal and hyper-local cuisine. Here, you can expect dishes like biang biang noodles, crudo with honeycrisp apples, and gnocchi-like rice cakes. The blend of flavors and the exceptional presentation make it an ideal spot for an unforgettable second date.
For those craving a taste of Japanese cuisine with a modern twist, Neo Tokyo is the perfect choice. This retro-futuristic noodle joint offers dishes like tonkotsu ramen and truffle miso ramen. The innovative fusion of traditional Japanese flavors with contemporary culinary techniques creates a unique and memorable dining experience.
Another option to consider is Ketiw, a restaurant that specializes in Cambodian cuisine. Here, you can delight your taste buds with authentic num pang sandwiches and Phnom Penh-style kuy teav noodles. This hidden gem will transport you and your date to the bustling streets of Cambodia.
Now that we've explored some exotic cuisine restaurant choices, let's move on to the next section where we'll discover outdoor adventure activities in Montreal.
Outdoor Adventure Activities in Montreal
Montreal is a city that embraces the great outdoors, offering a wide range of thrilling and adventurous activities for couples looking to add an exhilarating twist to their second date. Imagine embarking on a kayaking adventure along the beautiful Saint Lawrence River, with stunning views of the city skyline as your backdrop. Feel the rush of adrenaline as you zip line through the dense forests of Mont-Tremblant or conquer the rapids while white-water rafting on the nearby Lachine Rapids. These outdoor activities not only provide an exciting experience but also create opportunities for bonding and shared memories.
Picture this: You and your date, paddling together in sync as you navigate through the gentle currents of the river. The cool breeze brushes against your faces, and the sound of water splashing against the kayak fills the air. You share laughter and enjoy each other's company amidst nature's beauty. It's an adventure that brings you closer together and creates lasting memories. If you are not an outdoors person, Toronto has plenty of events that might offer you a great experience indoors.
Now that we've explored some of the outdoor adventure activities Montreal has to offer, let's delve into popular recreational options that are perfect for a second date.
Popular Second Date Recreational Activities
When it comes to planning a successful second date, choosing the right activity is crucial. You want something that allows for conversation and connection while providing an enjoyable experience. Fortunately, Montreal offers a plethora of recreational activities that fit the bill.
One option is to explore Montreal's vibrant marketplaces together. Take a leisurely stroll through Jean-Talon Market, where you can sample delicious local produce, artisanal cheeses, and freshly baked pastries. The bustling atmosphere creates an opportunity for casual conversation and discovering shared culinary interests.
If both you and your date have an artistic inclination, consider visiting one of Montreal's many art galleries or museums. Engage in discussions about exhibitions, appreciate each other's perspectives on various works, and marvel at the creativity that surrounds you. Places like the Montreal Museum of Fine Arts or the Phi Centre offer a diverse range of artistic experiences to explore.
For those seeking a bit of adventure mixed with culture, why not rent bicycles and explore Montreal's scenic bike paths together? Traverse iconic landmarks like the Jacques-Cartier Bridge or pedal along the peaceful Lachine Canal. Cycling provides an active and enjoyable way to discover hidden gems in the city while enjoying each other's company.
Remember, the key to a successful second date is creating an environment that encourages conversation, shared experiences, and mutual enjoyment. By choosing activities that align with both your interests and exploring the unique offerings of Montreal, you can make your second date memorable and pave the way for a deeper connection.
Experience Montreal's Thriving Marketplaces
Montreal is renowned for its vibrant marketplaces, offering a delightful blend of local culinary delights, artisanal products, and a lively atmosphere. Exploring these thriving markets can make for an exciting and unique second date experience in 2023.
Start your venture at the Marché des Éclusiers in the Old Port, where you can indulge in seasonal delicacies at the restaurant or browse through the farmer's market for fresh produce and artisanal goods. The charming ambiance and waterfront location add to the allure of this market.
If you're looking for an enchanting evening under the stars, head to Avenue Mont-Royal which transforms into a picturesque pedestrian park during the summer months. Here, you can stroll hand-in-hand, sampling delectable street food from various vendors, or snuggle up on one of the wooden benches while enjoying an outdoor cinema screening. The lively atmosphere creates a perfect backdrop for meaningful conversations and shared experiences.
For those craving an immersive Asian culinary experience, Oasis | Place des souhaits is home to Montréal's Asian market. This bustling marketplace showcases a diverse range of Asian cuisine from permanent and pop-up kiosks. Indulge your taste buds in flavors from different countries as you explore this vibrant gastronomic haven.
Now that you've had a memorable day exploring Montreal's thriving marketplaces, it's time to plan how to end your date on a high note with some of Montreal's captivating evening experiences.
Ending a Date with Montreal's Evening Experiences
As daylight wanes and the city lights come alive, Montreal offers an array of enchanting evening experiences that are sure to captivate both you and your date. Here are some ideas to consider:
Why not embark on an evening cruise along the St. Lawrence River? Enjoy stunning views of the city skyline as you sip cocktails, dance to the beats of live music, and create unforgettable memories.
If you're seeking a touch of mystery and history, consider taking a ghost walk of Old Montreal. Explore the cobblestone streets hand-in-hand under the moonlight, listening to chilling tales of the city's haunted past.
For a unique twist on sightseeing, hop aboard a double-decker guided bus tour at night. See Montreal's iconic landmarks beautifully illuminated while an experienced guide provides fascinating insights into the city's history and culture.
Imagine winding down your date atop La Grande Roue, a majestic Ferris wheel located in Old Montreal. Enjoy panoramic views of the cityscape as it comes alive with twinkling lights below. The romantic ambiance is perfect for stealing kisses or sharing heartfelt conversations.
Whether you choose to cruise along the river, explore haunted alleys, or take in the magical nighttime views from above, Montreal offers a plethora of evening experiences to make your second date truly memorable. Once you are done with this city, perhaps you could visit some interesting places in Toronto for a third date.
Elevate your dating game by planning an enchanting evening that will leave an everlasting impression on both you and your partner.